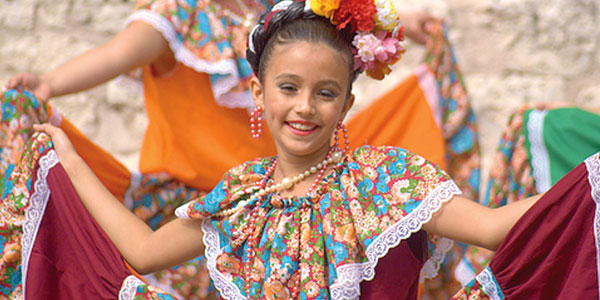 Ninfa Marie Garza, Jose R. Gonzalez and Rebecca "Becky" H. Jaramillo are "gone but not forgotten." The beloved community leaders who passed away in 2012, 2003 and 2005, respectively, left a legacy that the Midwest has embraced unreservedly. Fiesta Hispana is enshrined as a treasured institution.
The festival, scheduled this year for Sept. 14-16, inaugurates Hispanic Heritage Month. The annual observance celebrating the histories, cultures and contributions of people with roots in Mexico, Central and South America, the Caribbean and Spain date back half a century. Former President Lyndon Johnson enacted Public Law 90-498, establishing the week of Sept. 15 as National Hispanic Heritage Week in 1968. Twenty years later, President Ronald Reagan extended the commemorative event to a month. In 1988, Public Law 100-402 established Sept. 15 to Oct. 15 as National Hispanic Heritage Month.
Fiesta Hispana Kansas City celebrates its 37th year. It has changed over time to accommodate ever-larger crowds. The venue since 1984 has been Barney Allis Plaza "in the heart of downtown Kansas City." Before that, the popular Hispanic festival was held on the city's acclaimed Westside where Garza, Gonzalez and Jaramillo organized the inaugural celebration in 1981. It's not hard to imagine that the change in location and the festival's popularity would please the founders immensely.
But it probably wouldn't surprise them. As evidenced in their many varied contributions to the community, Garza, Gonzalez and Jaramillo were extraordinarily forward-thinking, enterprising and ambitious champions of Hispanic causes. However, they're probably best-known and most appreciated among the greater metropolitan community for founding the Greater Kansas City National Hispanic Heritage Committee and Fiesta Hispana.
Dos Mundos, along with radio stations 1250 KYYS-AM, 1340 KDTD-AM and 1480 KCZZ-AM that make up Reyes Media Group, is a proud sponsor of Fiesta Hispana 2018. As we posted on the fiesta's Facebook page, we will be the emcees on Friday, Sept. 14. We're honored to participate in this favorite annual Hispanic cultural celebration, in part, as tribute to a trio of local civic heavyweights, Ninfa Garza, Jose Gonzalez and Becky Jaramillo, the fiesta's visionary founders. Their legacy endures.
We look forward to seeing you!
Nota bene, in the interest of full disclosure: Becky Jaramillo was my close personal friend and a longtime associate editor for Dos Mundos.
_______________________________________________________________________________________________
Fiesta Hispana, legado perdurable
Ninfa Marie Garza, José R. González y Rebeca "Becky" H. Jaramillo "desaparecieron, pero no se olvidan". Los queridos líderes comunitarios que fallecieron en 2012, 2003 y 2005, respectivamente, dejaron un legado que el Medio Oeste ha abrazado sin reservas. Fiesta Hispana está consagrado como una institución atesorada.
El festival, que este año será del 14 al 16 de septiembre, da inicio al Mes de la Herencia Hispana. La celebración anual que celebra las historias, culturas y contribuciones de las personas con raíces en México, América Central, Sudamérica, el Caribe y España datan de hace medio siglo. El ex presidente Lyndon Johnson promulgó la Ley Pública 90-498, estableciendo la semana del 15 de septiembre como la Semana Nacional de la Herencia Hispana en 1968. Veinte años después, el presidente Ronald Reagan extendió el evento conmemorativo a un mes. En 1988, la Ley Pública 100-402 estableció del 15 de septiembre al 15 de octubre como el Mes Nacional de la Herencia Hispana.
Fiesta Hispana Kansas City celebra su año número 37. Ha cambiado con el tiempo para acomodar multitudes cada vez más grandes. El lugar desde 1984 ha sido Barney Allis Plaza "en el corazón del centro de Kansas City". Antes de eso, el popular festival hispano se celebró en el aclamado Westside de la ciudad, donde Garza, González y Jaramillo organizaron la celebración inaugural en 1981. No es difícil imaginar que el cambio en la ubicación y la popularidad del festival agradaría inmensamente a los fundadores.
Pero probablemente no les sorprendería. Como se evidencia en sus muchas y variadas contribuciones a la comunidad, Garza, González y Jaramillo fueron campeones extraordinariamente progresistas, emprendedores y ambiciosos de causas hispanas. Sin embargo, probablemente sean más conocidos y apreciados entre la comunidad metropolitana por la fundación del Comité Nacional de Herencia Hispana de Gran Kansas City y Fiesta Hispana.
Dos Mundos, junto a las estaciones de radio 1250 KYYS-AM, 1340 KDTD-AM y 1480 KCZZ-AM que forman parte de Reyes Media Group, son patrocinadores orgullosos de Fiesta Hispana de 2018. Como pusimos en la página de Facebook de la fiesta, seremos los maestros de ceremonia el viernes 14 de septiembre. Nos sentimos honrados de participar en esta celebración cultural hispana anual favorita, en parte, como tributo a un trío de pesos pesados cívicos locales, Ninfa Garza, José González y Becky Jaramillo, los fundadores visionarios de la fiesta. Su legado perdura.
¡Los esperamos!
Nota bene, con el interés de la revelación completa: Becky Jaramillo era mi amiga personal más cercana y editora asociada de mucho tiempo para Dos Mundos.