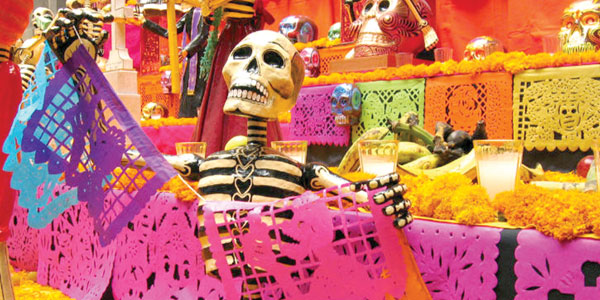 By Chara
The Day of the Dead is celebrated in different ways in different parts of the world. But the holiday's true meaning is the same: It is a way to honor close relatives who have passed away.
A core Day of the Dead belief is that the deceased person's soul will return to visit the person's loved ones. Survivors of the deceased set up altars for the deceased souls to visit and then leave to rest in peace. It is considered essential to build a path with various elements to help the souls reach the altars.
Some of the main elements include the following:
*Candles: The candles illuminate the soul's journey. They also are believed to attract spirits.
*Marigold flowers (flores de cempasuchil): The orange color and the flowers' penetrating aroma are supposed to lure heavenly souls to Earth. To guide souls, petals are sprinkled on the floor leading to the altar.
*Incense: Made of copal, it is believed the incense will purify the energy at the altar and scare away bad spirits. It also is believed to help in communicating with the spirit world.
*Water: The water symbolizes purity. In addition, it is believed to eliminate the souls' thirst after their long journey to visit their loved ones.
*Food: The food includes the deceased's favorite dishes. One of the most important elements is bread (pan de muerto), which has a skull-and-crossbones design. Pan de muerto is a way to treat the dead souls that come to visit their families.
*Traditional paper (papel picado): The traditional crepe paper cutouts, like those often shown on television, represent the wind and fragility. Their designs often include images of skulls. It is a small piece of art on a paper sheet.
---
Día de los Muertos: Elementos del Altar
El Día de los Muertos se celebra de distintas maneras en diferentes partes del mundo. Pero el verdadero significado de la fecha festiva es el mismo: es una manera de honrar a familiares cercanos que han fallecido.
Una de las principales creencias del Día de los Muertos es que el alma de la persona fallecida regresará a visitar a sus seres queridos. Los sobrevivientes de los difuntos ponen altares para que las almas de los difuntos vengan a visitar y luego se marchen a descansar en paz. Se considera esencial construir un camino con varios elementos para ayudar a las almas a alcanzar los altares.
Algunos de los elementos principales incluyen lo siguiente:
*Velas: las velas iluminan el viaje del alma. También se cree que atraen espíritus.
*Flores de caléndula (flores de cempasuchil): se supone que el color anaranjado y el aroma penetrante de las flores atraen a las almas celestiales a la Tierra. Para guiar a las almas, los pétalos se esparcen en el piso que conduce al altar.
*Incienso: hecho de copal, se cree que el incienso purificará la energía en el altar y ahuyentará a los malos espíritus. También se cree que ayuda a comunicarse con el mundo espiritual.
*Agua: el agua simboliza la pureza. Además, se cree que elimina la sed de las almas después de su largo viaje para visitar a sus seres queridos.
*Comida: la comida incluye los platos favoritos del difunto. Uno de los elementos más importantes es el pan (pan de muerto), que tiene un diseño de calavera y tibias cruzadas. El pan de muerto es una manera de tratar a las almas muertas que vienen a visitar a sus familias.
*Papel picado: Los recortes tradicionales de papel crepé, como los que se muestran a menudo en la televisión, representan el viento y la fragilidad. Sus diseños a menudo incluyen imágenes de calaveras. Es una pequeña obra de arte en una hoja de papel.