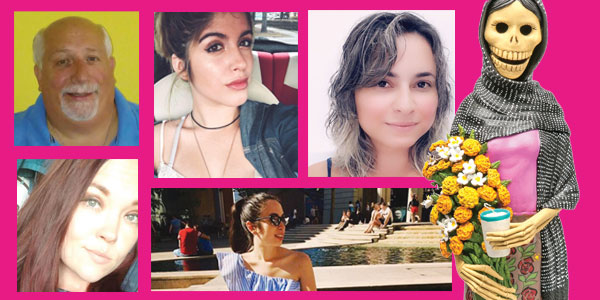 By Chara
Because the Day of the Dead holiday is important in many Latin American countries, Dos Mundos asked people of various nationalities (including those outside of Latin America) for their thoughts about the meaning of the celebration. Here are their answers:
"I think (it) is a beautiful celebration about their ancestors. They believe in celebrating those who have passed and the life they lived by bringing them their favorite things and food. Also, it's a countrywide party. Even though it's called Day of the Dead, it's more about life than actual death."
– Adriana Constantin, Cuban –
"I think that in Mexico it's a cooler holiday because it's more about celebrating and not about being sad. In Brazil, it is celebrated in a different way. … (It is used) to … (be) spiritual and honor the people that (have) passed away. However, I never liked visiting the cemetery. I feel like it makes you spin out the pain."
– Inez Cabeceira, Brazilian –
"The very first time … (I) heard about this wonderful Mexican tradition was after watching 'Coco' (Pixar computer animated film). I personally … (think) that it is an amazing tradition which brings the families together and makes you remember and treasure all those moments you've spent with your loved ones who are now long gone. Moreover, it makes you treasure the time you spend with your family and friends. I'm not a Mexican myself, but I personally think it's important to always remember the people who passed away and to pass the memory through generations!"
– Amina Khalibekova, British –
"I think it is awesome to remember your loved ones in a happy celebratory manner, rather than a mournful one. It influenced me to have a celebration of life party after my son passed away with his favorite music and food."
– Melissa Lackey, American –
"I was raised Catholic. … The closest thing we have to Dia de los Muertos is celebrated on the day after, All Saints Day, which is Nov. 1. On this day, it is a tradition to go visit the graves of your deceased loved ones, place some nice flowers at their (graves) or paint their tomb (or at least clean it up). I can remember going with my father to the graveyard to clean up and paint the tomb of my grandfather. But we wouldn't think about going there at night and having a picnic or lunch at the tomb with candles."
– Jackie Harris, American –
---
Street Talk: ¿Qué significa el Día de los Muertos?
Debido a que el día festivo del Día de los Muertos es importante en varios países de Latinoamérica, Dos Mundos preguntó a personas de diversas nacionalidades (incluyendo a aquellos fuera de Latinoamérica) sus opiniones sobre el significado de la celebración. Aquí están sus respuestas:
"Creo que es una hermosa celebración sobre sus ancestros. Creen en celebrar a aquellos que han fallecido y la vida que vivieron al traerles sus cosas y comidas favoritas. Además, es una fiesta a nivel nacional. Aunque es llamado el Día de los Muertos, es más sobre la vida que sobre la muerte".
–Adriana Constantin, de Cuba –
"Creo que en México es un día festivo más genial porque trata más sobre celebrar y no sobre estar triste. En Brasil, se celebra de manera diferente … (se usa) para … (ser) espiritual y honrar a las personas que han fallecido. Sin embargo, nunca me gustó visitar el cementerio. Siento que te hace revivir el dolor".
– Inez Cabeceira, de Brasil –
"La primera vez … que escuché sobre esta maravillosa tradición mexicana fue después de ver 'Coco' (la película animada de Pixar). Creo que es una tradición increíble que une a las familias y te hace recordar y atesorar todos los momentos que pasaste con tus seres queridos que ya no están aquí. Además, te hace valorar el tiempo que pasas con tu familia y tus amigos. No soy mexicano, pero personalmente creo que es importante recordar a las personas difuntas siempre y ¡pasar su memoria a través de generaciones!"
– Amina Khalibekova, de Gran Bretaña –
"Creo que es maravilloso recordar a tus seres queridos en una manera celebratoria y feliz, en lugar de en una de luto. Me influyó a tener una fiesta de celebración de la vida, con su música y comida favoritas, después de que mi hijo falleciera".
– Melissa Lackey, de Estados Unidos –
"Fui criada católica. … Lo más cercano que tenemos al Día de los Muertos se celebra al día siguiente, Día de Todos los Santos, que es el 1 de noviembre. En este día, es tradición visitar las tumbas de tus seres queridos fallecidos, colocar algunas flores en sus (tumbas) o pintar su tumba (o al menos limpiarla). Recuerdo haber ido con mi padre al cementerio para limpiar y pintar la tumba de mi abuelo. Pero no pensaríamos en ir allí por la noche y tener un picnic o un almuerzo en la tumba con velas".
– Jackie Harris, de Estados Unidos –