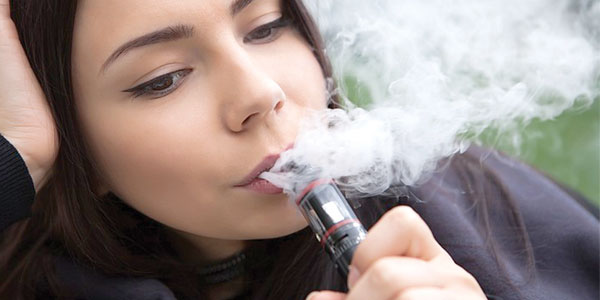 By Angie Baldelomar
An increase in the use of e-cigarettes among high school and middle school students has the U.S. Food and Drug Administration (FDA) worried.
According to new statistics released by the FDA and the U.S. Centers for Disease Control and Prevention, "vaping" – the common term for e-cigarette use – has increased almost 80 percent among high schoolers and almost 50 percent among middle schoolers.
"These new data show that America faces an epidemic of youth e-cigarette use, which threatens to engulf a new generation in nicotine addiction," said Alex Azar, Department of Health and Human Services secretary, in a recent press release.
One in five high school students have vaped within the past month, statistics show. Statistics also show that students who vape are doing so more frequently than last year.
With the new statistics, the FDA has announced new regulations to curb e-cigarette usage. Among them, it will impose regulations on sales of flavored e-cigarettes in retail stores, limiting them to closed areas that are not accessible to minors.
The proposed changes, however, do not include mint, menthol and tobacco flavors. Dr. Scott Gottlieb, FDA commissioner, said in a statement proposing the new changes that he wanted to leave the door open for adults who might use the products to quit smoking cigarettes.
Gottlieb proposed additional bans on regular menthol cigarettes and flavored cigars, and for tightening the reins on products marketed or appealing to young people.
"This could include using popular children's cartoon or animated characters, or names of products favored by kids, like brands of candy or soda," he said in the statement.
Health experts worry the products could put kids' developing brains at risk – and be a gateway to smoking regular cigarettes and other drugs.
"The data show that kids using e-cigarettes are going to be more likely to try combustible cigarettes later," Gottlieb said.
__________________________________________________________________________________________________
Con el uso creciente de cigarrillos electrónicos entre los jóvenes, la FDA propone nuevas regulaciones
Un incremento en el uso de cigarrillos electrónicos entre estudiantes de escuela secundaria e intermedia tiene preocupada a la Administración de Drogas y Alimentos de los Estados Unidos (FDA, por sus siglas en inglés).
Según las nuevas estadísticas lanzadas por la FDA y los Centros para el Control y la Prevención de Enfermedades de Estados Unidos, "vaping", el término común para el uso del cigarrillo electrónico, ha aumentado casi en un 80 por ciento entre estudiantes de secundaria y casi en un 50 por ciento entre estudiantes de intermedio.
"Estos nuevos datos muestran que los Estados Unidos enfrentan una epidemia de uso de cigarrillos electrónicos en los jóvenes, que amenaza con engullir a una nueva generación de adicción a la nicotina", dijo Alex Azar, secretario del Departamento de Salud y Servicios Humanos, en un comunicado de prensa reciente.
Las estadísticas muestran que uno de cada cinco estudiantes de secundaria han "vapeado" en el último mes. También muestran que los estudiantes que "vapean" lo hacen con mayor frecuencia que el año pasado.
Con las nuevas estadísticas, la FDA ha anunciado nuevas regulaciones para frenar el uso de cigarrillos electrónicos. Entre esas, se impondrá regulaciones en las ventas de cigarrillos electrónicos con sabor en tiendas minoristas, limitándolos a áreas cerradas que no son accesibles para los menores.
Los cambios propuestos, sin embargo, no incluyen los sabores de menta, mentol y tabaco. El Dr. Scott Gottlieb, comisionado de la FDA, dijo en un comunicado que proponía los nuevos cambios que quería dejar la puerta abierta a los adultos que usan los productos para dejar de fumar cigarrillos.
Gottlieb propuso prohibiciones adicionales en cigarrillos mentolados regulares y cigarros con sabor, y apretar las riendas de los productos comercializados o atractivos para los jóvenes.
"Esto podría incluir el uso de dibujos animados o personajes animados infantiles populares, o nombres de productos preferidos por los niños, como marcas de dulces o refrescos", dijo en un comunicado.
Expertos de la salud se preocupan de que los productos pudieran poner los cerebros en desarrollo de los niños en riesgo, y que sea una puerta de entrada para fumar cigarrillos y otras drogas.
"Los datos muestran que los niños que usan cigarrillos electrónicos tendrán más probabilidades de probar cigarrillos combustibles más adelante", dijo Gottlieb.