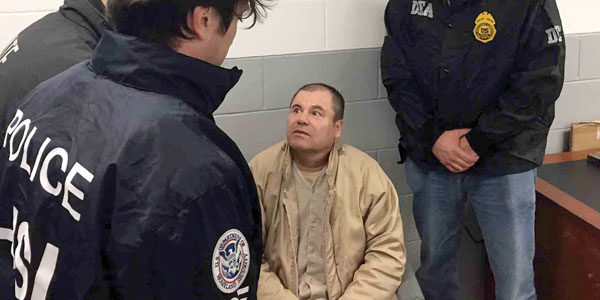 Calderon, Pena Nieto accused of receiving money from Sinaloa cartel
By Chara
On Nov. 13, the trial for drug lord Joaquin "El Chapo" Guzman Loera started in Brooklyn, New York.
The U.S. government is accusing "El Chapo" of murder in Mexico, smuggling drugs into the United States and money laundering. But defense attorney Jeffrey Lichtman is claiming "El Chapo" is the victim of a conspiracy and that Ismael Zambada Garcia, the drug lord's partner, was running the Sinaloa cartel.
According to The New York Times, Lichtman told the jury that Zambada Garcia (a.k.a., "El Mayo Zambada") oversaw sending drugs from Mexico to the United States. In addition, Lichtman claimed that Zambada Garcia paid millions of dollars to the Mexican government, including former President Felipe Calderon and outgoing Mexican President Enrique Pena Nieto (Peña Nieto in Spanish).
After Lichtman had made his statements to the jury, Calderon tweeted: "The assertions made by the lawyer of Joaquin 'El Chapo' Guzman are absolutely false and reckless. Neither he, nor the Sinaloa cartel, nor any other, made payments to me."
Pena Nieto also denied Lichtman's accusations.
"It seems to me that it is a defense mechanism that his lawyers have (used)," Pena Nieto said in a press release. "He ('El Chapo') has clearly been identified as one of the most wanted criminals and (someone) who is facing justice today."
Lichtman's claims also were challenged by Jesus Zambada Garcia, who is working with U.S. authorities and was called to testify. During his five hours of testimony, Zambada said the Sinaloa cartel was run by "El Chapo" and "El Mayo Zambada."
Zambada Garcia said he was part of the cartel and oversaw bribing government officials and other Mexican authorities. In addition, he said the cartel bribed Interpol officials and discussed other crimes committed by the cartel in Mexican territory.
__________________________________________________________________________________________________
Juicio del "El Chapo" en curso
Calderón, Peña Nieto acusados de recibir dinero del cártel de Sinaloa
El 13 de noviembre, el juicio para el narcotraficante Joaquín "El Chapo" Guzmán Loera comenzó en Brooklyn, Nueva York.
El gobierno de los Estados Unidos está acusando a "El Chapo" de asesinato en México, de contrabando de drogas a los Estados Unidos y lavado de dinero. Pero el abogado defensor Jeffrey Lichtman afirma que "El Chapo" es víctima de una conspiración y que Ismael Zambada García, el socio del narcotraficante, dirigía el cártel de Sinaloa.
Según The New York Times, Lichtman le dijo al jurado que Zambada García (alias "El Mayo Zambada") supervisó el envío de drogas desde México a los Estados Unidos. Además, Lichtman afirmó que Zambada García pagó millones de dólares al gobierno mexicano, incluyendo al ex presidente Felipe Calderón y al presidente mexicano saliente Enrique Peña Nieto.
Después de que Lichtman hiciera sus declaraciones al jurado, Calderón tuiteó: "Las afirmaciones hechas por el abogado de Joaquín 'El Chapo' Guzmán son absolutamente falsas e imprudentes. Ni él, ni el cártel de Sinaloa, ni ningún otro, me hicieron pagos".
Peña Nieto también negó las acusaciones de Lichtman.
"Me parece que es un mecanismo de defensa que sus abogados han usado", dijo Peña Nieto en un comunicado de prensa. "Él ha sido claramente identificado como uno de los criminales más buscados y (alguien) que hoy se enfrenta a la justicia".
Las afirmaciones de Lichtman también fueron desafiadas por Jesús Zambada García, quien está cooperando con las autoridades estadounidenses y quien fue llamado a declarar. Durante sus cinco horas de testimonio, Zambada dijo que el cártel de Sinaloa estaba dirigido por "El Chapo" y "El Mayo Zambada".
Zambada García dijo que formaba parte del cártel y supervisó el soborno de funcionarios del gobierno y otras autoridades mexicanas. Además, dijo que el cártel sobornó a funcionarios de la Interpol y discutió otros delitos cometidos por el cártel en territorio mexicano.