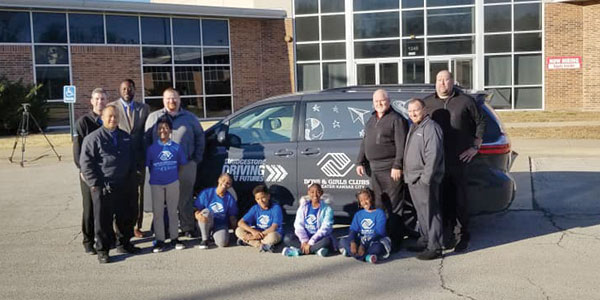 Story by Angie Baldelomar and photos courtesy of Boys & Girls Clubs
On Nov. 14, the Boys & Girls Clubs of Greater Kansas City received a new van from Bridgestone as part of its "Driving Great Futures" campaign.
The van was dropped off at the organization's Wyandotte County chapter in Kansas City, Kansas. John Lor, Firestone Complete Auto Care store manager, unveiled the surprise to the Boys & Girls Clubs crew. Lor and his teammates also prepped the van before the reveal.
"That's going to go a long way in helping us transport even more students to and from the clubs," said Dred Scott, Boys & Girls Clubs of Greater Kansas City president and CEO, as reported by Fox4KC.com.
The organization serves more than 9,000 Kansas City area kids and teens. A recent survey conducted by Bridgestone revealed that nearly 70 percent of parents agree that having reliable transportation is the biggest challenge to their children's participation in after-school activities. A lack of reliable transportation is even more of a stressor for low-income families.
The Wyandotte County chapter serves around 180 students daily, and 45 percent of them need a ride to and from the club. The van is expected to help relieve that situation.
---
Boys & Girls Clubs reciben nueva camioneta
El 14 de noviembre, los Boys & Girls Clubs del Gran Kansas City recibieron una nueva camioneta de parte de Bridgestone como parte de su campaña "Driving Great Futures".
La camioneta fue entregada en las instalaciones de la organización del condado de Wyandotte en Kansas City, Kansas. John Lor, gerente de la tienda Firestone Complete Auto Care, reveló la sorpresa al equipo de Boys & Girls Clubs. Lor y sus compañeros de equipo también prepararon la camioneta antes de la revelación.
"Eso nos ayudará a transportar aún más estudiantes desde y hacia los clubes", dijo Dred Scott, presidente y CEO de Boys & Girls Clubs del Gran Kansas City, como lo reportó Fox4KC.com.
La organización atiende a más de 9,000 niños y adolescentes del área de Kansas City. Una encuesta reciente realizada por Bridgestone reveló que casi el 70 por ciento de padres están de acuerdo en que tener un transporte confiable es el mayor desafío para la participación de sus hijos en las actividades después de la escuela. La falta de transporte confiable es aún más estresante para las familias de bajos ingresos.
La sede del condado de Wyandotte atiende a alrededor de 180 estudiantes por día, y 45 por ciento de ellos necesita transporte hacia y desde el club. Se espera que la camioneta ayude a aliviar esta situación.