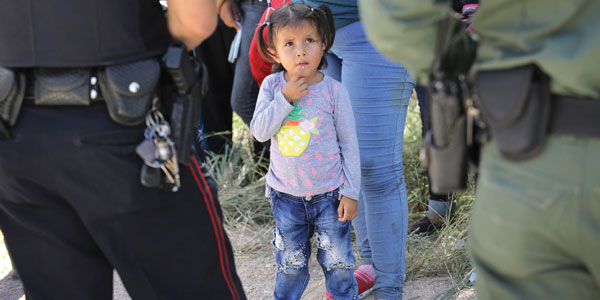 By Angie Baldelomar
By Angie Baldelomar
A former shelter worker charged with sexually abusing eight immigrant children while working at an immigrant shelter has been sentenced to 19 years in prison, the U.S. Department of Justice said.
Levian Pacheco was convicted in 2018 on seven counts of abusive sexual contact with a ward and three counts of sexual abuse of a ward. The abuse allegedly occurred between August 2016 and July 2017 at a Southwest Key's facility in Mesa, Arizona. Southwest Key is a non-profit organization contracted by the U.S. government to house unaccompanied migrant minors and runs migrant children's shelters in several states, including Arizona, Texas and California.
The seven boys Pacheco reportedly abused, some on multiple occasions, were between 15 and 17, according to court documents. They were being held in detention pending possible deportation, where Pacheco worked supervising the children.
Officials also said Pacheco's sentence was increased because he exposed victims to the HIV virus. His prison sentence would be followed by a lifetime of supervised release, the Justice Department said.
In August 2018, another worker at another Southwest Key facility was arrested for allegedly molesting an immigrant girl; and in July, ProPublica published a report saying the police had responded to at least 125 calls reporting sex offenses at shelters primarily serving immigrant children since 2014.
---
Ex empleado de refugio para migrantes sentenciado por abusar de niños
Un ex trabajador de refugio acusado de abusar sexualmente a ocho niños inmigrantes mientras trabajaba en un refugio para inmigrantes fue sentenciado a 19 años de cárcel, dijo el Departamento de Justicia de Estados Unidos.
Levian Pacheco fue condenado en 2018 por siete cargos de contacto sexual abusivo con un pupilo y tres cargos de abuso sexual de un pupilo. El abuso supuestamente ocurrió entre agosto de 2016 y julio de 2017 en las instalaciones de Southwest Key en Mesa, Arizona. Southwest Key es una organización sin fines de lucro contratada por el gobierno de Estados Unidos para alojar a menores inmigrantes no acompañados y administra refugios para niños migrantes en varios estados, incluidos Arizona, Texas y California.
Los siete niños que Pacheco abusó, algunos en más de una ocasión, tenían entre 15 y 17 años, según documentos judiciales. Estaban detenidos a la espera de una posible deportación, donde Pacheco trabajaba supervisando a niños.
Funcionarios también dijeron que la sentencia de Pacheco se incrementó porque expuso a las víctimas al virus del VIH. Su sentencia de prisión estaría seguida por una vida de libertad supervisada, dijo el Departamento de Justicia.
En agosto de 2018, otro empleado en otra instalación de Southwest Key fue arrestado por presuntamente abusar sexualmente de una niña inmigrante; y en julio, ProPublica publicó un informe diciendo que la policía había respondido a al menos 25 llamadas reportando delitos sexuales en refugios que atienden principalmente a niños inmigrantes desde 2014.