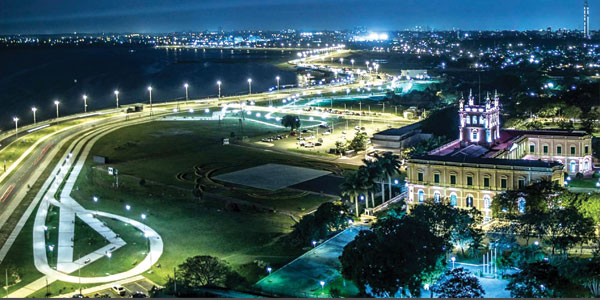 By Tom Sawyer
Welcome tourists! In this edition, we will talk about Asuncion, Paraguay the capital of the country where the Guarani language is one of its official languages. It is also one of the oldest cities in South America. The city was founded in 1537, initially as a military fort. It has about half a million citizens, while its metropolitan area has almost 3 million making it one of the largest urban agglomerations in South America.
The official name of the city is "The Very Noble and Loyal City of Our Lady Santa María de la Asuncion". It is among the cheapest capitals in the world, which makes it a very attractive place to invest both in the construction and in the services area, being one of the cities with the highest economic growth in the region. The Guaraní language is the native language of the Guaraníes, a group of indigenous native people of South America, which are distributed in Argentina, Bolivia, Brazil and mainly in Paraguay, having almost 12 million people dominating this language.
Round flights from Kansas to Asuncion have an average price of $1,100 and have 2 layovers. The best way to get around the city is by foot, given that the size of the city is relatively small, but the bus service is also a very good option to move quickly and effectively throughout the city. You can get a passage for less than half a dollar. The average price for a room in a 3-star hotel is $50 per night, while in a 5-star hotel it is $80 per night. Among the traditional foods of Asuncion is the Chiapas, a kind of cassava flour bread with cheese. In addition to the traditional South American drink mate, you can find a full meal for only $4.
Below I describe some of the sites that you should not miss to know in your next visit to Asunción:
The Palacio de López is one of the most emblematic buildings in the whole city and with a beauty of neoclassical architecture to stand out. It was built as the residence of Francisco Solano López, who would later become Paraguayan president. It was built with stones, wood, and bricks from the region, while granite and marble were brought from outside. Its construction began in 1857 and was completed in the middle of the War of the Triple Alliance. Currently, it is the seat of the Executive Power, but you can get tours from 8 am to 5 pm. If you can take a walk at night, I assure you that it will be worth it to take some pictures of such a beautiful place.
The Pantheon of the Heroes is an architectural jewel of great artistic, cultural and patrimonial value. In addition, it is a Paraguayan replica of the Parisian "Les Invalides", where the tomb of Napoleon is located. Also here has a mausoleum of the homeland where the remains of several heroes of Paraguayan history as Don Carlos Antonio López, 1st Constitutional President, Mariscal Francisco Solano López, Marshal José Félix Estigarribia hero and winner in the Chaco war against Bolivia.
Manzana de la Rivera an old house from the 1700s and others more than the 1800s, all linked by a common patio. Nowadays it is a Cultural Center with a Municipal Library, a Theater Hall. It also has rooms for permanent exhibitions of national and foreign art. It also has a nice bar to enjoy its terrace and a beautiful view of the city.
The House of Independence is a building of high national historical value. The main protagonists of the Independence of Paraguay met here secretly. When this site was restored, it became a museum that houses documents, paintings, and furniture from that era that make it a valuable cultural heritage for the nation.
The Metropolitan Cathedral of Asunción is the first diocese of the Río de la Plata. It was inaugurated in the year 1845 and has an upper altar covered with silver. A symbol of Catholic influence in the colonization of Paraguay.
National Museum of Fine Arts is a site where you can appreciate the Guarani culture. With a 40 minutes journey, you can appreciate the collection of paintings and prints by national artists who present their art in this museum. Admission is free and open.
South American Football Museum, a site in which tribute is paid to the greatest exponents of this sport in all South America. It was inaugurated in 2009 and has 2 floors where you can enjoy a collection of 1,800 pieces including balls, club shirts and selections, pennants, stadium photos, photos of finals and of course could not miss the great idols such as Pele, Maradona, and Messi. Admission is free but you have to talk in advance to book your visit.
The national currency is the Guaraní and I advise you to change some of your dollars to this currency because they do not accept the card in the whole city and especially if you eat in a small place in the city. Without more for the moment, wish you to have an excellent adventure and a good trip.
_________________________________________________________________________
Conoce Asunción
Bienvenidos turistas, en esta edición nos toca hablar de la capital del país en donde el idioma Guaraní es uno de sus idiomas oficiales, además es una de las ciudades más antiguas de Sudamérica, por supuesto nos referimos a Asunción, Paraguay. La ciudad fue fundada en el año 1537 inicialmente como un fuerte militar para luego de 4 años convertir su estatus a ciudad, cuenta con alrededor de medio millón de habitantes, mientras que su área metropolitana cuenta con casi 3 millones de habitantes haciendo de esta una de las más grandes aglomeraciones urbanas de Sudamérica.
El nombre oficial de la ciudad es "La Muy Noble y Leal Ciudad de Nuestra Señora Santa María de la Asunción". Se encuentra entre las capitales más baratas en el mundo, lo cual la convierte en un sitio bastante atractivo para invertir tanto en el área de construcción como en el área de los servicios, siendo así una de las ciudades con mayor crecimiento económico en la región en la actualidad. El idioma Guaraní es la lengua nativa de los Guaraníes, un conjunto de pueblos indígenas nativos de Sudamérica, los cuales se encuentran distribuidos en Argentina, Bolivia, Brasil y principalmente en Paraguay, teniendo así casi 12 millones de personas dominando este idioma.
Los vuelos redondos de Kansas a Asunción tienen un costo promedio de $1,100 y en su mayoría cuentan con 2 escalas. La mejor forma de moverse por la ciudad es a pie, dado a que el tamaño de la ciudad es relativamente pequeño, pero el servicio de autobuses es también una muy buena opción para movilizarse tanto rápidamente como efectivamente por toda la ciudad, el costo del pasaje es de menos de medio dólar. El costo promedio de una habitación en un hotel 3 estrellas es de $50 por noche, mientras que en un hotel 5 estrellas es de $80 por noche. Entre las comidas tradicionales de Asunción se encuentran los Chipas, una especie de pan de harina de yuca con queso, además de la bebida tradicional sudamericana del mate, una comida completa la puedes encontrar por sólo $4.
A continuación te describo algunos de los sitios que no deberás perderte de conocer en tu próxima visita por Asunción:
El Palacio de López, es uno de los edificios más emblemáticos de toda la ciudad y con una belleza de arquitectura neoclásica de resaltarse. Fue construido como residencia de Francisco Solano López, quien más adelante se convertiría en presidente paraguayo. Fue construido con piedras, madera y ladrillos de la región, mientras que el granito y el mármol fueron traídos de fuera. Su construcción empezó en el año 1857 y fue terminado en medio de la Guerra de la Triple Alianza. Actualmente es sede el Poder Ejecutivo, pero se pueden obtener recorridos de 8am a 5pm, si te puedes dar una vuelta por la noche te aseguro que valdrá la pena para tomar unas fotos de tan bello lugar.
El Panteón de los Héroes, es una joya arquitectónica de gran valor artístico, cultural y patrimonial. Además de que es una réplica paraguaya del "Les Inválides" parisino, sitio en donde se encuentra la tumba de Napoleón. Además aquí cuenta con un mausoleo de la patria en donde se encuentran los restos de varios héroes de la historia paraguaya como Don Carlos Antonio López 1er presidente Constitucional, Mariscal Francisco Solano López, Mariscal José Félix Estigarribia héroe y vencedor en la Guerra del Chaco contra Bolivia.
Manzana de la Rivera, se trata de un conjunto de casas antiguas, algunas de ellas de los años 1700 y otras más de los 1800, todas ellas unidas por un patio común. Hoy en día es un Centro Cultural con una Biblioteca Municipal, una Sala de Teatro, también cuenta con salas para exposiciones permanentes de arte nacional y extranjero, además también cuenta con un agradable bar para disfrutar desde su terraza de una linda vista de la ciudad.
La Casa de la Independencia, edificio de alto valor histórico nacional, ya que aquí se reunían secretamente los principales protagonistas de la Independencia de Paraguay. Al ser restaurado este sitio pasó a convertirse en un museo que alberga documentos, pinturas y muebles de esa época que lo convierten en un patrimonio cultural valioso para la nación.
La Catedral Metropolitana de Asunción, se trata de la primera diócesis del Río de la Plata. Fue inaugurada en el año 1845 y cuenta con un altar superior revestido de plata. Un símbolo de la influencia Católica en la colonización de Paraguay.
Museo Nacional de Bellas Artes, sitio en el que
podrás apreciar la cultura guaraní. Con un recorrido de 40 minutos podrás apreciar la colección de pinturas y grabados de artistas nacionales que presentan su arte en este museo. La entrada es libre y gratuita.
Museo del Fútbol Sudamericano, sitio en el que se le rinde homenaje a los más grandes exponentes de dicho deporte en todo Sudamérica. Fue inaugurado en 2009 y cuenta con 2 pisos en donde podrás disfrutar de una colección de 1,800 piezas entre pelotas, camisetas de clubes y selecciones, banderines, fotos de estadios, fotos de finales y por supuesto no podría faltar de los grandes ídolos como Pelé, Maradona y Messi. La entrada es gratuita pero hay que hablar con anticipación para reservar tu visita.
La moneda nacional es el Guaraní y te recomiendo que cambies algunos de tus dólares a esta moneda ya que no en toda la ciudad aceptan tarjeta y sobretodo si comes en algún sitio pequeño de la ciudad. Sin más por el momento me despido no sin antes desearte que tengas una excelente aventura, saludos y buen viaje.