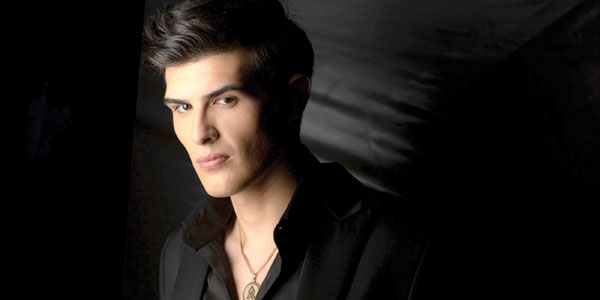 Regional Mexican singer Adriel Favela will perform this Saturday (April 6) at the Bermudas Event Center (Bermudas Night Club) in Kansas City, Kansas, as part of his "La Escuela No Me Gustó" tour.
This will be Favela's third time in Kansas City. This time, he comes with more maturity, he said.
"I've been through a lot, both in my personal and professional lives over the last (several) months," he said. "That's reflected in my work."
Born in San Francisco and raised by his grandparents in Sonora, Mexico, the Mexican-American singer always knew music was the path for him. At age 6, he started playing the drums. By age 15, he had written his first song.
"It's not just about producing good music, but also to bring a good message," he said.
For Favela, music is about leaving positive messages. Through his music, he said he has been able to learn about himself.
"I'm an honest artist," he said. "I reflect my experiences and what (has) worked for me, which doesn't necessarily mean it would work (for others)."
Favela believes it is key to focus on the positives of life, rather than the negatives. One positive for him is returning to Kansas City – this time to promote his new single "La Escuela No Me Gustó," featuring Javier Rosas. Rosas also is part of this tour.
Favela promises an "energetic" show.
"At the very least, I promise to take out all the negative energy and transform it into positive on stage," he said.
---
Adriel Favela regresa a Kansas City
El cantante de regional mexicano Adriel Favela se presentará este sábado (6 de abril) en el Centro de Eventos Bermudas (Bermudas Night Club) en Kansas City, Kansas, como parte de su gira, "La Escuela No Me Gustó".
Esta será la tercera vez de Favela en Kansas City. Esta vez, viene con más madurez, dijo.
"He pasado por mucho, tanto en mi vida personal como profesional en estos meses", dijo. "Eso se ve reflejado en mi trabajo".
Nacido en San Francisco y criado por sus abuelos en Sonora, México, el cantante mexicano-estadounidense siempre supo que la música era el camino para él. A los 6 años, comenzó a tocar la batería. A los 15 años, había escrito su primera canción.
"No es sólo sobre tratar de llevarles buena música, pero también sobre llevar un buen mensaje", dijo.
Para Favela, la música se trata de dejar mensajes positivos. A través de su música, dijo que ha podido aprender sobre sí mismo.
"Soy un artista honesto", dijo. "Reflejo mis experiencias y lo que (ha) funcionado para mí, lo que no significa necesariamente que funcionaría (para otros)".
Favela cree que la clave es enfocarse en los aspectos positivos de la vida en lugar de los negativos. Un aspecto positivo para él es regresar a Kansas City, esta vez para promocionar su nuevo single "La Escuela No Me Gustó", con Javier Rosas. Rosas también es parte de este tour.
Favela promete un show "energético".
"Por lo menos, prometo sacar la energía negativa y transformarla en positiva en el escenario", dijo.