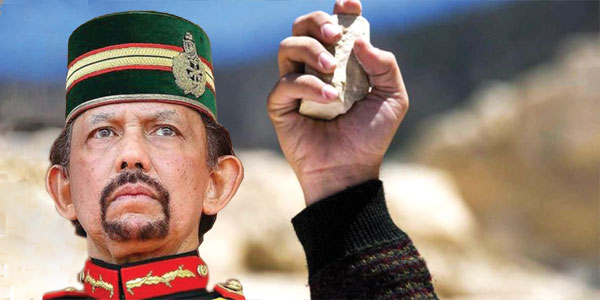 By Roberta Pardo
On April 3, a harsh new criminal law went into effect in Brunei, despite international outcry from other countries, rights groups and celebrities.
The law includes death by stoning for sex between men, for adultery and for abortion. The death penalty will also be required for some other offenses, including rape and some forms of blasphemy, like ridiculing the Quran or insulting the Prophet Muhammad.
The law also includes amputation of limbs as punishment for theft.
Brunei is a tiny monarchy on the island of Borneo in Southeast Asia ruled by Sultan Hassanal Bolkiah. The new penal code is based on Shariah, Islamic law based on the Quran and other writings.
The punishments apply to anyone who has reached puberty—many of who would be considered minors in Western countries.
Human Right Watch said the Brunei's new penal code violates global prohibitions against torture and other mistreatment, adding that adultery and homosexuality are protected against the death penalty by international law.
On April 2, the United States joined other countries in condemning these new penalties.
"The United States strongly opposes violence, criminalization, and discrimination targeting vulnerable groups, including women at risk of violence, religious and ethnic minorities, and lesbian, gay, bisexual, transgender and intersex persons," Robert Palladino, deputy spokesman for the State Department, said in a statement, according to The New York Times.
Celebrities such as George Clooney, Elton John and Ellen DeGeneres have called for a boycott of luxury hotels owned by Brunei around the world.
______________________________________________________________________________
Brunéi castigará el adulterio y la homosexualidad con lapidación
El 3 abril, entró en vigencia una nueva y severa ley penal en Brunei, a pesar de la protesta internacional de otros países, grupos de derechos y celebridades.
La ley incluye la muerte por lapidación para el sexo entre hombres, para el adulterio y para el aborto. También se requerirá la pena de muerte para algunos otros delitos, como la violación y algunas formas de blasfemia, como ridiculizar el Corán o insultar al profeta Mahoma.
La ley tambien incluye la amputación de miembros como castigo por robo.
Brunéi es una pequeña monarquía en la isla de Borneo en el sudeste asiático gobernada por el Sultán Hassanal Bolkiah. El nuevo código penal se basa en la Shariah, la ley islámica basada en el Corán y otros escritos.
Los castigos se aplican a cualquier persona que haya alcanzado la pubertad, muchos de los cuales serían considerados menores en los países occidentales.
Human Right Watch dijo que el nuevo código penal de Brunéi viola las prohibiciones globales contra la tortura y otros malos tratos, y agregó que el adulterio y la homosexualidad están protegidos contra la pena de muerte por el derecho internacional.
El 2 de abril, Estados Unidos se unió a otros países para condenar estas nuevas sanciones.
"Estados Unidos se opone enérgicamente a la violencia, la criminalización y la discriminación dirigida a grupos vulnerables, incluidas las mujeres en riesgo de violencia, las minorías religiosas y étnicas, y las personas lesbianas, gays, bisexuales, transexuales e intersexuales", dijo Robert Palladino, portavoz adjunto del Departamento de Estado, dijo en un comunicado, según The New York Times.
Celebridades como George Clooney, Elton John y Ellen DeGeneres han pedido un boicot de hoteles de lujo propiedad de Brunei en todo el mundo.