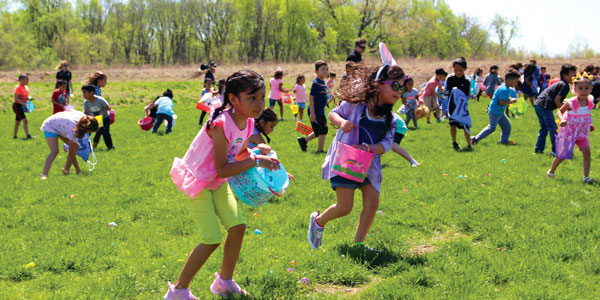 Photos and story by Roberta Pardo
On Easter Sunday (April 21), Reyes Media Group (RMG) hosted its annual Easter Egg Hunt after a four-year hiatus.
Held at the Wyandotte Sporting Fields in Kansas City, Kansas, the event drew a crowd of around 5,000 people and featured Easter egg hunts from noon to 3 p.m. There also were bouncy houses, food trucks and entertainment provided by disc jockeys from La X (1250 AM) and La Grande (1340 AM), as well as the clown Pachiclon and his friends.
Because this was the first time RMG had hosted an Easter egg hunt since 2015, Diana Reyes Raymer, RMG general manager, said it was difficult to predict the turnout or kind of response the event would get.
"I was really happy with the large turnout," she said. "It couldn't have happened without the sponsors."
Reyes Raymer said the event would not have been the big success it was if it were not for sponsors such as Sporting Kansas City, which provided the location.
"It was a blessing to get to host it at such a great location, with plenty of spaces for the hunts and people to enjoy of all attractions; it also had a huge parking lot," she said.
The event was free to the public. Reyes Raymer hopes to continue making it a free, public event for years to come. Events like it are an opportunity to connect sponsors with the community, she said.
"It's a great tradition to have," Reyes Raymer said. "We like to be able to do an event without charging and create a safe environment for parents to bring their kids."
Reyes Media Group is comprised of Dos Mundos, La Grande, La X and ESPN Deportes Kansas City (1480 AM).
_______________________________________________________________________
Dos Mundos, RMG organizan búsqueda anual de huevos de Pascua
El domingo de Pascua (21 de abril), Reyes Media Group (RMG) organizó su Búsqueda anual de Huevos de Pascua después de una pausa de cuatro años.
Celebrado en los campos deportivos de Wyandotte en Kansas City, Kansas, el evento atrajo a una multitud de alrededor de 5,000 personas y contó con la caza de huevos de Pascua desde el mediodía hasta las 3 p.m. También hubo casas inflables, camiones de comida y entretenimiento provistos por disc jockeys de La X (1250 AM) y La Grande (1340 AM), así como el payaso Pachiclón y sus amigos.
Debido a que esta fue la primera vez que RMG organizó una búsqueda de huevos de Pascua desde 2015, Diana Reyes Raymer, gerente general de RMG, dijo que era difícil predecir la participación o el tipo de respuesta que obtendría el evento.
"Me sentí muy feliz con la gran participación", dijo. "No podría haber ocurrido sin los patrocinadores".
Reyes Raymer dijo que el evento no habría sido el gran éxito que hubiera tenido si no fuera por patrocinadores como Sporting Kansas City, que proporcionó la ubicación.
"Fue una bendición poder tenerlo en una ubicación tan estupenda, con muchos espacios para la búsqueda y para que la gente disfruten de todas las atracciones; también tenía un enorme estacionamiento", dijo.
El evento fue gratuito para todo el público. Reyes Raymer espera continuar haciéndolo un evento público y gratuito durante los próximos años. Los eventos de este tipo son una oportunidad para conectar a los patrocinadores con la comunidad, dijo.
"Es una gran tradición", dijo Reyes Raymer. "Nos gusta poder realizar un evento sin cobrar y crear un entorno seguro para que los padres traigan a sus hijos".
Reyes Media Group está compuesto por Dos Mundos, La Grande, La X y ESPN Deportes Kansas City (1480 AM).