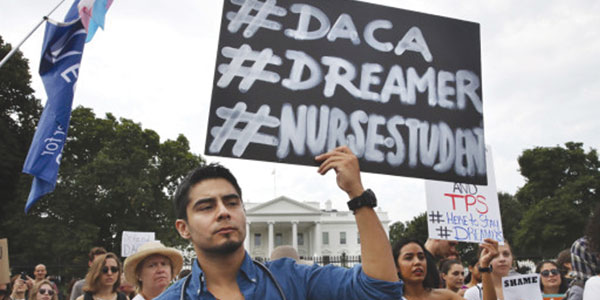 In a May 16 address at the White House, President Trump announced plans to "modernize our immigration system for a stronger America." His legislative proposal "establishes a new immigration system that protects American wages, promotes American values, and attracts the best and brightest from all around the world."
America has a history of welcoming newcomers, the president claimed, noting that "out of many people from many places we have forged one people and one nation under God." We share the same home and destiny, and "we pledge allegiance to the same great American flag," he said. His immigration plan builds on America's "rich history of immigration" while strengthening "the bonds of citizenship that bind us together as a national family."
Given the lofty sentiments and goals and purported benevolence toward immigrants, there's a breathtaking omission in the president's address. He made no mention of protecting Dreamers (some 700,000 undocumented young people who were brought to the United States as children). Deferred Action for Childhood Arrivals (DACA) temporarily safeguards Dreamers from deportation. The president's stunning neglect to address the state of DACA recipients leaves them in legal limbo.
If he were true to his May 16 remarks, the president would, at the very least, reauthorize DACA.
Instead, he's pursued terminating the program, so far, unsuccessfully. Back in January, the U.S. Supreme Court declined to review his request to review the legality of DACA, leaving a final decision until at least 2020.
In his address, Trump spoke eloquently and movingly about the interests and values of Americans; welcoming newcomers; forging one nation with people from many places who share the same home and destiny; and the ties of mutual interest that bind us together as a national family.
In late 2017, the Migration Policy Institute published a profile of DACA recipients. Among their findings: 55 percent were employed, accounting for one-quarter of all workers in the U.S. A survey of 41 states in August 2018 found that 96 percent of DACA recipients are working, going to school or both.
An outstanding student, a DACA recipient, made national news recently. Luis Rivera was one of only 208 students among 6,800 applicants accepted to prestigious Harvard Medical School. Harvard admits only "the best and brightest from all around the world" – the quality of folks that President Trump wants to attract.
DACA recipients embody all those characteristics about which Trump waxed eloquent in his address. They contribute to their respective communities; engage civically; pay taxes, supporting the federal and state and local economies; they study, and they work in our hospitals, schools, courtrooms, nursing homes, libraries, farming and agricultural sectors and more.
In short, these young people in whose education we've invested share our values, home and destiny. They pledge allegiance to this country they've adopted; they're valued and valuable members of our national family, not unwanted stepchildren. They're Americans by choice. Why then does this president who claims to love America and Americans callously write them off?
Nota bene: Read the president's immigration address online at: https://www.whitehouse.gov/briefings-statements/remarks-president-trump-modernizing-immigration-system-stronger-america/
_________________________________________________________________________
Señor Presidente, ¿qué pasa con los beneficiarios de DACA?
En un discurso el 16 de mayo en la Casa Blanca, el presidente Trump anunció planes para "modernizar nuestro sistema de inmigración para un Estados Unidos más fuerte". Su propuesta legislativa "establece un nuevo sistema de inmigración que protege los salarios estadounidenses, promueve los valores estadounidenses y atrae los mejores y los más brillantes de todas partes del mundo".
Estados Unidos tiene una historia de dar la bienvenida a los recién llegados, afirmó el Presidente, notando que "de muchas personas de muchos lugares, hemos forjado un pueblo y una nación bajo Dios". Compartimos el mismo hogar y destino, y "prometemos lealtad a la misma gran bandera estadounidense", dijo. Su plan de inmigración se basa en la "rica historia de inmigración" de Estados Unidos al mismo tiempo que fortalece "los lazos de ciudadanía que nos unen como familia nacional".
Dados los elevados sentimientos y metas y la supuesta benevolencia hacia los inmigrantes, hay una asombrosa omisión en el discurso del Presidente. No mencionó proteger a los "Dreamers" (unos 700,000 jóvenes indocumentados que fueron traídos a los Estados Unidos cuando eran niños). La Acción Diferida para los Llegados en la Infancia (DACA) protege temporalmente a los Dreamers de la deportación. La sorprendente negligencia del Presidente para abordar el estado de los beneficiarios de DACA los deja en un limbo legal.
Si fuera fiel a sus comentarios del 16 de mayo, el Presidente, como mínimo, volvería a autorizar DACA.
En su lugar, ha intentado terminar el programa, hasta ahora, sin éxito. En enero, el Tribunal Supremo de Estados Unidos se negó a revisar su solicitud de revisar la legalidad de DACA, dejando una decisión final hasta al menos 2020.
En su discurso, Trump habló de manera elocuente y conmovedora sobre los intereses y valores de los estadounidenses, sobre dar la bienvenida a los recién llegados y forjar una nación con personas de muchos lugares que comparten el mismo hogar y destino, y sobre los lazos de interés mutuo que nos unen como familia nacional.
A fines de 2017, el Instituto de Políticas de Migración publicó un perfil de los beneficiarios de DACA. Entre sus hallazgos: el 55 por ciento estaban empleados, lo que representa una cuarta parte de todos los trabajadores en Estados Unidos. Una encuesta de 41 estados en agosto de 2018 encontró que el 96 por ciento de los beneficiarios de DACA están trabajando, asistiendo a la escuela o ambos.
Un estudiante sobresaliente, beneficiario de DACA, fue noticia nacional recientemente. Luis Rivera fue uno de sólo 208 estudiantes entre 6,800 solicitantes aceptados a la prestigiosa Facultad de Medicina de Harvard. Harvard admite que sólo "los mejores y más brillantes de todo el mundo", la calidad de la gente que el presidente Trump quiere atraer.
Los beneficiarios de DACA representan todas las características sobre las cuales Trump fue muy elocuente en su discurso. Contribuyen a sus respectivas comunidades; participan cívicamente; pagan impuestos, apoyando a las economías federales y estatales y locales; estudian y trabajan en nuestros hospitales, escuelas, salas de audiencias, hogares de ancianos, bibliotecas, sectores agrícolas y más.
En resumen, estos jóvenes en cuya educación hemos invertido comparten nuestros valores, hogar y destino. Prometen lealtad a este país que han adoptado; son valorados y miembros valiosos de nuestra familia nacional, no hijastros no deseados. Son estadounidenses por elección. ¿Por qué, entonces, este Presidente que dice amar a Estados Unidos y los estadounidenses los ignora de manera cruel?
Nota bene: Lea el discurso de inmigración del Presidente en línea en https://www.whitehouse.gov/briefings-statements/remarks-president-trump-modernizing-immigration-system-stronger-america/