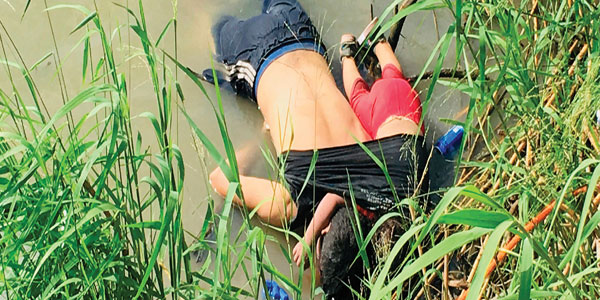 A single photograph — of a man from El Salvador and his 23-month-old daughter, drowned in the Rio Grande — illustrates the immensity of the horror unfolding at the border between Mexico and the United States. The tragedy captured in the photo is no anomaly. At the border, dying is an everyday thing.
Abraham Pineda Jácome, a photographer for the Spanish news agency EFE, told me in an interview that he and three other journalists had found the bodies of Óscar Alberto Martínez and his daughter Valeria on the Mexican side of the river, in the city of Matamoros. Both were lying face down in the water, the girl snug against her father's shoulder, one arm wrapped around his neck.
Photos of Óscar and Valeria lying lifeless in the river recently went viral on social media and have now been seen around the world. They are strikingly reminiscent of the photo of Alan Kurdi, the 2-year-old Syrian refugee who was found dead, washed up on a Mediterranean shore, in 2015.
For thousands of refugees and immigrants, the Rio Grande is every bit as dangerous as the Mediterranean Sea. Nobody will ever know exactly what happened to Óscar and his daughter in that river. They were traveling with Tania — Óscar's wife and Valeria's mother — and their plan was to cross over to the U.S. side. All we know is that the currents were too strong, and that father and daughter drowned. Their bodies were recovered only after several hours of searching.
Óscar, Tania and Valeria had left El Salvador, like thousands of other Central Americans, to escape the extreme poverty and violence of their homeland. They managed to get as far as Matamoros, where they were hoping to enter the United States, but were daunted by the long and complex process of applying for asylum that awaited them. Finding the international bridge temporarily closed, the family decided to take matters into their own hands, and on June 23, Óscar, Tania and Valeria climbed into the river. Tania eventually turned back to the Mexican side, but Óscar and Valeria were swept under by the rough waters.
We will never know if Óscar and his family would have had valid reasons for receiving political asylum in the United States. The process is designed to be as difficult as possible. Only a few dozen applications are processed at U.S. ports of entry each day. And under the current agreement between the Mexican and American governments, asylum-seekers must wait in Mexico — not the United States — for months, even years, while their claims are processed.
Mexico and the United States are making life nearly impossible for Central American migrants, and yet they continue to make the journey north. Immigrants from Honduras, Guatemala and El Salvador have told me that they'd rather risk being detained in the United States than stay in their home countries any longer. Many feel they have no choice but to risk their lives crossing rivers, deserts and mountains. No father and daughter should face death just because they're immigrants.
Unfortunately, hundreds of Óscars and Valerias continue to die at the border every year. They attempt to cross along the most dangerous stretches, where there are no walls to stop them, and many drown or die from dehydration. There are no pictures of these migrants; in many cases, there's not any record. All that's left behind is a piece of sun-damaged clothing or a scrap of wet paper.
What happened to Óscar and Valeria isn't unusual. The U.S. Border Patrol recorded 7,505 deaths between October 1997 and September 2018. This means that, on average, over 350 immigrants die at the Mexico-U.S. border each year.
Óscar's and Valeria's deaths will be added to the statistics for 2019. Their tragedy reveals just how bad things have gotten: Today, Central America's most vulnerable families are forced, with government consent, to travel the most dangerous routes to the prospect of safety.
Migration is a complex and controversial topic. It divides families, governments and countries. However, I think we can all agree that a 23-month-old girl should not have to die in order to escape poverty and violence. There is only one word that describes what happened to her and her dad: horror.
---
La Imagen del Horror
Basta una foto — la de un padre salvadoreño y su hija de 23 meses de edad, ahogados, en el río Bravo — para comprender el horror de lo que está pasando en la frontera entre México y Estados Unidos. No se trata de un extraño accidente, de un hecho desafortunado o de una excepción. No. Morir en esa frontera es lo normal.
De hecho, no es una foto sino varias. El fotógrafo Abraham Pineda Jácome de la agencia EFE me contó en una entrevista que fueron cuatro los reporteros, incluyéndolo a él, los que encontraron los cuerpos de Óscar Alberto Martínez y de su hija Valeria en la orilla mexicana del río, la que da a Matamoros, Tamaulipas. Ambos aparecen boca abajo en el agua, con la niña junto a su padre, parcialmente dentro de su camiseta negra y con uno de sus bracitos abrazándole el cuello.
Varias fotografías de la tragedia han circulado masivamente en las redes sociales del mundo. Nos traen a la memoria la imagen del niño Alan Kurdi, un refugiado sirio de 2 años de edad, que murió en las costas del Mediterráneo en el 2015. El río Bravo es tan peligroso como el Mediterráneo para miles de refugiados e inmigrantes. No sabemos exactamente qué fue lo que le pasó a Óscar y a su hija en el río. Estaban con Tania, la esposa de Óscar y la madre de Valeria, con la intención de cruzar desde México hacia la orilla estadounidense del río. Pero lo que sí sabemos es que la corriente fue más fuerte y el padre y su hija murieron ahogados. Encontraron sus cadáveres después de varias horas de búsqueda.
Óscar, Tania y Valeria habían salido de El Salvador, como miles de centroamericanos, huyendo de la pobreza y la violencia. Y así llegaron a Matamoros, cerca de la frontera y con la esperanza de cruzar a Estados Unidos. Pero el proceso para solicitar el asilo político en Estados Unidos es tan lento e incierto que se desesperaron y, cuando encontraron que el puente internacional estaba temporalmente cerrado, decidieron cruzar el río. Tania eventualmente regresó a la orilla del lado mexicano, pero el agua se llevó a Óscar y a Valeria.
Nunca sabremos si Óscar y su familia tenían razones válidas, es decir, un miedo razonable y creíble de persecución, para solicitar asilo político en Estados Unidos. El proceso está diseñado, precisamente, para complicarles las cosas a los emigrantes. Estados Unidos sólo procesa unas decenas de aplicaciones por día en cada puerto de entrada. Y según el nuevo acuerdo entre los gobiernos de Donald Trump y Andrés Manuel López Obrador, los solicitantes tendrán que esperar por meses — o quizás años — en México para obtener una respuesta.
No maquillemos la noticia: México y Estados Unidos acordaron hacerles la vida imposible a los centroamericanos que buscan una vida mejor en el norte. Por eso muchos se ven acorralados a arriesgar su vida cruzando ríos, desiertos y montañas. Y lo seguirán haciendo. Inmigrantes de Honduras, Guatemala y El Salvador me han dicho que prefieren correr el riesgo de arresto y detención en Estados Unidos que quedarse en sus países de origen. Pero la muerte no debería ser el precio a pagar por ser un inmigrante.
Cada año cientos de Óscares y Valerias mueren en la frontera entre México y Estados Unidos. Escogen los caminos más peligrosos, donde no hay muro que los detenga, y fallecen ahogados, perdidos o deshidratados. No hay fotos de ellos y, en muchos casos, ni registro. Sólo una pieza de ropa carcomida por el sol o un pedazo de papel mojado. Lo que les ocurrió a Óscar y a Valeria, es, desafortunadamente, lo normal. De octubre de 1997 a septiembre del 2018 la Patrulla Fronteriza ha registrado la muerte de 7.505 inmigrantes, según publicó The New York Times. Esto significa que, en promedio, cada año mueren más de 350 inmigrantes en la frontera entre México y Estados Unidos.
Óscar y Valeria entrarán en la estadísticas del 2019. Pero su tragedia deja al descubierto un sistema multinacional que expulsa a los más vulnerables de sus países de origen, obligandolos a tomar la ruta más difícil hacia los Estados Unidos.
El tema migratorio es sumamente complejo y polémico. Divide familias, gobiernos y países. Pero creo que todos podemos estar de acuerdo con que morir no debe ser una alternativa para una niña que aún no había cumplido los 2 años. Lo que a ella y a su papá les ocurrió es el horror.