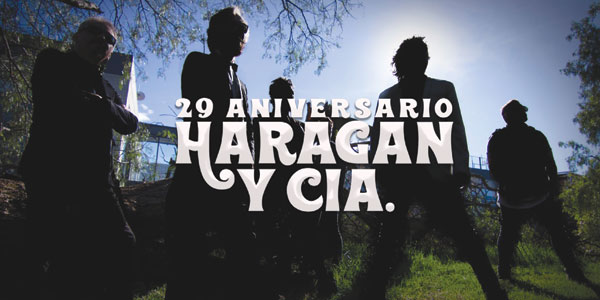 Un grupo de rock procedente de Ciudad de México vendrá a Kansas City.
'El Haragán y Compañía' se presentará en el Bermudas Event Center en Kansas City, Kansas, este 19 de julio.
La banda fue fundada por Luis Álvarez en 1989 y tiene influencias de blues rock, hard rock, rock and roll y blues. Algunas de sus temas más populares incluyen "Mi Muñequita Sintética", "Él No Lo Mató", "En El Corazón No Hay Nada", "No Estoy Muerto" y "Bajando en la Esquina", entre otros. Desde 1992, el grupo ha hecho giras por Estados Unidos, pero ésta será la primera vez que tocará en Kansas City.
Recientemente, Dos Mundos habló con Álvarez, también cono-cido como "El Haragán", sobre su próxima presen-tación en Kansas City.
Dos Mundos: ¿Qué esperas de la presentación en Kansas City?
Luis Álvarez: Espero lo mejor. Siempre que vamos a un lugar que no hemos ido antes, hay mucha efusión, mucha nostalgia, así que va a estar muy emocionante. Llegamos en buen momento a Kansas City, cuando estamos de agasajo. Estamos llevando un costal de canciones y representando a la Ciudad de México.
DM: Como men-cionaste, ya están empezando con los festejos de su 30 ani-versario, ¿cómo se logra llegar a cumplir tanto tiempo haciendo música?
LA: Para mi, más que una carrera artística, es una carrera de aguante, llena de altibajos, con momentos de querer tirar la toalla… Se logra teniendo fe. Cada vez que me subo a un escenario es el momento más feliz de mi vida, cuando veo a mis fans. Es una carrera de aguante, pero sobre todo una carrera de amor, de servicio a los fans.
En 1987, Álvarez participó en el festival Encuentro de Compositores del Estado de México. Fue ahí donde nació el sobrenombre de "El Haragán", luego de que el locutor del evento se confundiera e invirtiera los títulos de autor y tema y dijera: "Les presento a 'El Haragán' con la canción 'Luis Álvarez'".
Aunque Álvarez ha tratado de cambiarse ese sobrenombre, por las connotaciones negativas que la palabra 'haragán' conlleva, la gente ya lo conocía por ese sobrenombre. En cambio, él ha logrado encontrarle una explicación positiva a la palabra asociándola con la creatividad.
DM: ¿Cuál es tu parte favorita de hacer gira por Estados Unidos?
LA: Cualquier lugar que vamos es diferente. No tenemos lugares preferidos. El lugar más chido es donde la gente se entrega y nos va a ver y da lo mejor como público. Cualquier lugar puede ser el mejor; sólo depende de la gente.
DM: ¿Qué debe esperar el público de Kansas City de tu primera presentación este 19 de julio?
LA: Lo mejor. Estamos de festejo. Vamos a tocar nuestros mejores éxitos; en esta gira estamos remembrando nuestro disco Rojo. Les vamos a tocar ese disco de principio a fin y aparte los mejores éxitos … es una selección muy especial. También les prometo una entrega total. Como vamos por primera vez, vamos en plan de conquista.
DM: ¿Qué mensaje les quieres dar a tus fans en Kansas City?
LA: El mensaje es que les deseo mucho rock and roll, y espero verlos este 19 de julio en el Bermudas Event Center. No se lo pueden perder. Esperemos que vengan y que festejen con nosotros.