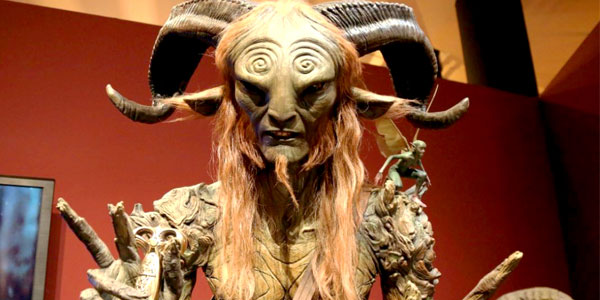 By Roberta Pardo
Academy Award-winning Mexican filmmaker Guillermo del Toro's "At Home with my Monsters" exhibition is in Guadalajara, Mexico, until Oct. 31.
Recently, Dos Mundos Editor and President Clara Reyes visited the exhibition held outside the University of Guadalajara's Museum of Arts.
Previously shown in Los Angeles, Minneapolis and Ontario, the exhibit offers viewers inside perspectives of del Toro's creative process and sources of inspiration.
Reyes said the exhibition is grandiose.
"It's extraordinary, fantastic and a must-see for everyone," she said.
Visitors can see life-size versions of many characters from del Toro's films such as "Hellboy," "Pan's Labyrinth," and "The Shape of Water," among others. Curated by Eugenio Caballero, the exhibition has been very successful so far, with daily crowds attending it and a month-long waitlist, Reyes said.
For more information visit https://encasaconmismonstruos.com/.
__________________________________________________________________________
Exhibición de Guillermo del Toro atrae multitudes en Guadalajara
La exhibición "En Casa con mis Monstruos", del cineasta mexicano Guillermo del Toro, ganador del Premio de la Academia, se encuentra en Guadalajara, México, hasta el 31 de octubre.
Recientemente, la editora y presidenta de Dos Mundos, Clara Reyes, visitó la exposición que se realiza fuera del Museo de las Artes de la Universidad de Guadalajara.
Anteriormente mostrada en Los Ángeles, Minneapolis y Ontario, la exposición ofrece a los espectadores perspectivas del proceso creativo y las fuentes de inspiración de Del Toro.
Reyes dijo que la exposición es grandiosa.
"Es extraordinario, fantástico y una visita obligada para todos", dijo.
Los visitantes pueden ver versiones de tamaño real de muchos personajes de las películas de Del Toro, como "Hellboy", "El Laberinto del Fauno" y "La Forma del Agua", entre otros. Comisariada por Eugenio Caballero, la exposición ha sido muy exitosa hasta ahora, con multitudes diarias asistiendo y una lista de espera de un mes, dijo Reyes.
Para obtener más información, visite https://encasaconmismonstruos.com/.