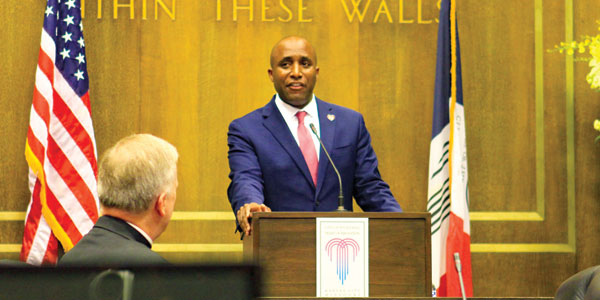 Story by Roberta Pardo and photos by Michael Alvarado
Quinton Lucas was sworn in as the new Kansas City, Missouri, mayor Aug. 1, amid a packed City Council chambers.
Lucas, 34 and the city's 55th mayor, is the youngest Kansas City mayor in 120 years.
During his speech, Lucas said he was eager to tackle the challenges that lie ahead. He repeated the promises made during his campaign, including focusing on housing and lowering the violent crime rate.
"Our work is to make sure that no one is left behind in Kansas City in our next generation," he said, speaking to his council colleagues. "And our work is to ensure that we leave this city and its diverse neighborhoods … safer, healthier and stronger than we find them today."
Lucas emphasized collaboration as key to fulfilling lofty goals, such as taking Kansas City off the FBI's top 10 most violent cities in the U.S. list by the end of his first term.
"I want to make sure I'm always being collaborative with and working with the city council," he said.
U.S. Rep. Sharice Davids of Kansas introduced Lucas at the ceremony. The two were classmates at Cornell University Law School. Her attendance was symbolic of the cooperation Lucas hopes to achieve as mayor.
Lucas received two parting gifts from outgoing Mayor Sly James: A pair of sterling silver KC cuff links and a flask.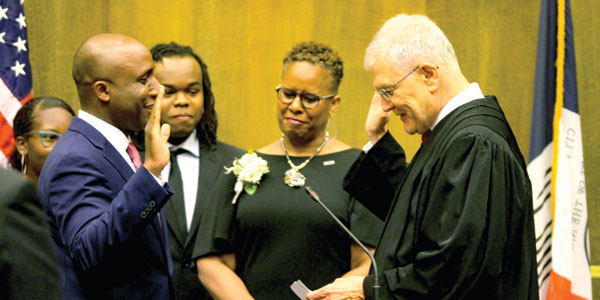 ---
Lucas realizó su juramento como nuevo alcalde de KCMO
Quinton Lucas realizo el juramento como el nuevo alcalde de Kansas City, Missouri, el 1 de agosto, en medio de las cámaras del Ayuntamiento.
Lucas, de 34 años y el alcalde número 55 de la ciudad, es el alcalde más joven de Kansas City en 120 años.
Durante su discurso, Lucas dijo que estaba ansioso por enfrentar los desafíos que se avecinan. Además, repitió las promesas hechas durante su campaña, incluyendo el centrarse en la vivienda y reducir la tasa de delitos violentos.
"Nuestro trabajo es asegurarnos de que nadie se quede atrás en Kansas City en nuestra próxima generación", dijo, hablando hacia sus colegas del consejo. "Y nuestro trabajo es asegurarnos de dejar esta ciudad y sus diversos vecindarios … más seguros, saludables y fuertes de lo que los encontramos hoy".
Lucas enfatizó la colaboración como clave para cumplir objetivos nobles, como sacar a Kansas City de la lista del F.B.I de las 10 ciudades más violentas de EE. UU. Al final de su primer mandato.
"Quiero asegurarme de que siempre este colaborando y trabajando con el ayuntamiento", dijo.
El representante estadounidense Sharice Davids de Kansas presentó a Lucas en la ceremonia. Los dos eran compañeros de clase en la Facultad de Derecho de la Universidad de Cornell. Su asistencia fue una representación de la colaboración que Lucas espera lograr como alcalde.
Lucas recibió dos regalos de despedida del alcalde saliente Sly James: unas mancuernillas de plata esterlina con el símbolo de KC y un contenedor.