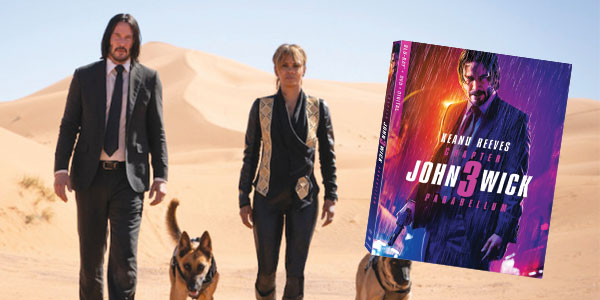 John Wick vuelve a la carga para otro éxito de taquilla a nivel mundial cuando John Wick: Chapter 3 – Parabellum estrenara en versión Digital el 23 de agosto y en 4K Ultra HD™ Combo Pack (más Blu-ray y Digital), Blu-ray Combo Pack (más DVD y Digital), DVD y Bajo Demanda el 10 de septiembre de la mano de Lionsgate.
La cinta está protagonizada por Keanu Reeves, Halle Berry, Laurence Fishburne, Marc Dacascos, Asia Kate Dillon, Lance Reddick, Anjelica Huston y Ian McShane.
A la cabeza del superasesino John Wick (Keanu Reeves) le han puesto un precio de $14 millones de dólares después de que éste haya matado a un miembro de High Table, una red clandestina de asesiones internacionales. Expulsado y con el mayor ejército de matones del mundo pisándole los talones, John debe buscar una manera de sobrevivir en esta tercera entrega de una serie cargada de acción y adrenalina.
El lanzamiento de John Wick: Chapter 3 – Parabellum en 4K Ultra HD Combo Pack, Blu-ray Combo Pack y DVD estará disponible por el precio sugerido de venta de $42.99, $39.99 y $29.95, respectivamente.
CONTENIDO ESPECIAL DE 4K UHD / BLU-RAY / DIGITAL: reportaje Parabellum: Legacy of the High Table, reportaje Excommunicado, reportaje "Check Your Sights, reportaje Saddle Up Wick, reportaje Bikes, Blades, Bridges, and Bits, reportaje Continental in the Desert, reportaje Dog Fu, reportaje House of Transparency, reportaje Shot by Shot, tráiler para Cines #1, tráiler para Cines #2, t ráiler del Juego John Wick Hex, reportaje Behind the Scenes of John Wick Hex.
CONTENIDO ESPECIAL DEL DVD: reportaje Parabellum: Legacy of the High Table, reportaje "Excommunicado, tráiler para Cines #1, tráiler para Cines #2, tráiler del Juego John Wick Hex, reportaje "Behind the Scenes of John Wick Hex"