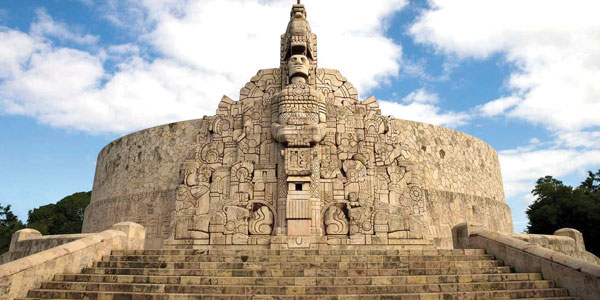 By Tom Sawyer
Welcome tourists! In this edition, we have to talk about a city in our neighboring country of Mexico, considered twice as the American Capital of the Culture because of the push of a great variety of international cultural events. We are talking about Merida, Mexico. City founded in 1542 where the old Mayan city of T'Hó used to be, Merida has a population close to a million inhabitants.
The city is named Merida after Merida, Spain. This is because some of his founders were from that city and the buildings from the old Mayan city reminded them of the roman ruins in Emerita Augusta, old city located where Merida, Spain, is now. The city of Merida is the capital and the most important city in the state of Yucatan.
Round-trip flights from Kansas to Merida have an average cost of $500 and have at least one layover. The best way to get around the city is by foot, since the city is quite calm and safe to be able to do it, though that will depend a lot on the time of the day and time of the year since it can be quite difficult to walk with high temperatures. For those situations, a good option is to get around on taxis since the name of the streets—even numbers if they are streets from north to south and odd if they are streets from east to west) complicates moving around in a rented car without getting it wrong. Lodging in Merida ranges from 3-star hotels at $30 per night and in a 5-star hotel at $60 per night, although if you like being a backpacker you can find hostels from $10. Yucatecan food is very loved and recognized throughout Mexico, highlighting the cochinita pibil as one of its most beloved and sought-after dishes throughout the country. It is shredded pork and prepared in an orange sauce, chili and a spice called achiote. Besides that, be sure to try the famous lime soup and the rich tamales, which are wrapped in musa leaves (banana plants), instead of corn leaves like the vast majority of Mexican tamales. The average cost of a full meal is $8 with dessert included.
The places you should not miss during your next visit for the colonial city of Merida are the following:
*Big square: it is the nerve center of the city. On this site you will find a completely colonial city. It is surrounded by the main buildings of the historical center of the city, such as the government palace, the Olimpo Cultural Center, the Yucatan Cathedral among others. It should also be noted that it is surrounded by gardens and many benches where you can enjoy a delicious dessert or the exhibits that are made of the ancient ball game invented by the Mayan. The Yucatan Cathedral is dedicated to Saint Ildefonso and is the first cathedral built in all of continental America (mainland) and the second in the entire continent since the first one is located on the island of the Dominican Republic. In addition to this, it was built with the stones with which the ancient Mayan city of T'Hó was built. Its constructions began in 1562 and were finished by 1598.
*Paseo Montejo: it is the longest and most beautiful avenue in the entire city. This avenue has 5 km of travel, where you will find the old houses of the colonial era and the Porfiriato that are more preserved throughout the city, a walk on this avenue will be like going back in time a few hundred years. In addition to that you can find multiple monuments along the way, such as the monuments to the Montejo, founders of the city.
*Uxmal: take advantage of the proximity to the ancient Mayan city to visit it. The ancient Mayan city of Uxmal is located just one hour from Merida. If you decided to rent a vehicle, take the opportunity to get to know it and if not, do not worry: you can take a truck for about $10 or hire one of the many excursion services to this city which have certified guides that will help you know all about it. The entrance fee is $14 to foreigners or $9 to Mexicans.
*Magical town of Izamal: this beautiful city is also known as the yellow city. The city has a legacy from the pre-Hispanic era, from the colonial era and also with constructions from the modern era. It is known as the yellow city because in 1993 Pope John Paul II officiated a mass in this city and, in honor of his visit, the entire city was painted yellow representing the colors of the Vatican.
*Water Cenotes: water deposits, found throughout the Yucatan Peninsula region. You can visit if you choose a large number of Cenotes since so far the peninsula has been found throughout the region more than 2,000 cenotes, of which many of them are in the vicinity of the city and the vast majority have an entrance fee of less than $5 entry.
Without more for the moment and hoping you have enjoyed another article, I wish you have an excellent adventure. Greetings and have a safe trip!
________________________________________________________________________________________
Conoce Mérida
Bienvenidos turistas, en esta edición nos toca hablar de una ciudad de nuestro país vecino México, considerada en dos ocasiones como la Capital Americana de la Cultura debido al impulso de una gran cantidad de eventos culturales de talla internacional: nos referimos a Mérida, México. Ciudad fundada en el año 1542 en donde anteriormente se encontraba la antigua ciudad maya T'Hó, cuenta con una población cercana a 1 millón de habitantes.
La ciudad lleva el nombre de Mérida en honor a Mérida, España. Esto se debe a que algunos de sus fundadores eran de esa ciudad y las edificaciones de la antigua ciudad maya les hacían recordar las ruinas romanas de Emérita Augusta, antigua ciudad que se encontraba donde actualmente está Mérida, España. La ciudad de Mérida es la capital y la ciudad más importante del estado de Yucatán.
Los vuelos redondos de Kansas a Mérida tienen un costo promedio de $500 y cuentan con al menos una escala. La mejor manera de moverse dentro de la ciudad es a pie, ya que la ciudad es bastante tranquila y segura para poder realizarlo, eso sí dependerá mucho de la hora y la época del año ya que puede llegar a ser bastante complicado caminar con altas temperaturas. Para esas situaciones, una buena opción es moverse en taxi ya que el nombre de las calles (números pares si son calles de norte a sur e impares si son calles de este a oeste) complica un poco el moverse en automóvil rentado sin llegar a equivocarse. El hospedaje en Mérida oscila en hoteles 3 estrellas en $30 por noche y en un hotel 5 estrellas en $60 la noche, aunque si te gusta ser mochilero puedes encontrar hostales desde $10. La comida yucateca es muy querida y reconocida en todo México, destacando la cochinita pibil como uno de sus platos más queridos y buscados en todo el país. Se trata de carne de cerdo deshebrada y preparada en una salsa de naranja, chile y una especia llamada achiote. Además de eso no dejes de probar la famosa sopa de lima y los ricos tamales, que son envueltos en hojas de las musas (plantas del plátano), en lugar de en hojas de maíz como la gran mayoría de tamales mexicanos. El costo promedio de una comida completa es de $8 con postre incluido.
Los lugares que no deberás perderte en tu próxima visita por la colonial ciudad de Mérida son los siguientes:
*Plaza grande: es el centro neurálgico de la ciudad. En este sitio encontrarás una ciudad totalmente colonial, está rodeada por los principales edificios del centro histórico de la ciudad, como el palacio de gobierno, el Centro Cultural Olimpo, La Catedral de Yucatán entre otros. Además cabe destacar que está rodeada de jardines y muchas banquitas en donde podrás disfrutar de un rico postre o bien de las exhibiciones que se hacen del antiguo juego de pelota inventado por los mayas. La Catedral de Yucatán está dedicada a San Ildefonso y es la primer catedral levantada en toda América continental (tierra firme) y la segunda en todo el continente ya que la primera se encuentra en la isla de República Dominicana. Además de esto fue construida con las piedras con las que estaba construida la antigua ciudad maya de T'Hó. Sus construcciones empezaron en el año 1562 y fueron terminadas hasta el año 1598.
*Paseo Montejo: se trata de la avenida más larga y hermosa de toda la ciudad. Esta avenida cuenta con 5 km de recorrido, en donde encontrarás las antiguas casonas de la época colonial y del porfiriato que se encuentran más conservadas de toda la ciudad, un paseo a pie por esta avenida será como retroceder en el tiempo unos cientos de años. Además de que podrás encontrar múltiples monumentos a lo largo del camino, como los monumentos a los montejo, fundadores de la ciudad.
*Uxmal: aprovecha la cercanía con la antigua ciudad maya para conocerla. La antigua ciudad maya de Uxmal se encuentra a tan sólo una hora de Mérida. Si te decidiste por rentar un vehículo, aprovecha para ir a conocerla y sino, no te preocupes: puedes tomar un autobús por unos $10 o bien contratar uno de los múltiples servicios de excursión a esta ciudad los cuales cuentan con guías certificados que te ayudarán a conocer todo acerca de la misma. El costo de entrada es de $14 a extranjeros o de $9 a mexicanos.
*Pueblo mágico de Izamal: esta hermosa ciudad también es conocida como la ciudad amarilla. La ciudad cuenta con un legado de la época prehispánica, de la época colonial y también con construcciones de la época moderna. Se le conoce como la ciudad amarilla debido a que en el año 1993 el papa Juan Pablo II ofició una misa en esta ciudad y en honor a su visita toda la ciudad fue pintada de amarillo representando los colores del vaticano.
*Cenotes de Agua: yacimientos de agua, que se encuentran en toda la región de la península de Yucatán. Podrás visitar si así lo decides una gran cantidad de Cenotes ya que hasta el momento se han encontrado en toda la región la península más de 2 mil cenotes de los cuales muchos de ellos se encuentran en las cercanías de la ciudad y la gran mayoría tienen un costo de entrada inferior a los $5 la entrada.
Sin más por el momento y esperando hayan disfrutado de un artículo más, les deseo tengan una excelente aventura, saludos y buen viaje.