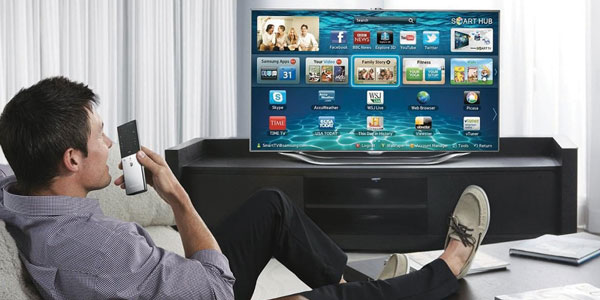 By Roberta Pardo
People might need to be careful around their smart TVs.
The FBI warned in a pre-holiday message that smart TVs — televisions equipped with internet streaming and even facial recognition capabilities — can be vulnerable to intrusion.
The bureau said malicious cyber-actors could take control of unsecured smart TVs and wreak havoc on unsuspecting owners. It also outlined how new advanced technological features could allow TV manufacturers and app developers to snoop on consumers.
Matt Tait, a cyber-security expert, told CNN that smart TVs run complex software, on top of having internet connections and sometimes even integrated sensors like microphones.
"These features enable things like internet streaming services and voice-commands, but (they) can unfortunately be subverted by hackers if the device gets compromised," he told CNN.
The FBI warning includes low-end risks like changing channels, playing with the volume and showing inappropriate videos, and high-end risks like turning a television's camera and microphone to cyber-stalk people.
To prevent any attack, the bureau advises that smart TV owners learn about their device's security settings through a simple Google search, change default network passwords, and understand how to enable or disable microphones and cameras. If the device does not allow the disabling of cameras, a simple solution is to place black tape over the camera.
Recommendations Tait gave to CNN included keeping devices updated — or for those particularly worried, unplugging devices from networks.
---
FBI advierte sobre preocupaciones de privacidad en televisores inteligentes
Es posible que las personas tengan que tener cuidado con sus televisores inteligentes.
El FBI advirtió en un mensaje previo a las fiestas de Acción de Gracias que los televisores inteligentes, televisores equipados con transmisión de Internet e incluso capacidades de reconocimiento facial, pueden ser vulnerables a la intrusión.
La agencia dijo que los actores cibernéticos maliciosos podrían tomar el control de televisores inteligentes no seguros y causar estragos en los propietarios desprevenidos. También describió cómo las nuevas características tecnológicas avanzadas podrían permitir a los fabricantes de televisores y desarrolladores de aplicaciones espiar a los consumidores.
Matt Tait, experto en seguridad cibernética, le dijo a CNN que los televisores inteligentes ejecutan software complejo, además de tener conexiones a Internet y, a veces, incluso sensores integrados como micrófonos.
"Estas características permiten cosas como los servicios de transmisión de Internet y los comandos de voz, pero (por desgracia) pueden ser subvertidos por los piratas informáticos si el dispositivo se ve comprometido", dijo a CNN.
La advertencia del FBI incluye riesgos de bajo nivel como cambiar canales, jugar con el volumen y mostrar videos inapropiados, y riesgos de alto nivel como convertir la cámara y el micrófono de un televisor a personas que acosan cibernéticamente.
Para evitar cualquier ataque, la agencia recomienda que los propietarios de televisores inteligentes conozcan la configuración de seguridad de sus dispositivos a través de una simple búsqueda en Google, cambien las contraseñas de red predeterminadas y entiendan cómo habilitar o deshabilitar los micrófonos y las cámaras. Si el dispositivo no permite la desactivación de cámaras, una solución simple es colocar cinta negra sobre la cámara.
Las recomendaciones que Tait le dio a CNN incluyeron mantener actualizados los dispositivos, o para aquellos particularmente preocupados, desconectarlos de las redes.