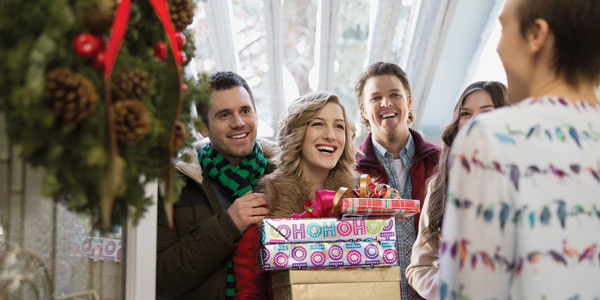 By Family Features
The holidays are typically a time for lots of merriment and cheer. They also often include an abundance of guests visiting your home, which means it's time to get the guestroom ready for family and friends who'll be spending time with you this season.
If sprucing up your guestroom induces panic, fear not. Consider these easy tips to help transform your guestroom into a comfortable and restful retreat.
Clean and Clear
The first step in creating a welcoming get-away for guests is giving the room a good cleaning and clearing out clutter. If your guestroom has become a catch-all for items you've been meaning to organize throughout the year, the arrival of guests (such as in-laws) can serve as the perfect motivator to take care of the task. For a painless approach, start the process a few weeks in advance, devoting 15 minutes a day to clutter-busting and cleaning. Make sure you remember to leave room for guests to unpack any luggage and free up outlets for cell phone chargers and other devices they may bring along.
Home is Where the Hairdryer Is
While fancy furniture and decor are nice, a gracious guestroom is about hospitality and anticipating the needs of your guests. Think about useful necessities provided in hotel rooms –a reading lamp by the bed, extra hangers in the closet, an alarm clock, fresh sheets and towels and sometimes even a hair dryer. These are items you likely already own. Simply add them to the guest bedroom or bathroom to create a thoughtfully appointed home away from home. To take it up a notch, provide extra toiletries such as toothpaste, deodorant, shampoo, soap and other necessities in case your visitors left something behind.
Comfort is King (or a Queen or Twin)
Few things make guests feel more comfortable and cared for than being able to get a good night's sleep, and that can start with your mattress. The guestroom mattress is often overlooked because you're not the one sleeping on it. Give the mattress a good inspection. If it has lumps and bumps or is more than 7 years old, it's time to replace it. For an easy solve, the sleep specialists at a retailer like Mattress Firm can help you find the best mattress for your needs, and the holidays can be a great time to catch the best deals. Also remember to check the pillows to ensure your guests don't have to endure any sleepless nights with flat, lumpy pillows that are past their prime.
Focus on Functional
Because your guests may not conform to the same schedule as you, ensure the early risers and night owls have things at their disposal to stay occupied while others are sleeping. Reading lights, a photo frame that includes the Wi-Fi password so your guests can easily connect their smart devices, and a television in the room are all accommodations that are typically universally accepted. You may also consider leaving coffee and snack options in an easily accessible location in the kitchen.
Thoughtful Touches Add Up
Take time to add some thoughtful yet affordable touches to the room. Consider a small vase of fresh flowers, a scented candle, some subtle holiday decorations or even a few of your favorite magazines and books. If you really want to wow your guests, leave a small gift basket of snacks along with a handwritten welcome note.
Find more tips for getting your guestroom ready for holiday visitors at mattressfirm.com/blog.
---
Arregle su habitación para invitados para las fiestas
Las fiestas suelen ser una época de mucha alegría. A menudo también incluyen una gran cantidad de invitados que visitan su hogar, lo que significa que es hora de preparar la habitación para familiares y amigos que pasarán tiempo con usted esta temporada.
Si arreglar su habitación para invitados induce pánico, no tema. Tome en cuenta estos consejos fáciles para ayudar a transformar su habitación para invitados en un lugar cómodo y de descanso.
Limpio y claro
El primer paso para crear una escapada acogedora para los huéspedes es darle a la habitación una buena limpieza y despejar el desorden. Si su habitación para invitados se ha convertido en un lugar para los artículos que ha querido organizar durante todo el año, la llegada de invitados (como los suegros) puede servir como el motivador perfecto para encargarse de la tarea. Para un enfoque indoloro, comience el proceso con algunas semanas de anticipación, dedicando 15 minutos al día para eliminar el desorden y limpiar. Asegúrese de recordar dejar espacio para que los invitados desempaquen cualquier equipaje y liberar los enchufes para los cargadores de teléfonos celulares y otros dispositivos que puedan traer.
El hogar es donde está el secador de pelo
Si bien los elegantes muebles y la decoración son agradables, una habitación elegante se trata de hospitalidad y anticipa las necesidades de sus invitados. Piense en las necesidades útiles que se proporcionan en las habitaciones de hotel: una lámpara de lectura junto a la cama, perchas adicionales en el armario, un reloj despertador, sábanas y toallas limpias y, a veces, incluso un secador de pelo. Estos son artículos que usted probablemente ya posea. Simplemente agréguelos a la habitación para invitados o al baño para crear un hogar cuidadosamente designado lejos del hogar. Para llevarlo a un nivel superior, proporcione artículos de tocador adicionales como pasta de dientes, desodorante, champú, jabón y otras necesidades en caso de que sus visitantes hayan dejado algo atrás.
La comodidad es el Rey (o Reina o Twin)
Pocas cosas hacen que los huéspedes se sientan más cómodos y atendidos que poder dormir bien por la noche, y eso puede comenzar con su colchón. El colchón de la habitación a menudo se pasa por alto porque no eres tú quien duerme sobre él. Dale al colchón una buena inspección. Si tiene bultos y protuberancias o tiene más de 7 años, es hora de reemplazarlo. Para una solución fácil, los especialistas en sueño como Mattress Firm pueden ayudarlo a encontrar el mejor colchón para sus necesidades, y las vacaciones pueden ser un buen momento para encontrar las mejores ofertas. También recuerde revisar las almohadas para asegurarse de que sus invitados no tengan que soportar ninguna noche de insomnio con almohadas planas y grumosas que hayan pasado de moda.
Enfóquese en lo funcional
Dado que puede que sus invitados no estén en el mismo horario que usted, asegúrese de que los madrugadores y los noctámbulos tengan cosas a su disposición para mantenerse ocupados mientras otros duermen. Las luces de lectura, un marco de fotos que incluye la contraseña de Wi-Fi para que sus invitados puedan conectar fácilmente sus dispositivos inteligentes, y un televisor en la habitación son comodidades que generalmente son aceptados universalmente. También puede considerar dejar las opciones de café y bocadillos en un lugar de fácil acceso en la cocina.
Los toques pensativos suman
Tómese el tiempo para agregar algunos toques reflexivos pero asequibles a la habitación. Considere un pequeño jarrón con flores frescas, una vela perfumada, algunas decoraciones navideñas sutiles o incluso algunas de sus revistas y libros favoritos. Si realmente desea sorprender a sus invitados, deje una pequeña canasta de obsequios junto con una nota de bienvenida escrita a mano.
Encuentre más consejos para preparar su habitación para invitados estas fiestas en mattressfirm.com/blog.