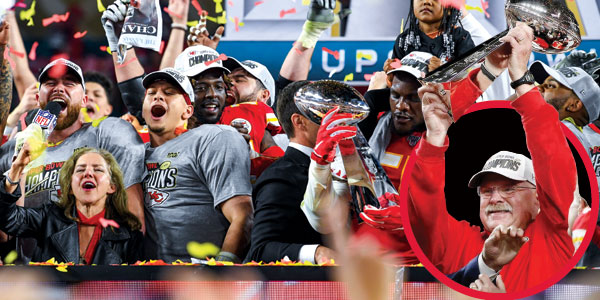 Kansas City Chiefs on the field after the Kansas City Chiefs defeated the San Francisco 49ers 31-20 to win Super Bowl LIV at Hard Rock Stadium in Miami Gardens, Florida on Feb. 2, 2020. (Photo by Anthony Behar/Sipa USA)
Chiefs on parade
KCMO honors Super Bowl LIV champions
From the Dos Mundos Sports Staff
On Wednesday (Feb. 5), Kansas City, Missouri, will do something it had not done since 2015: Host a victory parade for one of its pro sports teams.
The "City of Fountains" also will do something that day it had not done since January 1970: Host a Kansas City Chiefs Super Bowl victory parade.
The Chiefs got their parade by defeating San Francisco 31-20 in Super Bowl LIV Sunday night (Feb. 2) at Hard Rock Stadium in Miami Gardens, Florida. Trailing 20-10 after three quarters, they scored 21 fourth-quarter points to win their second-ever Super Bowl title.
Chiefs quarterback Patrick Mahomes II, who was named the game's most valuable player, started the rally by tossing a 1-yard TD pass to tight end Travis Kelce with 6 minutes, 13 seconds remaining. Harrison Butker's extra-point kick cut San Francisco's lead to 20-17.
Kansas City then went up 24-20 on Mahomes' 5-yard TD pass to running back Damien Williams and Butker's point after with 2:44 left.
Williams' 38-yard TD run and Butker's point after with 1:12 finished the 21-point run.
"We have heart…. That's just from Day 1 (of the season)," Mahomes said during an interview with Fox Sports, which telecast the NFL title game.
Mahomes credited that "heart" to Chiefs coach Andy Reid.
"(He) pushes us to be the best people that we can be," Mahomes said. "And we never give up."
With the win, Reid won his first Super Bowl as a head coach and his second Super Bowl overall. Reid was a Green Bay positions coach when the Packers won Super Bowl XXXI.
It was Reid's second Super Bowl appearance as a head coach. He led Philadelphia to Super Bowl XXXIX. His Eagles lost to New England.
As the NFL Network told Reid, the longtime coach received a congratulatory tweet from the Eagles. It stated, "Time's yours, Andy," a reference to Reid's catchphrase when he is ready to take questions at press conferences.
The congratulatory tweet and Eagles owner Jeffrey's appearance at the ballgame were "humbling," Reid said.
"I had 14 great years in Philadelphia, and Jeff Lurie and I are still … friends," he told the NFL Network. "And that's important…. The things he did for my family, myself, I'll always be grateful to him."
Had the 49ers won, it would have been the first title for Reid's San Francisco counterpart, Kyle Shanahan, who was making his second Super Bowl appearance. Shanahan was the offensive coordinator for Atlanta when the Falcons lost to New England in Super Bowl LI.
"Kansas City played a good game," Shanahan told reporters during his postgame press conference. "They were better than us today – and we can deal with that – but we're obviously pretty disappointed."
Before Wednesday, Kansas City last hosted a victory parade in November 2015, when the Royals won the World Series.
_____________________________________________________________________________________________
CAMPEONES
KCMO celebra a los campeones del Súper Bowl 54
El miércoles (5 de febrero), Kansas City, Missouri, hará algo que no ha hecho desde el 2015: organizar un desfile de victoria para uno de sus equipos profesionales.
La "Ciudad de las Fuentes" también hará algo ese día que no ha hecho desde enero de 1970: organizar un desfile de victoria del Súper Bowl para los Kansas City Chiefs.
Los Chiefs obtuvieron su desfile al derrotar a San Francisco 31-20 en el Súper Bowl 54 el domingo (2 de febrero) por la noche en el Estadio Hard Rock en Miami Gardens, Florida. Perdiendo 20-10 después de tres cuartos, anotaron 21 puntos en el cuarto cuarto para ganar su segundo título de Súper Bowl en su historia.
El mariscal de campo de los Chiefs, Patrick Mahomes II, que fue nombrado el jugador más valioso del partido, comenzó la remontada al lanzar un pase de touchdown de una yarda al ala cerrada Travis Kelce con 6 minutos y 13 segundos restantes. El puntapié extra de Harrison Butker redujo la ventaja de San Francisco a 20-17.
Kansas City subió 24-20 en el pase de TD de 5 yardas de Mahomes al corredor Damien Williams y el punto de Butker después con 2:44 restantes.
La carrera de TD de Williams de 38 yardas y el punto de Butker después con 1:12 terminaron la carrera de 21 puntos.
"Tenemos corazón … Eso es sólo desde el día uno (de la temporada)", dijo Mahomes durante una entrevista con Fox Sports, que transmitió el partido del título de la NFL.
Mahomes atribuyó ese "corazón" al entrenador de los Chiefs, Andy Reid.
"(Él) nos empuja a ser las mejores personas que podemos ser", dijo Mahomes. "Y nunca nos rendimos".
Con el triunfo, Reid ganó su primer Súper Bowl como entrenador en jefe y su segundo Súper Bowl en general. Reid era entrenador de posiciones de Green Bay cuando los Packers ganaron el Súper Bowl 31.
Fue la segunda aparición de Reid en el Súper Bowl como entrenador en jefe. Condujo a Filadelfia al Súper Bowl 49. Sus Águilas perdieron ante Nueva Inglaterra.
Como NFL Network le dijo a Reid, el entrenador de toda la vida recibió un tweet de felicitación de los Águilas. Decía: "El tiempo es tuyo, Andy", en referencia a la frase de Reid cuando está listo para responder preguntas en conferencias de prensa.
El tweet de felicitación y la aparición del dueño de los Eagles, Jeffrey Lurie, en el juego de pelota fueron "sdfs", dijo Reid.
"Tuve 14 buenos años en Filadelfia, y Jeff Lurie y yo aún somos … amigos", le dijo a NFL Network. "Y eso es importante … Las cosas que hizo por mi familia, yo mismo, siempre le estaré agradecido".
Si los 49ers hubieran ganado, habría sido el primer título para la contraparte de Reid en San Francisco, Kyle Shanahan, quien estaba haciendo su segunda aparición en el Súper Bowl. Shanahan era el coordinador ofensivo de Atlanta cuando los Halcones perdieron ante Nueva Inglaterra en el Súper Bowl 51.
"Kansas City jugó un buen partido", Shanahan le dijo a los reporteros durante su conferencia de prensa posterior al partido. "Fueron mejores que nosotros hoy, y podemos lidiar con eso, pero obviamente estamos bastante decepcionados".
Antes del miércoles, Kansas City organizó por última vez un desfile de la victoria en noviembre de 2015, cuando los Royals ganaron la Serie Mundial.