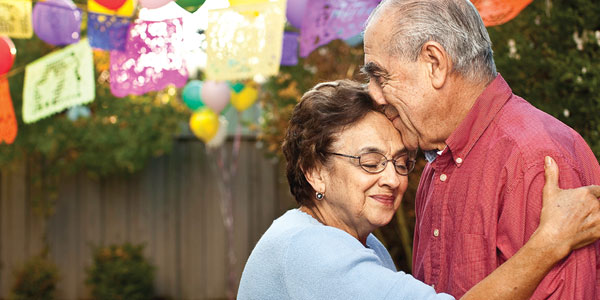 By thinking ahead and communicating treatment preferences early on, your loved one can prevent arguments and spare those close to him the anxiety of having to guess his wishes. Most important, he will have the opportunity to make very personal health care decisions for himself. These documents — called advanced directives — serve as a record of someone's medical preferences.
Putting Preferences in Writing
To record his medical preferences, your loved one will need to complete written documents called advance directive forms. There are two types of advance directives, and it's important to have both:
1) A living will spells out what types of medical treatment a person wants at the end of life if he's unable to speak for himself. It tells medical professionals a person's wishes regarding specific decisions, such as whether to accept mechanical ventilation.
2) A health care power of attorney appoints someone to make health care decisions — and not just decisions regarding life-prolonging treatments — on one's behalf. The appointed health care agent (also called an attorney-in-fact or proxy) becomes the patient's spokesman and advocate on a range of medical treatments the patient sets out in the document. Of course, the health care agent makes decisions only when the patient can't communicate on his own. This type of document is sometimes referred to as a health care proxy, appointment of a health care agent or durable power of attorney for health care. It is different from a regular durable power of attorney, which typically covers only financial matters.
Many states combine the two forms into one document, which can be used to record one's treatment preferences and name a health care advocate.
---
¿Testamento o poder notarial? Parte 1
Proteje tus decisiones y tratamientos médicos a través de un poder y un apoderado legal.
Al adelantarse a los acontecimientos y comunicar sus preferencias con antelación, tu ser querido puede evitar discusiones o disputas, y ahorrarle a sus más allegados la ansiedad de tener que adivinar su voluntad. Más importante aún, tendrá la oportunidad de tomar por sí mismo decisiones muy personales relativas al cuidado de su salud. Estos documentos —llamados directivas anticipadas— dan constancia de las preferencias de la persona en cuestiones de salud.
Cómo sentar las preferencias por escrito
Para dejar constancia de sus preferencias, tu ser querido necesitará redactar instrumentos legales denominados directivas anticipadas. Existen dos tipos de directivas anticipadas, y es importante contar con ambos:
1) Un testamento de vida ('living will', en inglés) especifica qué tipos de tratamiento médico desea recibir una persona cuando se aproxime el fin de su vida, si no llega a estar en condiciones de decidirlo por sí misma. Les indica a los profesionales de salud cuál es la voluntad de esa persona respecto de determinadas decisiones, como, por ejemplo, si desea o no que la mantengan con vida mediante un respirador artificial.
2) Un poder notarial de salud ('health care power of attorney') designa a un tercero para que tome las decisiones médicas —y no sólo las relativas a tratamientos de soporte vital— en nombre de uno. El apoderado de salud designado (también denominado representante o poderhabiente) se convertirá en portavoz y defensor del paciente en relación con los tratamientos médicos que el mismo paciente haya asentado en el documento. Obviamente, el apoderado de salud tomará las decisiones solamente cuando el paciente no pueda hacerlo por sí mismo. Este tipo de documento, en ocasiones, recibe otras denominaciones en inglés, como, por ejemplo, 'health care proxy' (poder para la atención médica), 'appointment of a health care agent' (designación de un representante para la atención médica) o 'durable power of attorney for health care' (poder notarial duradero para la toma de decisiones relacionadas con la salud). Difiere de un poder notarial duradero común, que generalmente cubre solo cuestiones financieras.