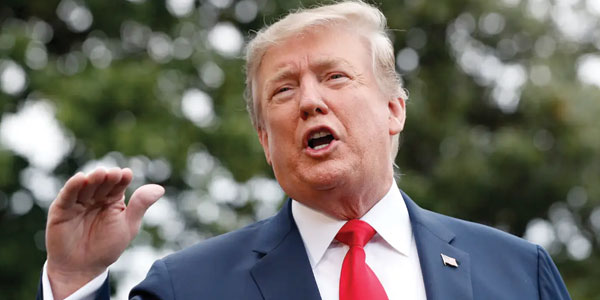 By Chara
On Jan. 27, the U.S. Supreme Court voted 5-4 that it was legal for the Trump administration to implement new "wealth test" rules as part of the immigration process, multiple media outlets reported.
The rules will affect immigrants' status in the United States, based on their use of public assistance programs, targeting everything afforded to legal immigrants under current law, such as housing assistance, Medicaid and food.
Ken Cuccinelli, Department of Homeland Security (DHS) acting deputy secretary, announced the rules in August 2019, when he was acting director of U.S. Citizenship and Immigration Services.
"The benefit to taxpayers is a long-term benefit of seeking to ensure that our immigration system is bringing people to join us as American citizens as legal permanent residents first, who can stand on their own two feet, who will not be reliant on the welfare system, … which is so expansive and expensive, frankly," Cuccinelli said during a White House press conference.
 In August, the DHS published an 800-page document detailing which public benefit programs would likely affect a person's immigration status. Under the rules, for example, the federal government will have more latitude in denying somebody residency or a green card if the government thinks someone is likely to become a public charge.
People who will not be affected by the new rules include those who already have green cards, pregnant women, children refugees and asylum-seekers.
The Trump administration claims the rules are necessary, arguing that it does not want immigrants to become burdens on society. But under current law, immigrants are already required to prove they are not what the government deems a public charge.
Moreover, an Associated Press analysis reported in january that immigrants use fewer benefits than low-income, U.S.-born adults. Additionally, immigrant rights groups claim the same immigrants who might be denied under the new rules are paying taxes, and many of them will refuse public assistance for fear of hurting their chances of staying in the country.
Before the Supreme Court ruling, some consulates overseas had already implemented the rules through the visa review process. Over time, visa applicants have been denied on such issues as unemployment, failure to finish high school or lack of fluency in English.
---
Corte Suprema permite que la política de tarjeta verde de Trump entre en vigencia
El 27 de enero, la Corte Suprema de Estados Unidos votó 5-4 para que sea legal que la administración de Trump implemente nuevas reglas de "prueba de riqueza" como parte del proceso de inmigración, según reportaron varios medios de comunicación.
Las reglas afectarán el estado de los inmigrantes en Estados Unidos, en función de su uso de los programas de asistencia pública, dirigidos a todo lo que se les brinda a los inmigrantes legales según la ley actual, como la asistencia para vivienda, Medicaid y alimentos.
Ken Cuccinelli, subsecretario interino del Departamento de Seguridad Nacional (DHS, por sus siglas en inglés), anunció las reglas en agosto de 2019, cuando era director interino de los Servicios de Ciudadanía e Inmigración de EE.UU.
"El beneficio para los contribuyentes es un beneficio a largo plazo de tratar de garantizar que nuestro sistema de inmigración atraiga a las personas para que se unan a nosotros como ciudadanos estadounidenses como residentes legales permanentes primero, que pueden sostenerse por sí mismos, que no dependerán del sistema de bienestar social, que es tan expansivo y costoso, francamente", dijo Cuccinelli durante una conferencia de prensa en la Casa Blanca.
En agosto, el DHS publicó un documento de 800 páginas detallando qué programas de beneficios públicos podrían afectar el estado migratorio de una persona. Según las reglas, por ejemplo, el gobierno federal tendrá más libertad para negarle a alguien la residencia o una tarjeta de residencia si el gobierno cree que es probable que alguien se convierta en una carga pública.
Las personas que no se verán afectadas por las nuevas reglas incluyen aquellas que ya tienen tarjetas verdes, mujeres embarazadas, niños refugiados y solicitantes de asilo.
La administración de Trump afirma que las reglas son necesarias, argumentando que no quiere que los inmigrantes se conviertan en una carga para la sociedad. Pero según la ley actual, los inmigrantes ya deben demostrar que no son lo que el gobierno considera una carga pública.
Además, un análisis de la Associated Press reportó en enero que los inmigrantes usan menos beneficios que los adultos de bajos ingresos nacidos en Estados Unidos. Además, los grupos de derechos de los inmigrantes afirman que los mismos inmigrantes que podrían ser negados bajo las nuevas reglas están pagando impuestos, y muchos de ellos rechazarán la asistencia pública por temor a perjudicar sus posibilidades de permanecer en el país.
Antes del fallo de la Corte Suprema, algunos consulados en el extranjero ya habían implementado las reglas a través del proceso de revisión de visas. Con el tiempo, a los solicitantes de visas se les ha denegado sobre cuestiones como el desempleo, la falta de terminar la escuela secundaria o la falta de fluidez en inglés.