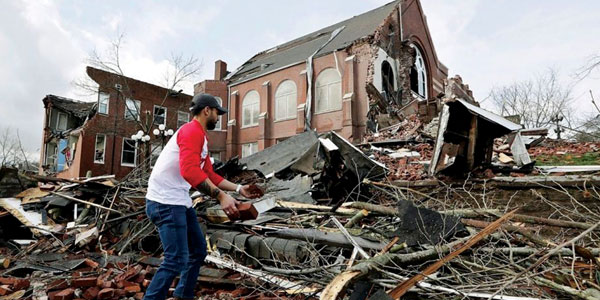 By Roberta Pardo
At least 25 people were killed, several others injured and hundreds of buildings wrecked when a tornado slammed through central Tennessee hours before dawn on Tuesday (March 3), multiple media outlets reported.
"It's a tragic day in our state," said Gov. Bill Lee that day after confirming the number of deaths, according to CNN. "It's heartbreaking."
The deaths occurred in at least four counties, including Davidson, where Nashville is; and Putnam, Benton and Wilson. At least 19 of the deaths occurred in Putnam County.
Lee declared a state of emergency at the same time he said there were people still missing.
This marked the deadliest tornado event in the United States since March 3, 2019, when 23 people were killed in Alabama.
Nashville was among the most devastated cities, with at least 45 buildings collapsed and multiple others damaged. At least one person was killed. On Tuesday, Nashville Mayor John Cooper formally declared a state of emergency, according to NBC News.
Cooper said he had drafted an executive order to streamline "efforts in acquiring and distributing necessary supplies and services to affected residents."
As of late Tuesday afternoon, more than 50,000 homes and businesses remained without electricity, according to the Nashville Electric Service.
---
Tornado en Tennessee deja a 25 muertos
Al menos 25 personas murieron, varias otras resultaron heridas y cientos de edificios destruidos cuando un tornado azotó el centro de Tennessee horas antes del amanecer del martes (3 de marzo), informaron varios medios de comunicación.
"Es un día trágico para nuestro estado", dijo el gobernador Bill Lee ese día después de confirmar el número de muertes, según CNN. "Es desgarrador".
Las muertes ocurrieron en al menos cuatro condados, incluido Davidson, donde está Nashville; y Putnam, Benton y Wilson. Al menos 19 de las muertes ocurrieron en el condado de Putnam.
Lee declaró estado de emergencia al mismo tiempo que dijo que todavía había personas desaparecidas.
Esto marcó el evento de tornado más mortal en los Estados Unidos desde el 3 de marzo de 2019, cuando 23 personas murieron en Alabama.
Nashville se encontraba entre las ciudades más devastadas, con al menos 45 edificios colapsados y muchos otros dañados. Al menos una persona murió. El martes, el alcalde de Nashville, John Cooper, declaró formalmente un estado de emergencia, según NBC News.
Cooper dijo que había redactado una orden ejecutiva para simplificar "los esfuerzos en la adquisición y distribución de suministros y servicios necesarios a los residentes afectados".
Hasta el martes por la tarde, más de 50,000 hogares y negocios permanecieron sin electricidad, según el Servicio Eléctrico de Nashville.