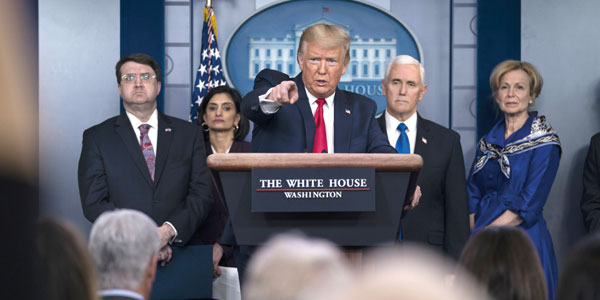 Only someone like President Donald Trump could come up with this kind of nonsense. Despite the horrifying number of coronavirus infections and deaths in the United States, the president wants to convince us that his administration has been incredibly successful in its handling of the pandemic. The reality is quite different.
At the same March 31 news conference that two of Trump's top health advisers, Dr. Anthony Fauci and Dr. Deborah Birx, told the public that between 100,000 and 240,000 Americans could die from COVID-19, Trump said simply: "I think we've done a great job." The casualty figures surpass those for U.S. military personnel killed in the wars in Vietnam, Iraq and Afghanistan combined. They are also far higher than the civilian death toll from 9/11.
"In what circle of hell is that a good outcome?" asked Susan Rice, the former national security adviser, in response to the government's astonishing forecast. (Earlier this month, Fauci lowered the figure to 60,000 deaths, still an alarmingly high number.)
Trump's false and unsubstantiated claims remind me of the tricks performed by the illusionist David Copperfield, who in his magic shows has made objects as enormous as the Statue of Liberty disappear. "I want to be positive," Trump has said. But his positive spin has failed to distract us from his terrible decisions.
So what exactly have Trump and his team done wrong? The administration has been slow to act in fighting the virus, often displaying a frustrating lack of urgency; he has continually misinformed the public; and in his personal behavior, the president has set an appalling example for others. Instead of devising an effective, coordinated response to battle the coronavirus nationwide, Trump has improvised and made remarks that merely confuse the situation. This has had very serious consequences.
The first coronavirus death was reported in China on Jan. 11. Ten days later, the first confirmed case of COVID-19, the disease caused by the virus, was recorded in the United States. The patient had visited China. Despite all of this, in an interview with CNBC the next day, Trump said: "We have it under control. It's going to be just fine."
Unfortunately that has not been the case.
The president waited until Feb. 2 to bar the entry of all foreign nationals who had visited China during the previous 14 days. Sadly, it was too late. In January, 381,000 people arriving on more than 1,300 flights had entered the United States after visiting China, according to a New York Times investigation. This is most likely how the virus came to the country.
Trump's tardy decision-making then enabled the virus to spread. Peter Navarro, one of the president's top trade advisers, wrote a memo on Jan. 29 warning of "the risk of the coronavirus evolving into a full-blown pandemic," which could threaten "the lives of millions of Americans." But the president, incomprehensibly, says he never saw the memo. Trump didn't declare a national emergency until a month and a half later.
On top of his sluggishness in confronting the crisis, Trump has also grossly misled the country: "It looks like by April, you know in theory, when it gets a little warmer, it miraculously goes away," Trump said on Feb. 10, in reference to the virus. A couple weeks later, he said that "the risk to the American people remains very low." That is completely false.
Although Trump has said that "testing is going very, very well," a March 26 NPR report revealed that "the availability of testing in the United States lags far behind the demand." I know firsthand of many people who have experienced delays in getting tested.
Again and again, Trump has set a bad example for others: He shook people's hands when it was no longer wise to do so; until recently, he failed to maintain a safe distance from attendees at his news conferences; he has promoted a drug to treat the virus — hydroxychloroquine — despite the fact that his medical staff advises against it; and he has refused to abide by the recommendation from the Centers for Disease Control and Prevention that everyone wear a face mask in public. "I am choosing not to do it," he said. If you don't want to get infected, the lesson is simple: Don't do as the president does.
All of this creates the impression of an ill-prepared and misinformed leader struggling to deal with the most dangerous health crisis in perhaps a century. The pandemic has blindsided the richest and most powerful country on earth. One of the heaviest burdens leaders are called upon to carry is making the right decision when they know that thousands, even millions, of lives depend on their actions. Trump has clearly failed to meet this challenge.
But of course that isn't the story he's telling us. Trump presents himself as a wartime president making tough, lifesaving decisions. Following the example of his Mexican counterpart, Andrés Manuel López Obrador, Trump has started hosting large news conferences nearly every day in an attempt to control the media narrative. However, a terrible disconnect remains between the reality we're living in the United States — this past week was the worst one so far in terms of infections and deaths — and the president's sunny optimism.
During the 2016 presidential campaign, Trump's critics warned of the disaster that would befall the United States should a worldwide crisis emerge during a Trump presidency, leaving the country with a grossly unfit leader — one unwilling to acknowledge his mistakes and obsessed with his approval ratings and personal image — to defend it.
Well, that crisis has finally arrived.
---
Los errores de Donald Trump durante la pandemia
Sólo a alguien como Donald Trump se le puede ocurrir algo así. A pesar de las abrumadoras y espantosas cifras de contagiados y muertos por el coronavirus en Estados Unidos, él quiere convencernos de que su gobierno ha sido muy exitoso al enfrentar la pandemia. Y no ha sido así.
En la misma conferencia de prensa en que dos de sus asesores de salud, el doctor Anthony Fauci y la doctora Deborah Birx, proyectaron que podría haber entre 100.000 y 240.000 muertos en Estados Unidos, el Presidente dijo: "Creo que hemos hecho un gran trabajo". Pero esas cifras son muy superiores a la de todos los soldados estadounidenses muertos durante las guerras de Vietnam, Irak y Afganistán y los civiles que perecieron en los ataques terroristas de 2001. "¿En qué círculo del infierno es ese un buen resultado" se preguntó la exasesora de seguridad nacional, Susan Rice, sobre el pronóstico de casi un cuarto de millón de muertos en una entrevista. (Las proyecciones originales se han modificado y ahora son más bajas. Pero, aún así, sugieren que habrá decenas de miles de muertos).
Las falsas e ilusorias declaraciones de Trump me recuerdan tanto a los trucos que hace el ilusionista David Copperfield, quien en sus espectáculos ha desaparecido objetos enormes, como la Estatua de la Libertad. "Quiero ser optimista", ha dicho Trump. Pero no puede darle un giro positivo a sus propias decisiones que empeoraron la situación.
¿Cuáles son sus errores? Trump actuó lentamente, sobre todo al principio de esta crisis, ha desinformado, no ha sido un buen ejemplo para otros y ha tomado una serie de decisiones desafortunadas. En lugar de diseñar una respuesta efectiva y bien coordinada a nivel nacional ante la pandemia, Trump ha ido improvisando y dando declaraciones contraproducentes. Esto ha tenido gravísimas consecuencias.
Lo más desesperante es su falta de sentido de urgencia.
La primera muerte por coronavirus se reportó en China el 11 de enero y el primer caso confirmado de contagio en Estados Unidos (en el estado de Washington) se registró el 21 de enero. Se trataba de una persona que había visitado China. Pero al día siguiente, en una entrevista con la cadena CNBC, Trump dijo: "Lo tenemos bajo control. Todo va a estar bien".
No fue así.
Trump esperó hasta el 2 de febrero para hacer efectiva la prohibición de entrada a muchas personas no estadounidenses que habían estado en China 14 días antes. Pero fue muy tarde. Durante el mes de enero entraron al país 381.000 personas provenientes de China en más de 1.300 vuelos, según una investigación de The New York Times. Con probabilidad, así se coló el virus en Estados Unidos.
La lentitud del Presidente estadounidense en su toma de decisiones permitió que el coronavirus se esparciera por todo el país. El principal asesor comercial de Trump, Peter Navarro, escribió un reporte en la Casa Blanca con fecha del 29 de enero en el que advertía del "riesgo que el coronavirus se convierta en una verdadera pandemia", la cual podría poner en peligro "las vidas de millones de estadunidenses". Pero el Presidente, increíblemente, dice que no vio el reporte. Tuvo que pasar un mes y medio desde esa advertencia para que Trump declarara una emergencia nacional.
Además de su lentitud, Trump ha desinformado a los estadounidenses. "Parece que en abril, esa es la teoría, cuando empiece a hacer más calor, [el virus] va a desaparecer milagrosamente", declaró Trump el 10 de febrero. Y todavía unas semanas después dijo que "el riesgo para los estadounidenses es muy bajo". Todo fue falso.
A pesar de las declaraciones del Presidente de que las "pruebas van muy, muy bien", una investigación de NPR del 26 de marzo demostró que "la disponibilidad de pruebas va muy por detrás de la demanda". A nivel anecdótico, sé de varias personas han tenido enormes problemas y retrasos al tratar de hacerse la prueba.
El Presidente, también, ha sido un ejemplo negativo para otros. Trump seguía saludando de mano cuando ya no era prudente ni seguro hacerlo, hasta hace solo días no mantenía una sana distancia con los participantes de sus conferencias de prensa, promovió una medicina para el tratamiento del virus —hidroxicloroquina— a pesar de las dudas de sus asesores médicos y no siguió la recomendación de los Centros para el Control y la Prevención de las Enfermedades sobre el uso de la mascarilla en público. "He decidido no usarla", dijo. La lección para que no te contagies es sencilla: no hagas lo que hace el Presidente.
Todo esto retrata a un mandatario poco preparado y mal informado para enfrentar la crisis de salud más peligrosa que ha la humanidad en, quizás, un siglo. El país más poderoso y rico del mundo fue sorprendido por la pandemia. Una de las grandes cargas que tiene todo jefe de Estado es saber que miles —y hasta millones de vidas— dependen de sus decisiones. Trump, sencillamente, no ha podido con el reto.
Aunque él está tratando de vendernos otra historia. Su narrativa es la de un "Presidente en tiempos de guerra" que ha tomado grandes decisiones para salvar vidas. Siguiendo el ejemplo del mandatario mexicano, Andrés Manuel López Obrador, Trump está realizando una larga conferencia casi todos los días para controlar el mensaje en los medios. Pero hay una terrible desconexión entre la realidad que estamos viviendo en Estados Unidos —esta ha sido la peor semana de toda la crisis en términos de contagiados y muertes— y las declaraciones triunfalistas que está haciendo el Presidente.
Durante la campaña presidencial de 2016, los adversarios de Trump advertían que el peor escenario posible sería la llegada de una crisis mundial con un mandatario incapaz, que no corrige errores y estaba obsesionado por los ratings y su imagen personal. Y eso es exactamente lo que ocurrió.