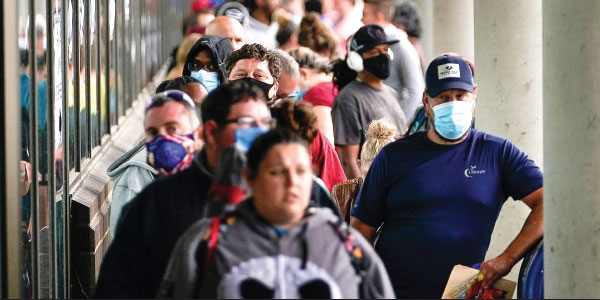 Kansas keep having issues with their unemployment checks.
On Feb. 26, protesters marched on the Capitol in Topeka, demanding action from the Kansas Department of Labor (KDOL), claiming to have gone weeks or months without unemployment checks.
Many Kansans also complain they cannot reach representatives to get help.
"You call and you just want to cry because you can't get through, you can't get help," Amber Cantrell, a Feb. 26 protestor, told Fox 4 News. "I've gone to charities, applied for everything I can. I've gone to food pantries because I don't have any food. I feel like, to be honest, like a failure to my family."
For nearly a year, thousands have said that technical glitches and overloaded phone systems have made accessing desperately needed unemployment benefits a nightmare.
The KDOL said it is still processing more than 12,000 claims for those eligible under federal unemployment assistance programs. And its call center was bogged down with more than 250,000 calls last week alone. 
The KDOL also reported an uptick of people using auto-dialing software, which is not helping the situation, adding more than 43,000 calls in a day from 54 callers.
Gov. Laura Kelly has promised more upgrades to fix the problems, but a total overhaul of the outdated system would take an estimated three to five years. Still, KDOL Acting Secretary Amber Shultz has committed to fast-tracking the project, starting this summer.
---
Muchos residentes de Kansas aún no reciben beneficios por desempleo
Los residentes de Kansas siguen teniendo problemas con sus cheques de desempleo.
El 26 de febrero, manifestantes marcharon en el Capitolio en Topeka, exigiendo una acción del Departamento de Trabajo de Kansas (KDOL, por sus siglas en inglés), alegando haber pasado semanas o meses sin cheques de desempleo.
Muchos residentes de Kansas también se quejan de que no pueden comunicarse con representantes para obtener ayuda.
"Llamas y sólo quieres llorar porque no puedes comunicarte, no puedes obtener ayuda", dijo Amber Cantrell, una manifestante que marchó en el Capitolio, a Fox 4 News. "Fui a organizaciones benéficas, solicité todo lo que pude. He ido a las despensas de alimentos porque no tengo comida. Para ser honesta, me siento como un fracaso para mi familia".
Durante casi un año, miles han dicho que las fallas técnicas y los sistemas telefónicos sobrecargados han hecho que el acceso a los beneficios de desempleo tan necesarios sea una pesadilla.
El KDOL dijo que todavía está procesando más de 12,000 reclamos para aquellos elegibles bajo los programas federales de asistencia por desempleo. Y su centro de llamadas se atascó con más de 250,000 llamadas solo la semana pasada.
El KDOL también reportó un aumento de personas que utilizan software de marcación automática, lo que no ayuda a mejorar la situación, ya que suma más de 43,000 llamadas en un día de 54 personas que llaman.
La gobernadora Laura Kelly ha prometido más actualizaciones para solucionar los problemas, pero una revisión total del sistema obsoleto tomaría aproximadamente de tres a cinco años. Aún así, la secretaria interina de KDOL, Amber Shultz, se ha comprometido a acelerar el proyecto a partir de este verano.