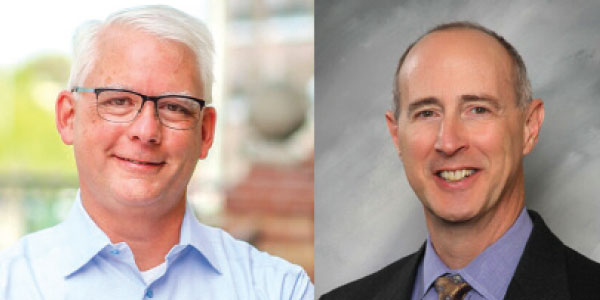 By Tere Siqueira
Voters can head to the polls for a few major elections in the Kansas City area.
One of those elections is the general election for mayor of Overland Park, Kansas. Overland Park City Council veteran Curt Skoog and political newcomer Mike Czinege are vying for Carl Gerlach's seat. After serving 16 years, Gerlach has decided to step down.
The election is on Nov. 2. Early voting began on Monday (Oct. 25).
Czinege's professional background includes 40-plus years of corporate and consulting work. His business leadership experience includes executive positions with AMC Theatres and Applebee's, and serving as a partner with two companies, his campaign website states. A board member with the Helzberg School of Management at Rockhurst University in Kansas City, Missouri, Czinege also has been a chair and board member for KVC Health Systems Inc.
Aiming to be "a problem-solver" for Overland Park, Czinege's platform focuses on neighborhood and school safety, "smarter infrastructure planning" and halting "unnecessary tax giveaways," his website states.
Skoog, an Overland Park resident for 25-plus years, is the Overland Park City Council president. His other experience in public service includes a stint as an elected representative on the Shawnee Mission School District South Area Advisory Board. Like Czinege, he has leadership experience in the business world.
Skoog is looking to "build on Overland Park's strengths while delivering a new, community-driven vision that moves our city forward and enhances our quality of life," his website states. As his website also states, his platform priorities include neighborhood safety, growing the local economy and improving the city's infrastructure.
Both candidates sent a message to Dos Mundos' readers and Overland Park's Hispanic community:
Skoog: "With my 16 years on city council, I have the experience to lead our community in building on our great quality of life. But for Overland Park to continue to thrive, it will need to be an attractive place to live for people of all ages and backgrounds. That means addressing the need for more attainable housing, so people that work in Overland Park can afford to own a home and contribute to our neighborhoods and economy. We do this by encouraging the development of more housing options like town homes, condos and cottage court homes.
"We also need to attract good-paying jobs, so our young people have more opportunities to live, work and raise a family in Overland Park. Finally, we need to build a more dynamic city with improved sidewalks, trails and bikeways to connect parks and other gathering places."
Czinege: "As mayor, I look forward to representing all residents of Overland Park. I have met with Carlos Gomez, CEO of (the) Hispanic Chamber of Commerce of (Greater) Kansas City, and have been interviewed on La Mega, the Hispanic radio station in Overland Park, to discuss the challenges faced and the contributions made by the Hispanic community. I will continue to work with the Hispanic leaders in Overland Park to ensure we have input and representation from the growing Hispanic residents of Overland Park.
"Overland Park is a community for all of us to be proud of and contribute to."
To learn more about the election and how to register to vote in Overland Park, visit https://www.opkansas.org/city-government/voting/.
---
Conoce a tus candidatos: Elecciones a la alcaldía de Overland Park
Los votantes pueden dirigirse a las urnas para unas cuantas elecciones importantes en el área de Kansas City.
Una de esas elecciones es la elección general para alcalde de Overland Park, Kansas. El veterano del City Council de Overland Park, Curt Skoog, y el recién llegado a la política, Mike Czinege, compiten por el puesto de Carl Gerlach. Después de 16 años de servicio, Gerlach ha decidido retirarse.
Las elecciones son el 2 de noviembre. La votación anticipada comenzó el lunes (25 de octubre).
La trayectoria profesional de Czinege incluye más de 40 años de trabajo corporativo y de consultoría. Según indica la página web de su campaña su experiencia en liderazgo empresarial incluye cargos ejecutivos en AMC Theatres y Applebee's, y ha sido socio de dos empresas. Miembro del consejo de administración de la Helzberg School of Management de la Universidad Rockhurst de Kansas City (Missouri), Czinege también ha sido presidente y miembro del consejo de KVC Health Systems Inc.
De acuerdo a su página web con el objetivo de ser "un solucionador de problemas" para Overland Park, la plataforma de Czinege se centra en la seguridad de los barrios y de las escuelas, en una "planificación más inteligente de las infraestructuras" y en el freno a las "concesiones fiscales innecesarias".
Skoog, residente en Overland Park desde hace más de 25 años, es el presidente del City Council de Overland Park. Su otra experiencia en el servicio público incluye un período como representante electo en la Shawnee Mission School District South Area Advisory Board. Al igual que Czinege, tiene experiencia de liderazgo en el mundo empresarial.
Skoog pretende "aprovechar los puntos fuertes de Overland Park y ofrecer una nueva visión impulsada por la comunidad que haga avanzar a nuestra ciudad y mejore nuestra calidad de vida", afirma su página web. Como también indica su página web, las prioridades de su plataforma incluyen la seguridad del vecindario, el crecimiento de la economía local y la mejora de las infraestructuras de la ciudad.
Ambos candidatos enviaron un mensaje a los lectores de Dos Mundos y a la comunidad hispana de Overland Park:
Skoog: "Con mis 16 años en el City Council, tengo la experiencia para liderar nuestra comunidad en la construcción de nuestra gran calidad de vida. Pero para qué Overland Park siga prosperando, tendrá que ser un lugar atractivo para vivir para personas de todas las edades y orígenes. Eso significa abordar la necesidad de una vivienda más accesible, para que las personas que trabajan en Overland Park puedan permitirse tener una casa y contribuir a nuestros barrios y a nuestra economía. Para ello, fomentamos el desarrollo de mas opciones de vivienda, como town homes, condos y casas de campo."
También necesitamos atraer empleos bien remunerados, para que nuestros jóvenes tengan más oportunidades de vivir, trabajar y formar una familia en Overland Park. Por último, necesitamos construir una ciudad más dinámica con mejores banquetas, senderos y calles para bicicletas que conecten los parques y otros lugares de reunión."
Czinege: "Como alcalde, espero representar a todos los residentes de Overland Park. Me he reunido con Carlos Gómez, director general de la Cámara de Comercio Hispana de Kansas City, y me han entrevistado en La Mega, emisora de radio hispana de Overland Park, para hablar de los retos a los que se enfrenta la comunidad hispana y de sus contribuciones. Seguiré trabajando con los líderes hispanos de Overland Park para asegurar que tenemos la aportación y la representación de la creciente comunidad de residentes hispanos de Overland Park."
"Overland Park es una comunidad de la que todos debemos estar orgullosos y a la que debemos contribuir".
Para saber más sobre las elecciones y cómo registrarse para votar en Overland Park, visite https://www.opkansas.org/city-government/voting/