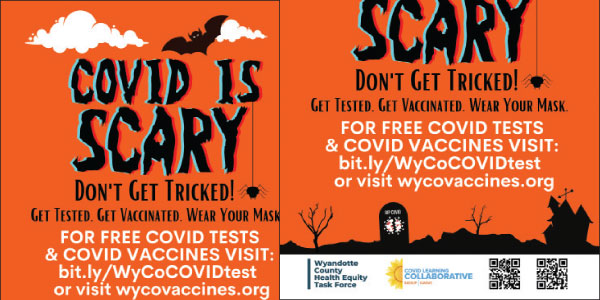 The Unified Government Public Health Department (UGPHD) has outlined some basic precautions to help prevent the spread of COVID-19 while we all enjoy the traditions and festivities common during this time of year.
Trick or Treating or "Trunk or Treat" Event Tips
If you and your family are participating in either trick or treating, or one of the many "Trunk or Treat" events throughout Wyandotte County this season, here are some tips:
*Cars should be spaced 6 feet apart at Trunk or Treat events
*Wait on others to leave the trunk/house in front of you before approaching. Don't have groups of people intermingling or close together unless they live in the same household.
*Space candy out on your driveway or in individual bags on a fence for trick or treaters to pick up
Though traditional trick or treating or attending trunk or treat events are outdoor activities, there is still some COVID risk. If you choose to participate in these activities take these additional precautions:
*Incorporate a cloth or surgical mask into your costume – the mask that comes with a costume does not protect against COVID-19.
*Make sure to wear your cloth or surgical mask over both your nose and mouth.
*Practice social distancing of at least six feet from people from outside of your household.
*Clean hands with hand sanitizer or soap and water before eating candy
*Sanitize high-touch surfaces like door handles.
Higher-risk Halloween activities would include indoor Halloween parties or other indoor gatherings. It is safer to gather outdoors whenever possible. If you do choose to gather indoors, it is especially important to wear masks and practice social distancing to make the gathering as safe as possible.
The UGPHD encourages people to consider these lower-risk activities:
*Online parties or contests such as virtual costume contests or pumpkin carving contests
*Drive up events such as drive-in Halloween movies, or drive-through treat pick-up
*Decorate your residence
*Take a walk or drive around your neighborhood to see other peoples' decorations
Free Vaccinations and Testing
The UGPHD continues to offer free COVID-19 vaccines for people who live in Wyandotte County age 12 and older, at the former Kmart site at 7836 State Avenue. Hours for COVID-19 vaccinations and testing are as follows (NOTE: All of these services are free of charge!):
*COVID Vaccines: Wednesday – Friday 10 am – 6 pm
*COVID Testing: Monday – Friday 9 am – 3 pm
For more information on where to get vaccinated in Wyandotte County, visit WycoVaccines.org or call 3-1-1. To learn more about upcoming UGPHD mobile vaccination events visit their Facebook page at facebook.com/UGHealthDept
Community Calendar
There are a lot of exciting fall events coming up throughout Wyandotte County! Here are details:
Saturday, October 30
*The Casa de Alabanza church at 5217 Leavenworth Road in KCK will host a community Trunk or Treat event from noon to 2 p.m. Activities include trunk or treating for the kids, free COVID-19 vaccinations, giveaways of toothbrushes, gently used clothes and other goods, and free hotdogs! To schedule a COVID-19 vaccine appointment visit https://casadealabanza10-30.timetap.com.
*Faith leaders from across Wyandotte County will come together to host a "Vax Fall Fest" at the Oak Ridge Missionary Baptist Church, located at 9301 Parallel Parkway in Kansas City, KS. The event runs from noon to 3 p.m. and includes several activities including a raffle, instant prizes such as a licensed NFL KC Chiefs zippered hoodie or a $50 gift card, plus other fun, food and fellowship!
*Mercy and Truth Medical Missions will host a "Boo to the Flu" event at their clinic at 721 North 31st street in KCK. The clinic runs from 9 a.m. to noon and features giveaways such as free turkeys, free hoodies and 200 free flu shots (all while supplies last)! Free COVID-19 vaccinations will also be available at this event, and no insurance is needed.
Sunday, October 31:
The New Bethel Church at 745 Walker Avenue in* KCK will host a Fall Festival. The Festival runs 11 a.m. to 1 p.m. Activities will include outdoor games, food and candy, a dunking pool, free COVID testing and more! Visit newbethelkc.org for more information.
For more information about community events featuring free COVID-19 vaccinations or testing visit WycoVaccines.org or call 3-1-1.
---
Disfrute Halloween de forma segura con estas precauciones de COVID-19
El Departamento de Salud Pública del Gobierno Unificado (UGPHD, por sus siglas en inglés) ha delineado algunas precauciones básicas para ayudar a prevenir la propagación del COVID-19 mientras todos disfrutamos de las tradiciones y festividades comunes durante esta época del año.
Sugerencias para eventos de truco o trato o "trunk or treat"
Si usted y su familia están participando en el truco o trato, o en uno de los muchos eventos de "Trunk or Treat" en todo el condado de Wyandotte esta temporada, aquí hay algunos consejos:
*Los autos deben estar separados a 6 pies de distancia en los eventos de Trunk or Treat.
*Espere a que otros salgan del maletero/casa frente a usted antes de acercarse. No tenga grupos de personas entremezclados o muy juntos a menos que vivan en el mismo hogar.
*Coloque los caramelos en la entrada de su casa o en bolsas individuales en una cerca para que los recojan los niños.
Aunque los eventos tradicionales de truco o trato o asistir a eventos de "trunk or treat" son actividades al aire libre, todavía existe cierto riesgo del COVID. Si decide participar en estas actividades, tome estas precauciones adicionales:
*Incorpora un paño o una mascarilla quirúrgica a tu disfraz; la mascarilla que viene con el disfraz no protege contra el COVID-19.
*Asegúrese de usar su paño o mascarilla quirúrgica sobre la nariz y la boca.
*Practique el distanciamiento social de al menos seis pies de personas que no pertenecen a su hogar.
*Lávese las manos con desinfectante para manos o agua y jabón antes de comer dulces.
*Desinfecte las superficies de alto contacto, como las manijas de las puertas.
Las actividades de Halloween de mayor riesgo incluirían fiestas de Halloween en interiores u otras reuniones en interiores. Es más seguro reunirse al aire libre siempre que sea posible. Si elige reunirse en el interior, es especialmente importante usar máscaras y practicar el distanciamiento social para que la reunión sea lo más segura posible.
El UGPHD alienta a las personas a considerar estas actividades de menor riesgo:
*Fiestas o concursos en línea, como concursos de disfraces virtuales o concursos de tallado de calabazas.
*Conduzca a eventos como películas de Halloween en autoservicio o recogida de golosinas en autoservicio.
*Decore su residencia.
*Dé un paseo o conduzca por su vecindario para ver las decoraciones de otras personas.
Vacunas y pruebas gratuitas
El UGPHD continúa ofreciendo vacunas COVID-19 gratuitas para las personas que viven en el condado de Wyandotte de 12 años o más, en el antiguo sitio de Kmart en 7836 State Avenue. El horario para las vacunas y pruebas de COVID-19 es el siguiente (NOTA: ¡Todos estos servicios son gratuitos!):
*Vacunas contra el COVID: miércoles a viernes de 10 a.m. a 6 p.m.
*Pruebas de COVID: de lunes a viernes de 9 a.m. a 3 p.m.
Para obtener más información sobre dónde vacunarse en el condado de Wyandotte, visite WycoVaccines.org o llame 3-1-1. Para obtener más información sobre los próximos eventos de vacunación móvil de UGPHD, visite su página de Facebook en facebook.com/UGHealthDept.
Eventos comunitarios
¡Se avecinan muchos eventos de otoño emocionantes en todo el condado de Wyandotte! A continuación se muestran los detalles:
Sábado 30 de octubre
*La iglesia Casa de Alabanza en 5217 Leavenworth Road en KCK albergará un evento comunitario Trunk or Treat desde el mediodía hasta las 2 p.m. Las actividades incluyen pedir golosinas para los niños, vacunas contra el COVID-19 gratuitas, obsequios de cepillos de dientes, ropa y otros artículos usados en buen estado, ¡y perritos calientes gratis! Para programar una cita para la vacuna contra el COVID-19, visite https://casadealabanza10-30.timetap.com.
*Líderes religiosos de todo el condado de Wyandotte se reunirán para organizar un "Vax Fall Fest" en la Iglesia Bautista Misionera de Oak Ridge, ubicada en 9301 Parallel Parkway en Kansas City, KS. El evento se extiende desde el mediodía hasta las 3 p.m. e incluye varias actividades que incluyen una rifa, premios instantáneos, como una sudadera con capucha con cremallera de los KC Chiefs con licencia o una tarjeta de regalo de $50, ¡además de otras diversiones, comida y compañerismo!
*Mercy and Truth Medical Missions organizará un evento "Boo to the Flu" en su clínica en 721 North 31st Street en KCK. ¡La clínica funciona de 9 a.m. a mediodía y ofrece obsequios como pavos gratis, sudaderas con capucha gratis y 200 vacunas contra la gripe gratis (todo hasta agotar existencias)! Vacunas contra el COVID-19 gratuitas también estarán disponibles en este evento y no se necesita seguro.
Domingo 31 de octubre
*La Iglesia New Bethel en 745 Walker Avenue en KCK será la sede de un Festival de Otoño. El Festival se lleva a cabo de 11 a.m. a 1 p.m. Las actividades incluirán juegos al aire libre, comida y dulces, una piscina de inmersión, pruebas de COVID gratuitas y más. Visite newbethelkc.org para obtener más información.
Para obtener más información sobre eventos comunitarios que ofrecen vacunas o pruebas COVID-19 gratuitas, visite WycoVaccines.org o llame al 3-1-1.