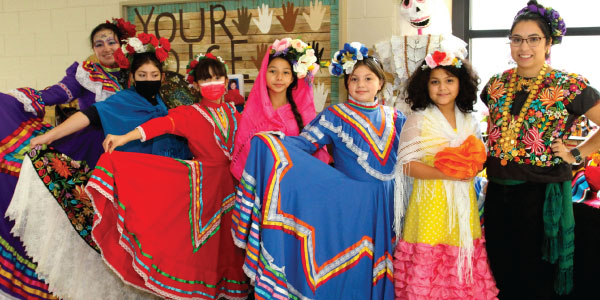 Story by Tere Siqueira and photos by Michael Alvarado
Our Lady of Hope Catholic School is giving students opportunities to explore the world and its many cultures in the classroom through its Knight's Passport program.
The program focuses on the performing and fine arts, including folkloric, culinary and musical activities. One way the Kansas City, Missouri-based school utilizes the program is by helping students experience the world through doing projects. On Tuesday (Nov. 2), for example, they displayed small altars to honor the Day of the Dead holiday, celebrated Nov. 1 and 2 primarily in central and southern Mexico.
The altars project is among many projects the school plans to use to expand students' educational opportunities.
---
Escuela católica motiva a los estudiantes a explorar diferentes culturas
La Escuela Católica Our Lady of Hope está brindando a los estudiantes oportunidades para explorar el mundo y sus muchas culturas en el salón de clases a través de su programa Knight's Passport.
El programa se centra en las artes escénicas y las bellas artes, integrando actividades folclóricas, culinarias y musicales. Una forma en que la escuela con sede en Kansas City, Missouri utiliza el programa es ayudando a los estudiantes a experimentar el mundo a través de proyectos. El martes (2 de noviembre), se realizo una exhibición de pequeñas ofrendas para honrar la festividad del Día de Muertos, que se celebra el 1 y 2 de noviembre principalmente en el centro y sur de México.
El proyecto de altares es uno de los muchos proyectos que la escuela planea utilizar para ampliar las oportunidades educativas de los estudiantes.