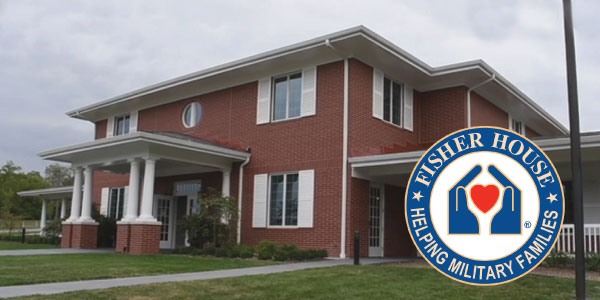 The 69-year-old Kansas City Veterans Hospital serves active duty military personnel and veterans. Some live locally; others travel from as far away as Larned, Kan., or Nevada or Warrensburg, Mo. Until last month, out-of-towners seeking treatment at the KC hospital and their families either stayed at a local hotel or commuted as many as 200 or more miles round-trip. In some cases, the distance and expense involved discouraged veterans from coming for the treatment they needed.
But on Oct. 4, Kansas City's Fisher House welcomed its first guests. The comfortable lodgings rest on the north side of the 40-acre VA Hospital campus in eastern Kansas City, literally steps away from the hospital entrance. Like the other 91 such facilities dispersed across the U.S. and in Europe, the newest Fisher House provides a temporary place to stay without charge for families of veterans undergoing treatment at the VA Hospital.
The 13,500 square-foot house offers 16 fully furnished suites with the most up-to-date accommodations for people with disabilities. It features a spacious common kitchen and dining area, laundry facilities, community space, an outdoor patio and more. Just as important, there's "love and support" for the veterans' families.
"Fisher House really was a beacon in the midst of multiple medical crises," stated Maureen Karkovice describing her own experience. "It was a relief from a financial burden and a physical burden, and it was an emotional support," the mother of a veteran undergoing treatment for thyroid cancer was quoted in a press release.
According to Fisher House Foundation's Website (fisherhouse.org), the national nonprofit served 413,000 veterans' families in 2020 at its 91 "comfort homes" and provided 10 million days of lodging, saving families $525 million.
The 31 year-old Fisher House program donated the Kansas City house, which is staffed 24/7 by VA assigned personnel. Fisher Houses work similarly to Ronald McDonald Houses. There are opportunities for volunteers to complement Fisher House's paid staff, and the nonprofit will count on individual and corporate donations.
A statement on Fisher House KC's Website (https://kcfisherhouse.org/) acknowledges the local community's generous support. Without it, the house wouldn't exist, nor would the VA be able to provide "a home away from home" for the families and caregivers of U.S. military veterans being treated at the VA. "We need everyone in the Greater Kansas City area to get involved through a financial donation or by volunteering your time," the statement reads.
Veterans Day is next week. In marking the day by backing Fisher House KC, we'll honor the dead by caring for our active duty military and veterans and their families when they really need us.
---
Respaldando a Fisher House, honrando a los veteranos

El Kansas City Veterans Hospital, de 69 años, sirve a veteranos y personal militar en servicio activo. Algunos viven localmente; otros viajan desde lugares tan lejanos como Larned, Kansas, Nevada o Warrensburg, Missouri. Hasta el mes pasado, los forasteros que buscaban tratamiento en el hospital de KC y sus familias se quedaban en un hotel local o viajaban hasta 200 o más millas ida y vuelta. En algunos casos, la distancia y el gasto que implicaron desanimaron a los veteranos a acudir para recibir el tratamiento que necesitaban.
Pero el 4 de octubre, Fisher House de Kansas City recibió a sus primeros huéspedes. Los cómodos alojamientos se encuentran en el lado norte del campus del Hospital de Veteranos de 40 acres en el este de Kansas City, literalmente a unos pasos de la entrada del hospital. Al igual que las otras 91 instalaciones de este tipo distribuidas en Estados Unidos y en Europa, la Fisher House más nueva ofrece un lugar temporal donde alojarse sin cargo para las familias de los veteranos que se someten a tratamiento en el Hospital de Veteranos.
La casa de 13,500 pies cuadrados ofrece 16 suites completamente amuebladas con las comodidades más modernas para personas con discapacidades. Cuenta con una amplia cocina y comedor común, instalaciones de lavandería, espacio comunitario, un patio al aire libre y más. Igual de importante, hay "amor y apoyo" para las familias de los veteranos.
"Fisher House realmente fue un faro en medio de múltiples crisis médicas", afirmó Maureen Karkovice al describir su propia experiencia. "Fue un alivio de una carga financiera y una carga física, y fue un apoyo emocional", dijo en un comunicado de prensa la madre de un veterano en tratamiento por cáncer de tiroides.
Según el sitio web de la Fundación Fisher House (fisherhouse.org), la organización nacional sin fines de lucro sirvió a 413,000 familias de veteranos en 2020 en sus 91 "hogares de confort" y proporcionó 10 millones de días de alojamiento, lo que ahorró a las familias $525 millones.
El programa Fisher House de 31 años donó la casa de Kansas City, que cuenta con personal asignado por VA las 24 horas del día, los 7 días de la semana. Las casas Fisher funcionan de manera similar a las casas Ronald McDonald. Hay oportunidades para que los voluntarios complementen al personal remunerado de Fisher House, y la organización sin fines de lucro contará con donaciones individuales y corporativas.
Un comunicado en el sitio web de Fisher House KC (https://kcfisherhouse.org/) reconoce el generoso apoyo de la comunidad local. Sin ella, la casa no existiría, ni el VA podría proporcionar "un hogar lejos del hogar" para las familias y los cuidadores de los veteranos militares estadounidenses que reciben tratamiento en el VA. "Necesitamos que todos en el área metropolitana de Kansas City se involucren mediante una donación financiera u ofreciendo su tiempo como voluntarios", dice el comunicado.
El Día de los Veteranos es la próxima semana. Al marcar el día respaldando a Fisher House KC, honraremos a los muertos cuidando a nuestros militares y veteranos en servicio activo y a sus familias cuando realmente nos necesiten.