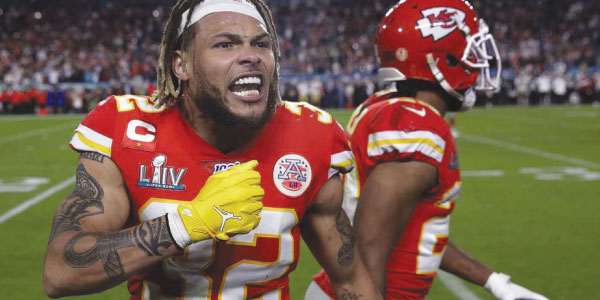 Messi superó a Pelé en goles
Lionel Messi superó este martes a Pelé como el 2do. máximo goleador a nivel profesional al anotar un doblete al Brujas por el cierre de la fase de grupos de la UEFA Champions League.
Messi anotó su gol 757 y 758 en los minutos 38 y 76 y se puso a 43 goles del Cristiano Ronaldo, el máximo anotador a nivel profesional con club y selección.
Messi y el PSG clasificaron a la siguiente fase del torneo como 2dos. del grupo A y esperan rival.
Pelé jugó casi toda su carrera en Santos de Brasil y se retiró con el New York Cosmos y ganó 3 mundiales con Brasil.
Tyrann Mathieu, ¿hombre del año?
Tyrann Mathieu es uno de los nominados al premio Walter Payton Man of the Year Award, que otorga la NFL.
Un jugador de cada uno de los 32 equipos son nominados cada año desde 1970 para el más prestigioso premio otorgado por la liga.
Este año, la liga donará $250,000 a la fundación que el ganador escoja, aparte de los $40,000 que recibirán sólo por ser nominados.
Tyrann Mathieu ha sido reconocido por ser una exelente persona dentro y fuera de las canchas y se le vio entregando pavos para la cena de acción de gracias pasada.
Chiefs, en la puerta de los playoffs
A los Kansas City Chiefs le vienen dos partidos decisivos ante Las Vegas Raiders y Los Angeles Chargers para seguir soñando con la postemporada.
Con su triunfo sobre los Denver Broncos, los Chiefs sumaron su quinto triunfo consecutivo y se pusieron 8-4 en la liga Americana.
Charges y Raiders, rivales directos en la división Oeste, tienen 7-5 y 6-6 respectivamente y buscarán bajarse a los Chiefs si quieren llegar a la postemporada.
¿Se retira Gio Dos Santos?
Gio Dos Santos estaría pensando en colgar los botínes luego de que no pudiera encontrar equipo para esta temporada.
Según la prensa española, Dos Santos estaría analizando retirarse para dedicarse a otros negocios fuera del fútbol.
El último equipo de Dos Santos fue el América, donde ganó el troféo Campeón de Campeones del 2019.
Gio se inició en el Barcelona, luego pasó por el Tottenham, Villarreal y el LA Galaxy antes de terminar en las Águilas.
Con la selección nacional, Gio ha gando tres Copas Oro, 1 medalla de oro en los JJ.OO. del 2012 y un Mundial Sub-17 en el 2005.
Fin de semana de Finales
Portland Timbers y New York City FC disputarán la MLS Cup 2021 el sábado en Portland, mientras que Atlas y León disputarán el de vuelta el domingo en Guadalajara. El partido de vuelta será hoy jueves en León.
Timbers busca su 2do. título tras conseguir su primero en el 2015 mientras que el NYCFC busca su primera corona.
En México, Atlas busca romper una sequía de 70 años. Los rojinegros ganaron su único título en la temporada 1950-51 y la última vez que estuvieron cerca fue en 1968.
León por su parte ha ganado la Liga MX en ocho ocasiones, la última en el Guard1anes 2020.