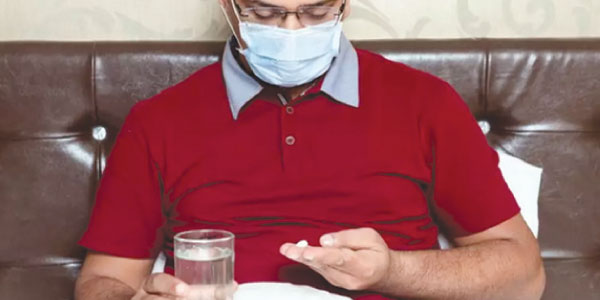 By Chara
The U.S. Centers for Disease Control and Prevention (CDC) has issued new isolation guidelines for people with COVID-19.
"The Omicron variant is spreading quickly and has the potential to impact all facets of our society," the agency states on its website. "CDC's updated recommendations for isolation and quarantine balance what we know about the spread of the virus and the protection provided by vaccination and booster doses. These updates ensure people can safely continue their daily lives. Prevention is our best option: get vaccinated, get boosted, wear a mask in public indoor settings in areas of substantial and high community transmission, and take a test before you gather."
According to the CDC, people with COVID-19 should isolate for five days if they are asymptomatic or their symptoms are resolving, followed by five days of masking up when around others to minimize the risk of infecting others.
In addition, the CDC recommends people who are not vaccinated or have not yet received a booster shot to quarantine for five days, followed by strict mask use for another five days.
People who have received a booster shot do not need to quarantine after exposure, the CDC claims.
---
CDC emite nuevas pautas de aislamiento
Los Centros para el Control y la Prevención de Enfermedades (CDC) han emitido nuevas pautas de aislamiento para personas con COVID-19.
"La variante Omicron se está extendiendo rápidamente y tiene el potencial de impactar todas las facetas de nuestra sociedad", afirma la agencia en su sitio web. "Las recomendaciones actualizadas de los CDC para el aislamiento y la cuarentena equilibran lo que sabemos sobre la propagación del virus y la protección proporcionada por la vacunación y las dosis de refuerzo. Estas actualizaciones garantizan que las personas puedan continuar con seguridad su vida diaria. La prevención es nuestra mejor opción: vacúnese, recupérese, use una máscara en lugares públicos cerrados en áreas de transmisión comunitaria sustancial y alta, y hágase una prueba antes de reunirse".
Según los CDC, las personas con COVID-19 deben aislarse durante cinco días si son asintomáticas o sus síntomas se están resolviendo, seguidos de cinco días de usar máscaras cuando estén cerca de otras personas para minimizar el riesgo de infectar a otros.
Además, los CDC recomiendan a las personas que no están vacunadas o que aún no han recibido una vacuna de refuerzo que se pongan en cuarentena durante cinco días, seguido de un uso estricto de máscaras durante otros cinco días.
Las personas que han recibido una vacuna de refuerzo no necesitan ponerse en cuarentena después de una exposición, afirman los CDC.