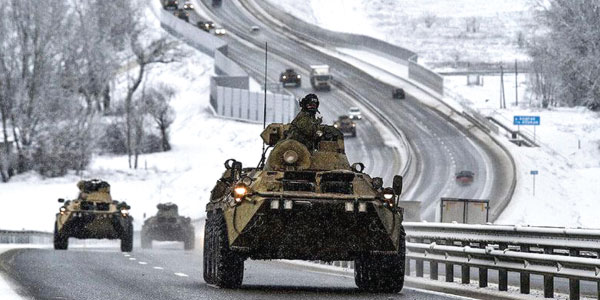 Russia announced Tuesday (Feb. 15) it was pulling back its troops near Ukraine and welcoming talks with the West, in an attempt to ease tensions around Ukraine, multiple media outlets reported.
The United States and its allies, however, said they needed evidence of the troop movements before completely believing the threat of a Russian invasion to be gone.
It was the second straight day there were signs of hope that Europe might avoid war following weeks of escalating East-West tensions as Moscow massed around 150,000 troops on three sides of Ukraine and held massive military drills. This led to dire warnings from the United States, the United Kingdom and other European countries that Russia was preparing to invade Ukraine.
On Tuesday, Russian President Vladimir Putin said his country does not want war and would be open to negotiations in its efforts to eliminate any chance that Ukraine could one day join NATO — his key demand in the crisis. Still, Putin did not commit to a full pullback, saying Russia's next moves would depend on how the situation evolves.
U.S. President Joe Biden said in televised remarks that same day that American officials had not yet verified Russia's pullback claim.
"(Russian forces leaving) would be good, but we have not yet verified that," Biden said. "We have not yet verified the Russian military units are returning to their home bases. "Indeed, our analysts indicate that they remain very much in a threatening position."
Meanwhile, a series of cyberattacks knocked out the websites of the Ukrainian army, the defense ministry and major banks, it was reported. There was no indication that the relatively low-stakes attacks might be a smokescreen for more serious cyberattacks. The United States said it had not yet determined who was behind the attacks.
---
Rusia toma medidas para aliviar las tensiones en Ucrania
Rusia anunció el martes (15 de febrero) que retiraría sus tropas cerca de Ucrania y daría la bienvenida a las conversaciones con Occidente, en un intento por aliviar las tensiones en torno a Ucrania, reportaron varios medios de comunicación.
Sin embargo, Estados Unidos y sus aliados dijeron que necesitaban evidencia de los movimientos de tropas antes de creer completamente que la amenaza de una invasión rusa había desaparecido.
Fue el segundo día consecutivo en que hubo señales de esperanza de que Europa podría evitar la guerra luego de semanas de escalada de las tensiones entre el este y el oeste mientras Moscú concentraba alrededor de 150.000 soldados en tres lados de Ucrania y realizaba ejercicios militares masivos. Esto condujo a terribles advertencias de Estados Unidos, el Reino Unido y otros países europeos de que Rusia se estaba preparando para invadir Ucrania.
El martes, el presidente ruso, Vladimir Putin, dijo que su país no quiere la guerra y que estaría abierto a las negociaciones en sus esfuerzos por eliminar cualquier posibilidad de que Ucrania pueda unirse algún día a la OTAN, su demanda clave en la crisis. Aún así, Putin no se comprometió a una retirada total y dijo que los próximos movimientos de Rusia dependerían de cómo evolucione la situación.
El presidente de Estados Unidos, Joe Biden, dijo en declaraciones televisadas ese mismo día que los funcionarios estadounidenses aún no habían verificado la retirada de Rusia.
"(La partida de las fuerzas rusas) sería bueno, pero aún no lo hemos verificado", dijo Biden. "Todavía no hemos verificado que las unidades militares rusas estén regresando a sus bases de origen. De hecho, nuestros analistas indican que siguen estando en una posición muy amenazante".
Mientras tanto, una serie de ataques cibernéticos derribaron los sitios web del ejército ucraniano, el ministerio de defensa y los principales bancos, se reportó. No hubo indicios de que los ataques de riesgo relativamente bajo pudieran ser una cortina de humo para ataques cibernéticos más serios. Estados Unidos dijo que aún no había determinado quién estaba detrás de los ataques.