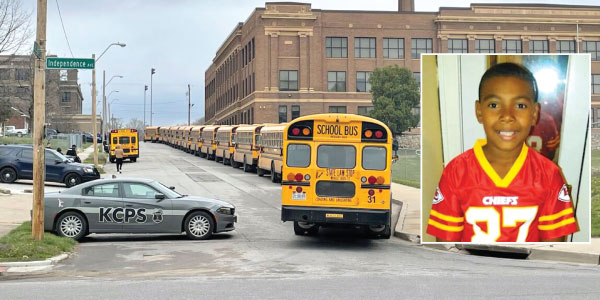 Story by Chara and photo cortesy by Jonathan Goede/KSHB 41
A suspect has been charged in the stabbing death of Manuel J. Guzman, a 14-year-old student at Northeast Middle School (NEMS) in Kansas City, Missouri.
As multiple media outlets reported, Guzman died at Children's Mercy Hospital hours after being attacked April 12 in a school bathroom. The Kansas City Police Department reported a suspect has been charged in Jackson County Juvenile Court with first-degree murder, armed criminal action and unlawful use of a weapon.
Vicenta Guzman, the victim's mother, continues mourning her son's death. She told KMBC News she could not sleep for two days after leaving Children's Mercy.
"I couldn't believe it," she told the TV station.
As reported by multiple area media outlets, Guzman said she does not understand how the knife used to stab her son got through school metal detectors. The school failed to protect him, she said.
The Guzman family has created a GoFundMe page to cover the boy's funeral expenses.
"Once again, we would like to express our gratitude for the outpouring of support from all of you that have donated and to those who continue to do so!" the page states. "Please know that each and every donation and all of the messages of condolence have been highly regarded and dearly appreciated! Without the weight of finances occurring from this unexpected tragedy, the family can properly grieve the immense loss of Manuel Guzman. Thanks to the generosity of family, friends, the community and all others who felt it in their heart to show their support."
Mark Bedell, school superintendent, stated in a letter to the parents of NEMS students that the school would do whatever possible to ensure it supports "the families who are involved in this tragedy through this difficult time."
To help students and others associated with NEMS grieve, Bedell announced the school was expanding its number of support clinicians and counselors.
"We know this news may affect you, as you are part of the KCPS (Kansas City Public Schools) family," his letter stated. "We are working to make sure every school has the resources they need to support students and staff this week. I trust our trauma team to lead this work as we move forward together."
Note: To donate to cover Manuel Guzman's funeral expenses, visit https://www.gofundme.com/ and type "Memorial Gift for Manuel Guzman" in the search bar. The link also is available on Dos Mundos' Facebook page.

---
Sospechoso acusado de la muerte de estudiante de Northeast
Un sospechoso ha sido acusado de la muerte a puñaladas de Manuel J. Guzmán, un estudiante de 14 años de edad en Northeast Middle School (NEMS) en Kansas City, Missouri.
Como reportaron varios medios de comunicación, Guzmán murió en el Children's Mercy Hospital horas después de haber sido atacado el 12 de abril en el baño de una escuela. El Departamento de Policía de Kansas City reportó que un sospechoso fue acusado en el Tribunal de Menores del Condado de Jackson de asesinato en primer grado, acción criminal armada y uso ilegal de un arma.
Vicenta Guzmán, madre de la víctima, sigue de luto por la muerte de su hijo. Ella le dijo a KMBC News que no pudo dormir durante dos días después de dejar Children›s Mercy.
"No podía creerlo", le dijo a la estación de televisión.
Como lo reportado por varios medios del área, Guzmán dijo que no entiende cómo el cuchillo con el que se apuñaló a su hijo pasó los detectores de metales de la escuela. La escuela no pudo protegerlo, dijo.
La familia Guzmán ha creado una página de GoFundMe para cubrir los gastos del funeral del niño.
"¡Una vez más, nos gustaría expresar nuestra gratitud por la gran cantidad de apoyo de todos los que han donado y de aquellos que continúan haciéndolo!" dice la página. "¡Sepa que todas y cada una de las donaciones y todos los mensajes de condolencia han sido muy apreciados y muy apreciados! Sin el peso de las finanzas que se derivan de esta tragedia inesperada, la familia puede llorar adecuadamente la inmensa pérdida de Manuel Guzmán. Gracias a la generosidad de familiares, amigos, la comunidad y todos los demás que sintieron en su corazón mostrar su apoyo".
Mark Bedell, superintendente escolar, declaró en una carta a los padres de los estudiantes de NEMS que la escuela haría todo lo posible para garantizar que apoye a "las familias que están involucradas en esta tragedia durante este momento difícil".
Para ayudar a los estudiantes y otras personas asociadas con NEMS a sobrellevar el duelo, Bedell anunció que la escuela estaba ampliando su número de médicos y consejeros de apoyo.
"Sabemos que esta noticia puede afectarlo, ya que es parte de la familia KCPS (Escuelas Públicas de Kansas City)", decía su carta. "Estamos trabajando para asegurarnos de que todas las escuelas tengan los recursos que necesitan para apoyar a los estudiantes y al personal esta semana. Confío en nuestro equipo de trauma para liderar este trabajo a medida que avanzamos juntos".
Nota: Para donar para cubrir los gastos del funeral de Manuel Guzmán, visite https://www.gofundme.com/ y escriba «Regalo conmemorativo para Manuel Guzmán» en la barra de búsqueda. El enlace también está disponible en la página de Facebook de Dos Mundos.