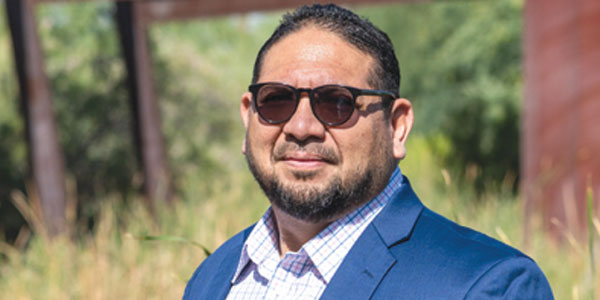 The Kansas City area's Hispanic community is mourning the loss of one of its leaders.
Genaro Ruiz, a part of Kansas City, Missouri's Westside community for many years, died March 30 at age 48 in Phoenix, accompanied by his family. Known for his volunteer work and support to Hispanic community members for the past 25 years, he worked in public and private institutions.
Ruiz's professional trajectory included serving as senior advisor for community and intergovernmental affairs for Kansas City Mayor Sly James. It also included serving under U.S. Rep. Emanuel Cleaver II as a community affairs liaison. In addition, he had a longtime association with Guadalupe Centers Inc.
In Phoenix, Ruiz served as community center manager for Chicanos Por La Causa, where he worked to improve the quality of life for the residents in West Phoenix. His last position was as center director at the Rio Salado Audubon Center, where he was part of the revitalization of South Phoenix.
Survivors include his wife, Sandra; brothers, Eduardo and Steven; stepdaughter, Mariah; and grandsons Lincoln and Roan.
---
Genaro Ruiz, líder de la comunidad hispana, muere a los 48 años
La comunidad hispana del área de Kansas City está de luto por la pérdida de uno de sus líderes.
Genaro Ruiz, miembro de la comunidad Westside de Kansas City, Missouri durante muchos años, murió el 30 de marzo a los 48 años en Phoenix, acompañado de su familia. Conocido por su trabajo voluntario y apoyo a miembros de la comunidad hispana durante los últimos 25 años, trabajó en instituciones públicas y privadas.
La trayectoria profesional de Ruiz incluyó servir como asesor principal para asuntos comunitarios e intergubernamentales del alcalde de Kansas City, Sly James. También trabajo con el representante de EE. UU. Emanuel Cleaver II como encargado de asuntos comunitarios. Además, tuvo una colaboración de mucho tiempo con Guadalupe Centers Inc.
En Phoenix, Ruiz se desempeñó como gerente del centro comunitario de Chicanos Por La Causa, donde trabajó para mejorar la calidad de vida de los residentes del oeste de Phoenix. Su último puesto fue como director de centro en el Centro Audubon de Río Salado, donde fue parte de la revitalización del sur de Phoenix.
Los sobrevivientes incluyen a su esposa, Sandra; hermanos, Eduardo y Steven; hijastra, Mariah; y nietos Lincoln y Roan.