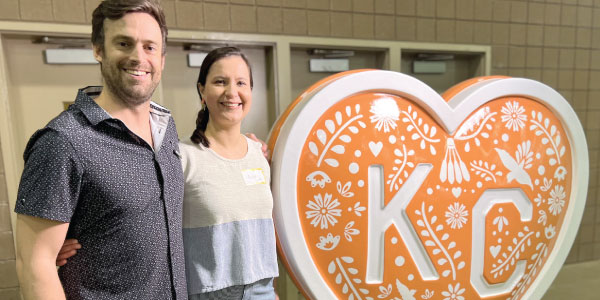 ---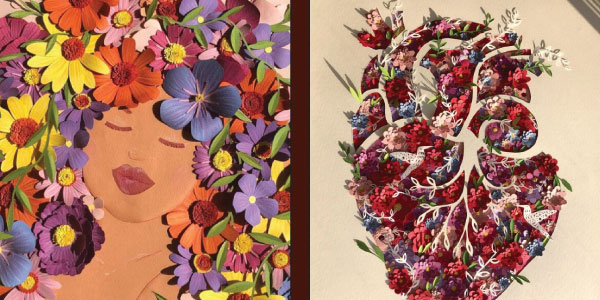 Cira conecta su arte con su herencia Mexicana
Su arte en exhibición en la campaña de Parade of Hearts
Andrea Cira, nativa de México y residente del área de Kansas City, quería representar a personas como ella en su arte: hispanos/mexicanos que llegaron al área y la convirtieron en su hogar.
Cira encontró un camino a través de Parade of Hearts, una campaña de recaudación de fondos del área que presenta diseños en esculturas de corazones que están en lugares públicos hasta fin de mes. Su corazón, ubicado en 21 N. 12th St. en Kansas City, Kansas, se llama "Nuestro Corazón". Su diseño está inspirado en el estilo de pintura mexicana de Talavera, dijo.
Cira, quien se enteró de Parade of Hearts al ver un anuncio de la campaña y presentó su solicitud, se enorgullece de participar en la campaña. Muchas personas se han identificado con su diseño, dijo.
"Es mi primera contribución a KC, así que me siento honrada de ser parte de este proyecto que ayudará a las personas afectadas por la pandemia de COVID-19", dijo.
Esa contribución es parte de un viaje que comenzó cuando Cira era una niña y ha incluido estudiar diseño industrial en La Universidad La Salle Bajío y crear piezas con recortes de papel desde que llegó a la zona.
"Siempre me ha gustado crear y dibujar", dijo. "Dibujaba donde podía y luego mis padres me llevaron a clases de arte. Y desde entonces, siempre he estado enamorada del arte. Siempre pensé que sería una artista cuando creciera, pero durante mi adolescencia, ese sentimiento desapareció, y en mis 20, nunca pensé que sería posible. Ahora, en mis 30 y con la ayuda de las redes sociales, me he dado cuenta de que es posible y que tú también puedes tener éxito".
Cira ve el arte como una práctica espiritual.
"Cuando creo, estoy en mi elemento", dijo. "Entro en un estado mental de flujo y me siento viva".
Su inspiración para crear proviene de la observación, dijo.
"Creo que es una mezcla de observar y luego poner las ideas en práctica", dijo.
Sin embargo, Cira también se inspira trabajando en su arte.
"Cuanto más creo, tengo más nuevas ideas y obtengo más inspiración para seguir creando más", dijo.
Parte de su inspiración también proviene de su herencia mexicana, los perros, la naturaleza, las mujeres y las cosas coloridas, dijo.
Cira describe su arte como bien hecho y colorido que utiliza tradiciones populares, colores y texturas. Además, pone detalles considerables incluso en las partes más pequeñas, dijo.
Los artistas que admira incluyen a la cubanoamericana Elsa Mora, Naima Almeida, Diana Beltrán Herrera, Hiba Schahbaz, Remedios Varo, María Izquierdo, Flor Garduño y Luis Barragán.
Para contactar a Cira, siga sus redes sociales en Instagram y TikTok @acirastudio o visite su sitio web, www.acirastudio.com.