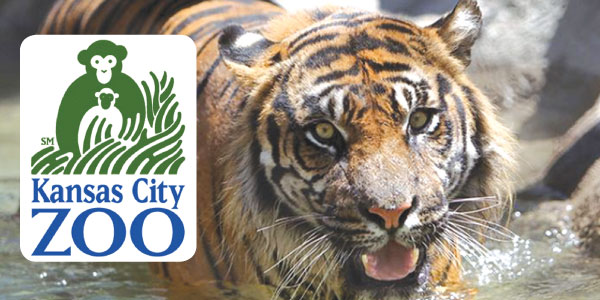 Kansas City area adults can enjoy watching bears and sipping beers in one location in about six weeks.
From 6:30 to 11 p.m. Oct. 15, the Kansas City Zoo will host Brew at the Zoo. Tickets are $60 per person and $50 for Friends of the Zoo members. Visitors can sample their favorite beers while touring the zoo, located at 6800 Zoo Drive in Kansas City, Missouri.
An annual event, Brew at the Zoo features 35-plus wineries and breweries and, music and food trucks, the zoo's website states. As the website also states, the event "features an animal that benefits from the Kansas City Zoo's Conservation Fund."
The animal featured this year is the Eastern spotted skunk. Zoo information states that the Eastern spotted skunk population in the Midwest has dropped sharply. Thus, portions of event proceeds will support the fund's work to prevent additional decline and "protect other animals from the same fate," zoo information states.
Unlike the striped skunk, perhaps the best known type of skunk, the Eastern spotted skunk features spots and broken lines on its back, as multiple sources state. The spotted skunk is smaller than its striped cousin.
Food trucks will feature such goodies as Mexican and Brazilian cuisine, and even turkey legs. Musical artists scheduled to perform include Jagwar Twin, Scruffy and The Janitors and DJ Diehard.
Admission tickets also grant visitors access to GloWild. Dubbed "the largest event of its kind in the Midwest," GloWild is a lantern festival showcasing "massive handmade steel and silk works of art depicting animals, local landmarks, botanicals and Asian cultural creations," zoo information states.
---
Cerveza y animales se juntan en el zoológico
Los adultos del área de Kansas City pueden disfrutar de ver osos y tomar cervezas en un mismo lugar en unas seis semanas.
De 6:30 a 11 pm el 15 de octubre, el Zoológico de Kansas City organizará a Brew at the Zoo. Los boletos cuestan $60 por persona y $50 para los miembros de Friends of the Zoo. Los visitantes pueden probar sus cervezas favoritas mientras recorren el zoológico, ubicado en 6800 Zoo Drive en Kansas City, Missouri.
Un evento anual, Brew at the Zoo presenta más de 35 bodegas y cervecerías y camiones de música y comida, según el sitio web del zoológico. Como también dice el sitio web, el evento "destaca un animal que se beneficia del Fondo de Conservación del Zoológico de Kansas City".
El animal a destacar este año es el zorrillo moteado oriental. La información del zoológico indica que la población de zorrillos manchados del este en el Medio Oeste ha disminuido drásticamente. Por lo tanto, partes de las ganancias del evento apoyarán el trabajo del fondo para evitar una disminución adicional y "proteger a otros animales del mismo destino", según la información del zoológico.
A diferencia del zorrillo rayado, quizás el tipo de zorrillo más conocido, el zorrillo moteado oriental presenta manchas y líneas quebradas en la espalda, como afirman varias fuentes. El zorrillo manchado es más pequeña que su primo rayado.
Los camiones de comida contarán con delicias como la cocina mexicana y brasileña, e incluso piernas de pavo. Los artistas musicales programados para actuar incluyen a Jagwar Twin, Scruffy and The Janitors y DJ Diehard.
Los boletos de admisión también otorgan a los visitantes acceso a GloWild. Apodado como "el evento más grande de su tipo en el Midwest", GloWild es un festival de faroles que exhibe "enormes obras de arte hechas a mano en acero y seda que representan animales, puntos de referencia locales, productos botánicos y creaciones culturales asiáticas", según la información del zoológico.