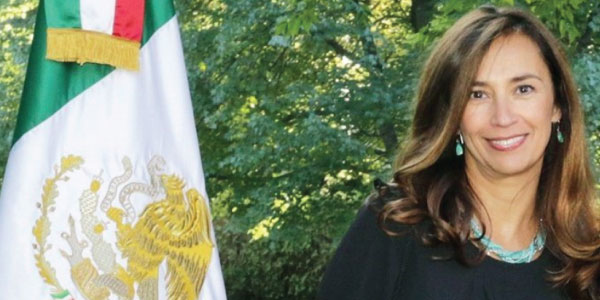 By Roberta Pardo
The Consulate of Mexico in Kansas City recently welcomed Soileh Padilla Mayer as its new head consul, officials announced in a press release.
Padilla Meyer began her duties on Aug. 17.
"She is thus integrated at the head of a team of committed and experienced officials to promote the interests of Mexico and provide the best possible service to the community of nearly 750,000 Mexican men and women living in the states of Kansas, Missouri and western Oklahoma," the press release stated.
Padilla Meyer has a bachelor's degree in international studies from the National Autonomous University of Mexico and an MBA in politics in alternative development strategies from the Institute of Social Studies, The Hague, The Netherlands. She also has extensive experience working for the Mexican government. Her most recent appointment was at the Embassy of Mexico in Canada as head of the cultural and academic section.
To stay updated with information from the Mexican Consulate in Kansas City, follow the consulate on Facebook, Twitter and Instagram on @ConsulMexKan.
---
Nueva cónsul jefe comienza su trabajo en el Consulado de México en KC
El Consulado de México en Kansas City dio la bienvenida recientemente a Soileh Padilla Mayer como su nueva cónsul principal, anunciaron funcionarios en un comunicado de prensa.
Padilla Meyer inició sus funciones el 17 de agosto.
"Se integra así al frente de un equipo de funcionarios comprometidos y experimentados para promover los intereses de México y brindar el mejor servicio posible a la comunidad de cerca de 750,000 mexicanos y mexicanas que viven en los estados de Kansas, Missouri y el oeste de Oklahoma, ", decía el comunicado de prensa.
Padilla Meyer tiene una licenciatura en estudios internacionales de la Universidad Nacional Autónoma de México y una maestría en política en estrategias de desarrollo alternativo del Instituto de Estudios Sociales de La Haya, Países Bajos. También tiene una amplia experiencia trabajando para el gobierno mexicano. Su nombramiento más reciente fue en la Embajada de México en Canadá como jefa de la sección cultural y académica.
Para mantenerse al tanto de lo que pasa en el Consulado de México en Kansas City, siga al consulado en Facebook, Twitter e Instagram en @ConsulMexKan.