By Chara
As a boy in Michoacan, Mexico, Jesus Adrian Gachuz dreamed of owning a bakery.
As a man residing in Kansas City, Missouri, Gachuz has made his dream come true. In April 2021, Gachuz opened the Don Chago Bakery with his wife and children.
"I had the opportunity to do it and decided to do it," he said.
When his dream became a reality, Gachuz couldn't believe it.
"For me, it was more like a dream," he said. "I couldn't believe that it was happening to me. It was something surreal."
Located in Independence, Missouri, the bakery offers Mexican bread, cakes, tamales, cookies and desserts. Gachuz's favorite Mexican bread the store offers is the concha.
"We are very famous because of our bread," he said. "I think it is because …, whenever I'm baking, I do it with my heart."
All of Gachuz's recipes are family recipes, he said. It was his family that inspired his dream, particularly his dad, who taught him to bake.
"I started working with my dad when I was 8 years old," he recalled. "The name of the bakery is because of him. I wanted to honor him."
Gachuz enjoyed working with his father, he said.
Eventually, Gachuz dropped out of school to help his family. Then, he got married and opened his first bakery in Michoacan. 
Motivated by his brother, he decided to leave Mexico for the United States to seek a better life, he said. Settling in the Kansas City area, he worked at various bakeries. First, he worked at Reyna's Mexican Bakery. Later, he worked for Laura's Bakery. After leaving the business to work in roofing for a while, he was hired at Elvira's Cakes in Kansas City, Missouri, where he has worked for 17 years.
Gachuz is grateful to God and his family for becoming an outstanding Latino in the community.
"I worked so hard for it all my life, and now, having my bakery store feels good," he said. 
Gachuz encourages anyone with a dream like his to never lose hope.
"Sometimes, things are complicated, and I want to tell people to never give up and fight for your dreams," he said.
Don Chago Bakery is located at 9013 E. U.S. Highway 40. For more information about its products, call (816) 503-6600 or visit Don Chago Bakery on Facebook.
---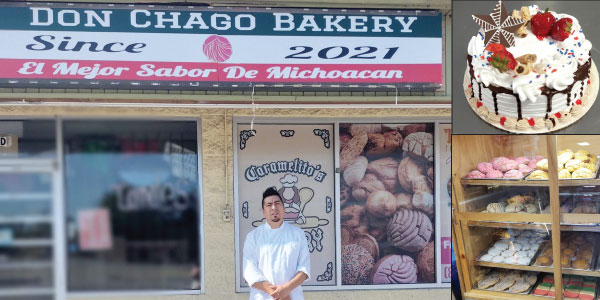 Panadero del área hace realidad un sueño
Cuando era niño en Michoacán, México, Jesús Adrián Gachuz soñaba con ser dueño de una panadería.
Ahora, como hombre que reside en Kansas City, Missouri, Gachuz ha hecho realidad su sueño. En abril de 2021, Gachuz abrió la Panadería Don Chago con su esposa e hijos.
"Tuve la oportunidad de hacerlo y decidí hacerlo", dijo.
Cuando su sueño se hizo realidad, Gachuz no podía creerlo.
"Para mí, fue más como un sueño", dijo. "No podía creer que me estaba pasando a mí. Fue algo surrealista".
Ubicada en Independence, Missouri, la panadería ofrece pan, pasteles, tamales, galletas y postres mexicanos. El pan mexicano favorito de Gachuz que ofrece la tienda es la concha.
"Somos muy famosos por nuestro pan", dijo. "Creo que es porque…, cada vez que estoy horneando, lo hago con el corazón".
Todas sus recetas son recetas familiares, dijo. Fue su familia la que inspiró su sueño, particularmente su papá, quien le enseñó a hornear.
"Empecé a trabajar con mi papá cuando tenía 8 años", recordó. "El nombre de la panadería es por él. Quería honrarlo".
Gachuz disfrutó trabajar con su padre, dijo.
Eventualmente, abandonó la escuela para ayudar a su familia. Luego, se casó y abrió su primera panadería en Michoacán.
Motivado por su hermano, decidió irse de México a Estados Unidos en busca de una vida mejor, dijo. Al establecerse en el área de Kansas City, trabajó en varias panaderías. Primero, trabajó en Reyna's Mexican Bakery. Más tarde, trabajó para Laura's Bakery. Después de dejar el negocio para trabajar en techado por un tiempo, fue contratado en Elvira's Cakes en Kansas City, Missouri, donde ha trabajado durante 17 años.
Gachuz está agradecido con Dios y su familia por convertirse en un latino destacado en la comunidad.
"Trabajé tan duro toda mi vida por eso, y ahora, tener mi tienda de panadería se siente bien", dijo.
Gachuz anima a cualquiera que tenga un sueño como el suyo a nunca perder la esperanza.
"A veces, las cosas son complicadas y quiero decirle a la gente que nunca se rinda y luche por sus sueños", dijo.
La Panadería Don Chago está ubicado en 9013 E. U.S. Highway 40. Para obtener más información sobre sus productos, llame al (816) 503-6600 o visite Don Chago Bakery en Facebook.