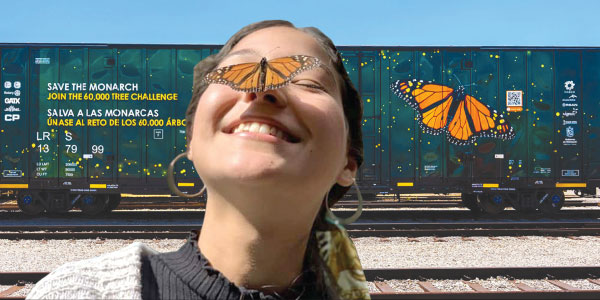 Free event at Union Station's Haverty Family Yards in partnership with Downtown Kansas City Rotary Club, Kansas City Southern, Canadian Pacific, and GATX.
Saturday September 24th from 10 am to 4 pm.
Visit the Kansas City Southern Monarch Boxcar and learn all about the iconic monarch butterfly at this FREE family-friendly celebration hosted at Union Station as part of the Save the Monarch Butterfly 60,000 Tree Challenge.
Taking place in Union Station's Haverty Family Yards on Saturday, September 24, in partnership with Downtown Kansas City Rotary Club, Kansas City Southern, Canadian Pacific, and GATX.
Monarch butterflies are among the most recognizable butterfly species in North America. In addition to being an international symbol of the environment, monarch butterflies contribute to the health of the planet. Pollinators are critical to global food security and healthy natural ecosystems, but they're disappearing at an alarming rate.
At this unique event, you will learn about pollinator habitats and about some of the challenges pollinators are facing today. You'll also discover sustainable solutions that can help overcome those challenges.
The event includes hands-on activities, games, presentations, performances, and more than 15 exhibitors, including the Kansas City Zoo, the Saint Louis Zoo, the Missouri Department of Conservation, Monarch Watch, Missourians for Monarchs and Westside CAN Center Monarch Way Station.
Attendees will also have the opportunity to see and take photos of the uniquely decorated Monarch Boxcar, which will be displayed on the tracks adjacent to Haverty Family Yards. And in addition to the free event, food trucks and vendors will also be on-site.
Guests will also have the opportunity to donate to support the Boxcar Tour's goal of supporting reforestation in the monarch overwintering forests of Mexico. Funds raised from the tour will be used to plant 60,000 oyamel trees at El Rosario Monarch Butterfly Sanctuary in Michoacán, Mexico to help re-establish the monarch population.
For more information of the event visit:
https://unionstation.org/event/save-the-monarch-butterfly-60000-tree-challenge-north-american-boxcar-tour/
Monarch butterflies are a symbol of rebirth and sustainability and their migration spans North America from Canada to Mexico. The more prominent and well-known eastern migration travels south from Canada along the I-35 corridor, known as the "Monarch Highway", through the central United States ending deep into Mexico. The Monarch Highway is directly along the KCS network.
The survival of the monarch species depends on the sacred Oyamel tree that grows in Michoacán, Mexico. The monarchs winter clinging to these trees that protect them from the rain and the chill. Deforestation over the past decades has fragmented their winter habitat. The disappearance of the Oyamel forest is not only affecting the monarch butterfly, whose population has decreased by 80% in just 20 years, but also the local communities that rely on it for their livelihoods, water, healthy soil, and erosion control.
In 2021, KCS launched the Monarch Mariposa project with support from Suburban Lawn and Garden and Rotary.
Through these efforts, we were able to raise $10K and receive a grant from the KCS Charitable Fund and Rotary to plant 10,000 Oyamel trees in El Rosario Butterfly Sanctuary as well as implement a potable water system outside of the sanctuary. Our goal in 2022 is to raise enough to plant 60,000 Oyamel trees.
The Oyamel is an evergreen conifer with dark and rough bark, 40-50 m high and a firm trunk 2 m in diameter. The flat, acicular leaves are grouped in a spiral, are dark green and 15-35 cm long. The fruit is a cylindrical cone 10-18 cm long, solitary, with a short almost sessile peduncle, a rounded apex and wedge-shaped scales
By train, we will travel the path of the Fall migration made by the monarch from Canada, through the USA, and arriving to Mexico.
This trip will be made by a symbolic butterfly. A Mexican artist will make a sculpture that will travel within a painted boxcar. It will move by train from Windsor (Canada) to Morelia (Mexico) stopping in 5 key cities: Chicago, Kansas City, Dos Laredo's, Monterrey, and San Luis Potosí before ending in Morelia.
At each stopover, Rotary clubs will host public engagement events designed to promote monarch conservation & awareness, pollinator gardens, and raise funds for the 60,000 trees in Michoacán.
The monarch sculpture and its replicas will be permanently kept in each city at the host club's headquarters.
---
A salvar a la mariposa monarca
Evento gratis en el Union Station's Haverty Family Yards en asociacion con el Rotary Club del Downtown Kansas City, el sur de Kansas City, Canadian Pacific, y GATX.
Sábado, 24 de septiembre de 10am a 4pm
Visite el Kansas City Southern Monarch Boxcar y aprenda todo sobre la icónica mariposa monarca en esta celebración GRATUITA para toda la familia organizada en Union Station como parte del desafío Save the Monarch Butterfly 60,000 Tree Challenge.
Se llevará a cabo en Haverty Family Yards de Union Station el sábado 24 de septiembre, en asociación con el Club Rotario del Centro de Kansas City, Kansas City Southern, Canadian Pacific y GATX.
Las mariposas monarca se encuentran entre las especies de mariposas más reconocibles de América del Norte. Además de ser un símbolo internacional del medio ambiente, las mariposas monarcas contribuyen a la salud del planeta. Los polinizadores son fundamentales para la seguridad alimentaria mundial y los ecosistemas naturales saludables, pero están desapareciendo a un ritmo alarmante.
En este evento único, aprenderá sobre los hábitats de los polinizadores y sobre algunos de los desafíos que enfrentan los polinizadores en la actualidad. También descubrirá soluciones sostenibles que pueden ayudar a superar esos desafíos. El evento incluye actividades prácticas, juegos, presentaciones, actuaciones y más de 15 expositores, incluidos el Zoológico de Kansas City, el Zoológico de Saint Louis, el Departamento de Conservación de Missouri, Monarch Watch, Missourians for Monarchs y Westside CAN Center Monarch Way Station .
Los asistentes también tendrán la oportunidad de ver y tomar fotos del Monarch Boxcar decorado de manera única, que se exhibirá en las vías adyacentes a Haverty Family Yards. Y además del evento gratuito, también habrá camiones de comida y vendedores en el lugar.
Los asistentes también tendrán la oportunidad de donar para apoyar el objetivo del Boxcar Tour de apoyar la reforestación en los bosques de hibernación de las monarcas en México. Los fondos recaudados de la gira se utilizarán para plantar 60,000 árboles de oyamel en el Santuario de la Mariposa Monarca El Rosario en Michoacán, México para ayudar a restablecer la población de monarca.
Para más información del evento visita: https://unionstation.org/event/save-the-monarch-butterfly-60000-tree-challenge-north-american-boxcar-tour/.
Las mariposas monarca son un símbolo de renacimiento y sostenibilidad y su migración se extiende por América del Norte desde Canadá hasta México. La migración oriental más prominente y conocida viaja hacia el sur desde Canadá a lo largo del corredor I-35, conocido como la "carretera monarca", a través del centro de Estados Unidos y termina en México. La carretera monarca está directamente a lo largo de la red KCS.
La supervivencia de la especie monarca depende del árbol sagrado Oyamel que crece en Michoacán, México. Las monarcas invernan colgadas de estos árboles que las protegen de la lluvia y el frío. La deforestación en las últimas décadas ha fragmentado su hábitat invernal. La desaparición del bosque de Oyamel no solo está afectando a la mariposa monarca, cuya población ha disminuido un 80% en solo 20 años, sino también a las comunidades locales que dependen de él para su sustento, agua, suelo sano y control de la erosión.
En 2021, KCS lanzó el proyecto Monarch Mariposa con el apoyo de Suburban Lawn and Garden y Rotary.
A través de estos esfuerzos, pudimos recaudar $ 10K y recibir una subvención del Fondo Caritativo y Rotario de KCS para plantar 10,000 árboles de Oyamel en el Santuario de Mariposas El Rosario, así como también implementar un sistema de agua potable fuera del santuario. Nuestro objetivo en 2022 es recaudar lo suficiente para plantar 60.000 árboles de Oyamel.
La Oyamel es una conífera perennifolia de corteza oscura y rugosa, de 40-50 m de altura y tronco firme de 2 m de diámetro. Las hojas, planas y aciculares, se agrupan en espiral, son de color verde oscuro y miden entre 15 y 35 cm. El fruto es un cono cilíndrico de 10-18 cm de largo, solitario, con un pedúnculo corto casi sésil, ápice redondeado y escamas cuneiformes.
En tren recorreremos el camino de la migración de otoño que realizó la monarca desde Canadá, pasando por EE.UU. y llegando a México.
Este viaje lo hará una mariposa simbólica. Un artista mexicano realizará una escultura que viajará dentro de un vagón pintado. Se desplazará en tren desde Windsor (Canadá) hasta Morelia (México) con parada en 5 ciudades clave: Chicago, Kansas City, Dos Laredo's, Monterrey y San Luis Potosí antes de finalizar en Morelia.
En cada escala, los clubes rotarios organizarán eventos de participación pública diseñados para promover la conservación y la concientización de la mariposa monarca, jardines polinizadores y recaudar fondos para los 60,000 árboles en Michoacán.
La escultura del monarca y sus réplicas se mantendrán permanentemente en cada ciudad en la sede del club anfitrión.