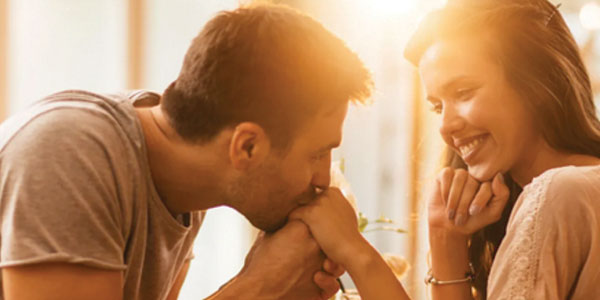 Next week is Valentine's Day, the holiday celebrating romantic love. This year, consumers in the U.S. are expected to spend an average of $192.80, according to the National Retail Federation. Measured by sales performance, the most popular gifts are candy, greeting cards, flowers, an evening out and jewelry.
In honor of Valentine's Day, we're planning expressions of love for our spouse or sweetheart, but we can also recognize special relationships with others. Whomever the recipient, our gift doesn't have to be extravagant or expensive – whatever says "I love you" will please.
The delightful variety of ways that we can express our love, even on a budget, is boundless, limited only by lack of thought or imagination. Consider this. A single red rose given on a first date says love at first sight. When given in a long-term relationship, it symbolizes lasting love.
For a change of pace, think lighthearted, and say I love you with the gift of laughter. Imagine the delighted mirth of a loved one upon receiving a pair of hand puppets or funny finger puppets, a Mr. Potato Head, or a Wonder Woman or Superman costume. Create an entertaining treasure hunt with a modestly priced prize, something your sweetie will enjoy.
Try wooing your beloved in the kitchen. Set the tone; create ambience conducive to romance with quixotic sensory cues – music, lighting, fragrance, etc. Plan the special meal and prepare it together. Sip some wine while you're at it. If dessert's on the menu, think chocolate; it's rich and delicious, the perfect climax to a seductive culinary experience, according to chefs.
If your first date was notably memorable, recreate it, suggests Charlotte Andersen, well-known health and wellness writer. Share a "favorite things" evening. Exchange an annual Valentine's Day letter with your loved one. Take a romantic bath together. Play love song karaoke. Create a couple's vision board. Create a piece of art together (remember the super seductive pottery scene in the 1990 romantic fantasy, Ghost?) Create a date jar. Stream romantic movies. Read love poems to one another.
Celebrating our love for spouse or sweetheart doesn't demand a fortune; merely some thought and imagination to make it extra-special – a date to treasure. Happy Valentine's Day!
---
Amor y romance: inspírese
La próxima semana es el Día de San Valentín, la festividad que celebra el amor romántico. Este año, se espera que los consumidores en EE.UU. gasten un promedio de $192.80, según la Federación Nacional de Minoristas. Medido por el desempeño de las ventas, los obsequios más populares son los dulces, las tarjetas de felicitación, las flores, las salidas nocturnas y las joyas.
En honor del Día de San Valentín, estamos planeando expresiones de amor para nuestro cónyuge o amado, pero también podemos reconocer las relaciones especiales con los demás. Sea quien sea el destinatario, nuestro regalo no tiene por qué ser extravagante o caro: cualquier cosa que diga "te quiero" gustará.
La encantadora variedad de formas en que podemos expresar nuestro amor, incluso con un presupuesto limitado, es ilimitada, y está limitada sólo por la falta de pensamiento o imaginación. Considere esto. Una sola rosa roja que se regala en una primera cita dice amor a primera vista. Cuando se da en una relación a largo plazo, simboliza el amor duradero.
Para variar, piense alegremente y diga te amo con el don de la risa. Imagine la alegría encantada de un ser querido al recibir un par de títeres de mano o títeres de dedo divertidos, un Sr. Potato Head o un disfraz de Wonder Woman o Superman. Cree una búsqueda del tesoro entretenida con un premio de precio modesto, algo que disfrutará su amorcito.
Intente cortejar a su amado o amada en la cocina. Configure el tono; cree un ambiente propicio para el romance con señales sensoriales quijotescas: música, luces, fragancias, etc. Planifique la comida especial y prepárela juntos. Beba un poco de vino mientras lo hace. Si el postre está en el menú, piense en chocolate; es rico y delicioso, el clímax perfecto para una experiencia culinaria seductora, según los chefs.
Si su primera cita fue notablemente memorable, recréela, sugiere Charlotte Andersen, conocida escritora de salud y bienestar. Comparta una noche de "cosas favoritas". Intercambie una carta anual del Día de San Valentín con su ser querido. Tomen un baño romántico juntos. Jueguen karaoke de canciones de amor. Cree un tablero de visión de pareja. Cree una obra de arte juntos (¿recuerda la escena de cerámica súper seductora en la fantasía romántica de 1990, "Fantasma"?) Cree un frasco de dátiles. Vean películas románticas. Lean poemas de amor el uno al otro.
Celebrar nuestro amor por el cónyuge o la persona amada no exige una fortuna; simplemente un poco de pensamiento e imaginación para hacerlo más especial: una fecha para atesorar. ¡Feliz día de San Valentín!