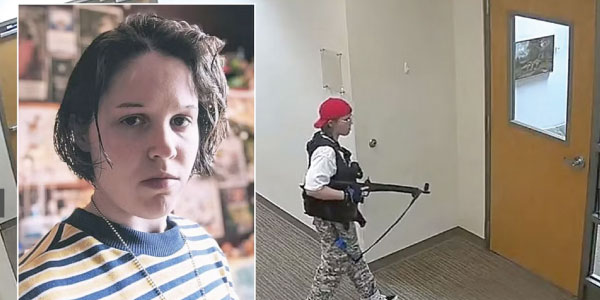 Six lives lost in Nashville school shooting
On the morning of Mar. 28, the Nashville community was rocked by a tragic school shooting that claimed the lives of six people, including three children. The incident occurred at Covenant School, a private Christian elementary school, where a gunman opened fire on students and staff. As the nation reels from another senseless act of violence, questions rise about what could have been done to prevent such a tragedy.
As the investigation into the shooting unfolds, authorities revealed that the shooter was Audrey E. Hale—a 28-year-old man with a history of mental health issues. Hale entered the school grounds armed with multiple firearms and began firing indiscriminately at students and staff. The quick response of law enforcement officers helped to bring the shooting to an end, but not before six lives had been tragically cut short.
The Nashville community is now mourning as families face losing loved ones. The three children who were killed in the shooting were all under the age of 10, leaving parents and loved ones devastated. The other victims included two teachers and a school administrator; all dedicated their lives to educating and caring for children.
The tragedy has reignited debates about gun control and school safety, with many questioning what can be done to prevent such incidents from occurring in the future. Some have called for stricter gun laws, arguing that this could help to prevent those with mental health issues from obtaining firearms. Others have called for increased school security measures, such as metal detectors and armed guards.
The investigation into the shooting is ongoing, and authorities continue to work to understand the shooter's motives. As the investigation into the shooting continues, the nation mourns for the victims and their families and calls for action to ensure that such a tragedy never happens again.
---
Tiroteo deja seis muertos en una escuela de Nashville
La mañana del 28 de marzo, la comunidad de Nashville se vio sacudida por un trágico tiroteo que se cobró la vida de seis personas, entre ellas tres niños. El incidente se produjo en Covenant School, una escuela primaria cristiana privada, donde un hombre armado abrió fuego contra los alumnos y el personal. Mientras el país se tambalea por otro acto de violencia, surgen preguntas sobre lo que se podría haber hecho para evitar una tragedia semejante.
A medida que avanza la investigación sobre el tiroteo, las autoridades han revelado que el autor de los disparos era Audrey E. Hale, un hombre de 28 años con antecedentes de problemas de salud mental. Hale entró en el recinto escolar armado con varias armas de fuego y empezó a disparar indiscriminadamente contra los alumnos y el personal. La rápida respuesta de las autoridades contribuyó a poner fin al tiroteo, pero no antes de la perdida de seis vidas.
La comunidad de Nashville está ahora de luto y las familias se enfrentan a la pérdida de sus seres queridos. Los tres niños que murieron en el tiroteo tenían menos de 10 años. Entre las demás víctimas se encontraban dos profesores y un administrador escolar; todos ellos dedicaban su vida a educar y cuidar a los niños.
La tragedia ha reavivado el debate sobre el control de armas y la seguridad en las escuelas, y muchos se preguntan qué se puede hacer para evitar que este tipo de incidentes se repitan en el futuro. Algunos han pedido leyes de armas más estrictas, argumentando que esto podría ayudar a evitar que las personas con problemas de salud mental obtengan armas de fuego. Otros han pedido que se aumenten las medidas de seguridad en las escuelas, como detectores de metales y guardias armados.
La investigación del tiroteo está en curso y las autoridades siguen trabajando para comprender los motivos del autor. Mientras prosigue la investigación, el país se encuentra en luto por las víctimas y sus familias y pide que se tomen medidas para garantizar que no vuelva a repetirse una tragedia como ésta.