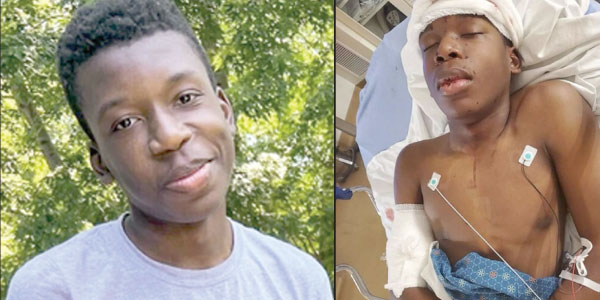 By Tere Siqueira
A Kansas City, Missouri, teenager suffered critical injuries after being shot twice when he accidentally knocked on the wrong house door.
Multiple media outlets reported that the homeowner, 84-year-old Andrew D. Lester, shot 16-year-old Ralph Yarl in the head and again in the arm after falling. According to the family, the teen was sent by his parents to pick up his younger twin brothers at a friend's house on the evening of April 13, but he ended up at a house on Northeast 115th Street, instead of Northeast 115th Terrace.
As media outlets have reported, Lester has been charged with first-degree assault, a Class-A felony, and could face life imprisonment if convicted. He also has been charged with armed criminal action, which carries a maximum penalty of 15 years in prison.
The charges were announced following community pressure, including protests near Lester's home. Kansas City Mayor Quinton Lucas expressed his dismay about the situation and pledged to seek justice for Yarl and his family.
The teen's father, Paul Yarl, expressed relief that charges have been announced and expressed his concerns for other Black children who might find themselves in a similar situation.
Clay County prosecutor Zachary Thompson acknowledged the racial component in the case, as Yarl is African-American and Lester is white. According to Thompson, Yarl didn't enter the house and no words were exchanged before Lester fired the shots through a glass door with a .32-caliber handgun.
The high school junior was released on Sunday (April 16) from the hospital and is expected to make a full recovery after undergoing surgery to remove the bullets. President Biden reportedly spoke with Yarl over the phone, sharing his hope for a swift recovery.
The shooting follows several race-related shootings America has witnessed within recent years, such Trayvon Martin in 2012, Michael Brown in 2014 and Ahmaud Arbery in 2020. Those and other incidents sparked outrage, leading to the emergence of the Black Lives Matter movement and prompting discussions about the need for reform to address racial injustice and promote societal equality.
---
Adolescente de KCMO recibe disparos tras tocar en una puerta equivocada
Un adolescente de Kansas City, Missouri, sufrió heridas críticas tras recibir dos disparos cuando llamó accidentalmente a la puerta equivocada de una casa.
Varios medios de comunicación informaron de que el propietario de la casa, Andrew D. Lester, de 84 años, disparó a Ralph Yarl, de 16 años, en la cabeza y de nuevo en el brazo tras caer. Según la familia, el adolescente fue enviado por sus padres a recoger a sus hermanos gemelos más pequeños a casa de un amigo la noche del 13 de abril, pero acabó en una casa de la calle Northeast 115th, en lugar de Northeast 115th Terrace.
Como han informado los medios de comunicación, Lester ha sido acusado de agresión en primer grado, un delito grave de clase A, y podría enfrentarse a cadena perpetua si es declarado culpable. También ha sido acusado de acción criminal armada, que conlleva una pena máxima de 15 años de prisión.
Los cargos se anunciaron tras la presión de la comunidad, que incluyó protestas cerca de la casa de Lester. El alcalde de Kansas City, Quinton Lucas, expresó su consternación por la situación y se comprometió a buscar justicia para Yarl y su familia.
El padre del adolescente, Paul Yarl, manifestó su alivio por el anuncio de los cargos y expresó su preocupación por otros niños negros que pudieran encontrarse en una situación similar.
El fiscal del condado de Clay, Zachary Thompson, reconoció el componente racial del caso, ya que Yarl es afroamericano y Lester es blanco. Según Thompson, Yarl no entró en la casa y no hubo intercambio de palabras antes de que Lester efectuara los disparos a través de una puerta de cristal con una pistola de calibre .32.
El estudiante de preparatoria fue dado de alta del hospital el domingo (16 de abril) y se espera que se recupere totalmente tras someterse a una intervención quirúrgica para extraerle las balas. Al parecer, el Presidente Biden habló por teléfono con Yarl y le transmitió su deseo de que se recupere pronto.
El tiroteo se produce después de varios incidentes relacionados con prejuicios raciales que Estados Unidos ha presenciado en los últimos años, como los de Trayvon Martin en el 2012, Michael Brown en el 2014 y Ahmaud Arbery en el 2020. Estos y otros incidentes provocaron indignación, dando lugar a la aparición del movimiento Black Lives Matter y suscitaron debates sobre la necesidad de reformas para abordar la injusticia racial y promover la igualdad social.