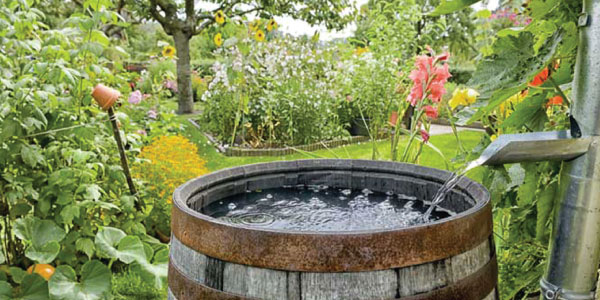 By Tere Siqueira
This spring, stormwater runoff is being tackled head-on by Contain the Rain, a program available for residents in cities across Johnson County, Kansas.
Through the program, now in its 13th year, residents may be reimbursed for up to 50 percent of what they spend on rain barrels, rain gardens and other projects used to collect rainwater that can be used for gardening or watering lawns, as stated in a press release posted online at jocogov.org.
Per the press release, the money is available through money designated to cities by Johnson County's Stormwater Management Program. Residents in 17 cities and unincorporated areas of the county are eligible to be reimbursed. Participating cities include De Soto, Leawood, Lenexa, Merriam, Mission, Olathe, Overland Park, Prairie Village, Roeland Park and Shawnee.
For more information on how to apply for funding and learn about the city's criteria for reimbursement, visit containtherainjoco.com.
In related news, as a way to assist residents in planning their projects, Johnson County is collaborating with the Geoscience Academy through Olathe Public Schools to present workshops on rain barrels and rain gardens this spring, the county announced on its website. Workshops on rain barrels are slated for Saturday (April 22), with participants each receiving a free rain barrel. A workshop on rain gardens is planned for May 4.
Olathe North High School will host both events, the county stated.
---
Contain the Rain ofrece reembolsos a los residentes de JoCo
Esta primavera, la gestión de las aguas pluviales está siendo abordada por Contain the Rain, un programa disponible para los residentes de las ciudades del condado de Johnson, Kansas.
A través del programa, ahora en su 13º año, los residentes pueden ser reembolsados por hasta el 50 por ciento de lo que gastan en barriles de lluvia, jardines de lluvia y otros proyectos utilizados para recoger el agua de lluvia que se puede utilizar para jardinería o riego de césped, como se indica en un comunicado de prensa publicado en línea en jocogov.org.
Según el comunicado de prensa, el dinero está disponible a través del dinero designado a las ciudades por el Programa Stormwater Management del Condado de Johnson. Los residentes de 17 ciudades y áreas no incorporadas del condado son elegibles para ser reembolsados. Las ciudades participantes son De Soto, Leawood, Lenexa, Merriam, Mission, Olathe, Overland Park, Prairie Village, Roeland Park y Shawnee.
Para más información sobre cómo solicitar financiación y conocer los criterios de reembolso de la ciudad, visite containtherainjoco.com.
En noticias relacionadas, como una forma de ayudar a los residentes en la planificación de sus proyectos, el condado de Johnson está colaborando con la Academia de Geociencias a través de las Escuelas Públicas de Olathe para presentar talleres sobre barriles de lluvia y jardines de lluvia esta primavera, el condado anunció en su sitio web. Los talleres sobre barriles de lluvia están programados para el sábado (22 de abril), y cada participante recibirá un barril de lluvia gratis. El taller sobre jardines de lluvia está previsto para el 4 de mayo.
Olathe North High School será el anfitrión de ambos eventos, declaró el condado.