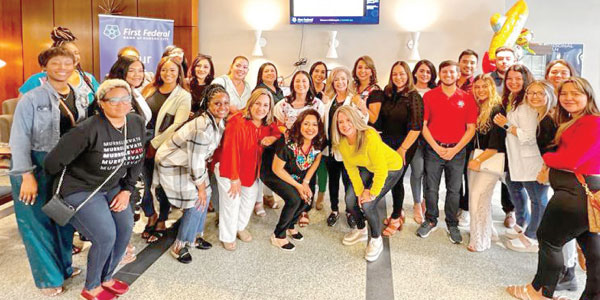 By Angie Baldelomar
On May 5, First Federal Bank of Kansas City hosted an open house to celebrate Cinco de Mayo.
In partnership with the Hispanic Chamber of Commerce of Greater Kansas City and the Kansas City, Kansas, Chamber of Commerce, First Federal hosted the event at its location at 711 Minnesota Ave. to share with the community the services it offers.
Sandra Olivas, community development officer at First Federal, said she is happy to help Latino families achieve the dream of owning a home.
"I am very excited to be at this institution, … and I'm grateful to work with our team, who work very, very hard behind the scenes to support each of these families in achieving that American dream and buying a home," Olivas said.
The event ran from 11 a.m. to 1 p.m. Unified Government of Wyandotte County/Kansas City, Kansas, Mayor and CEO Tyrone Garner was a special guest. Food was provided by Palacana.
---
First Federal Bank organiza open house en celebración del Cinco de Mayo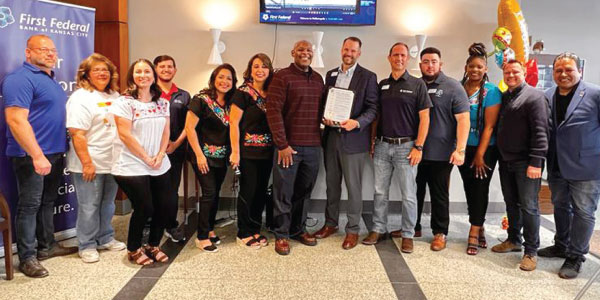 El 5 de mayo, First Federal Bank of Kansas City organizó una jornada de puertas abiertas para celebrar el Cinco de Mayo.
En asociación con la Cámara de Comercio Hispana de Greater Kansas City y la Cámara de Comercio de Kansas City, Kansas, First Federal organizó el evento en su ubicación en 711 Minnesota Ave. para compartir con la comunidad los servicios que ofrece.
Sandra Olivas, oficial de desarrollo comunitario de First Federal, dijo que está feliz de ayudar a las familias latinas a lograr el sueño de tener una casa propia.
"Estoy muy emocionado de estar en esta institución… y estoy agradecido de trabajar con nuestro equipo, que trabaja muy, muy duro entre bastidores para apoyar a cada una de estas familias a lograr ese sueño americano y comprar una casa", dijo.
El evento tuvo lugar de 11 a.m. a 1 p.m. Tyrone Garner, el alcalde y director ejecutivo del Gobierno Unificado del Condado de Wyandotte/Kansas City, Kansas, fue un invitado especial. La comida fue proporcionada por Palacana.