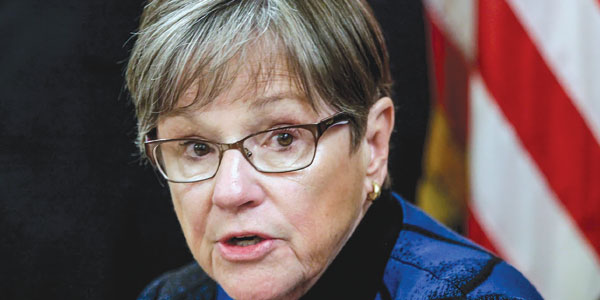 By Roberta Pardo
Kansas Gov. Laura Kelly recently signed into law a bill to fully fund schools for the fifth straight year.
On May 18, Kelly announced she had signed and line-item vetoed aspects of Senate Bill 113, the bill containing the budget for K-12 education, according to an Office of the Governor press release. With the vetoes, the bill "fully funds K-12 education for the fifth consecutive year and protects funding for rural schools facing declining enrollment," the release stated.
"Today, I am keeping my commitment to Kansas families by fully funding our public schools for the fifth year in a row," Kelly was quoted by the release as saying. "What's more, I am proud to stand up for rural schools, the heart and economic engines of communities throughout the state, by rejecting efforts to cut the funding needed to keep them open and continuing to serve Kansas students."
Besides funding schools, the version of the bill signed by Kelly also helps make schools safer, enables parents to engage with their children's education, assists teachers in developing professionally, supports early childhood literacy and helps students learn "technical skills for a modern economy," the governor's office stated.
"Not only has Governor Kelly fully funded schools for the fifth year in a row; she stood with our students, educators and families by rejecting cuts to our rural schools," said Senate Minority Leader Dinah Sykes, according to a May 22 press release. "Kansans are tired of the legislature tying extreme, out-of-touch policies to public education funding. Our legislators would do well to follow the governor's lead next session and invest in all of our students."
In addition, SB 113 includes a $7.5-million increase in special education funding, the May 18 release stated. According to that release, however, it does not include the $72 million Kelly has called for throughout the legislative session to put Kansas on the path to fully fund special education.
The line-item Kelly vetoed in SB 113 would have changed the school finance formula that determines the amount of funding annually appropriated by the state to public schools, the May 18 release stated. The provision would have risked the state's compliance with constitutional funding requirements and could have resulted in rural schools having to cut services or close buildings, the governor's office stated.
---
Kelly aprueba ley para financiar íntegramente las escuelas y cuidar las escuelas rurales
La gobernadora de Kansas, Laura Kelly, promulgó recientemente un proyecto de ley para financiar completamente las escuelas por quinto año consecutivo.
El 18 de mayo, Kelly anunció que había firmado y vetado aspectos del Proyecto de Ley del Senado 113, el proyecto de ley que contiene el presupuesto para la educación K-12, según un comunicado de prensa de la Oficina del Gobernador. Con los vetos, el proyecto de ley "financia completamente la educación K-12 por quinto año consecutivo y protege los fondos para las escuelas rurales que enfrentan una disminución de la inscripción", indicó el comunicado.
"Hoy mantengo mi compromiso con las familias de Kansas financiando completamente nuestras escuelas públicas por quinto año consecutivo", dijo Kelly según el comunicado. "Además, me enorgullece defender las escuelas rurales, el corazón y los motores económicos de las comunidades de todo el estado, al rechazar los esfuerzos para recortar los fondos necesarios para mantenerlas abiertas y seguir sirviendo a los estudiantes de Kansas".
Además de financiar escuelas, la versión del proyecto de ley firmado por Kelly también ayuda a que las escuelas sean más seguras, permite a los padres participar en la educación de sus hijos, ayuda a los maestros a desarrollarse profesionalmente, apoya la alfabetización en la primera infancia y ayuda a los estudiantes a aprender "habilidades técnicas para una economía moderna".
"La gobernadora Kelly no sólo ha financiado por completo las escuelas por quinto año consecutivo; ella apoyó a nuestros estudiantes, educadores y familias al rechazar los recortes a nuestras escuelas rurales", dijo la líder de la minoría del Senado, Dinah Sykes, según un comunicado de prensa del 22 de mayo. "Los habitantes de Kansas están cansados de que la legislatura vincule políticas extremas y fuera de contacto con la financiación de la educación pública. Nuestros legisladores harían bien en seguir el ejemplo del gobernador en la próxima sesión e invertir en todos nuestros estudiantes".
Además, SB 113 incluye un aumento de $7.5 millones en fondos para educación especial, indicó el comunicado del 18 de mayo. Sin embargo, no incluye los $72 millones que Kelly pidió durante la sesión legislativa para poner a Kansas en el camino de financiar completamente la educación especial.
El artículo de línea que Kelly vetó en la SB 113 habría cambiado la fórmula de financiación escolar que determina la cantidad de financiación asignada anualmente por el estado a las escuelas públicas. La disposición habría puesto en riesgo el cumplimiento por parte del estado de los requisitos constitucionales de financiación y podría haber dado lugar a que las escuelas rurales tuvieran que interrumpir servicios o cerrar sus puertas.