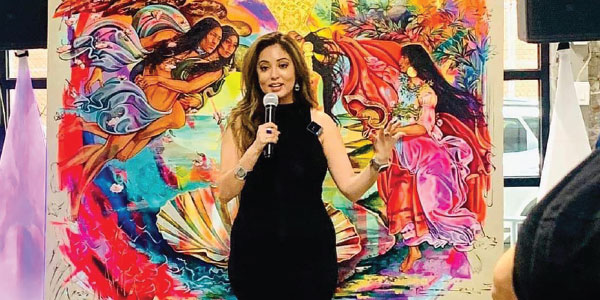 By Chara
A former Dos Mundos/Reyes Media Group staffer has opened a new art space.
On July 7, the Monarca Art Space (MAS) celebrated its grand opening at its new location in Kansas City, Missouri's West Bottoms area. Founded and owned by Vania Soto, MAS aims to provide affordable studio spaces to working artists in the Kansas City area.
"It is a dream of mine to have my own (gallery) – a gallery where not only I can exhibit, but I can give other local artists the same opportunity that I've been looking for," said Soto, who worked for Dos Mundos/Reyes Media Group from 2006 to 2012. "Exhibiting in a place that is curated to my culture is part of the dream, but because … (there aren't) a lot of opportunities here in the Midwest, I've decided to create my own."
In keeping with that mission, MAS featured works by local Colombian artist Vanessa Ayala during its grand opening. However, MAS isn't limited to showcasing one artist per show. Soto and her team are committed to providing opportunities for a diverse range of artists to exhibit their work, she said.
Soto and her team also are committed to doing more than presenting exhibits and providing studio space. MAS offers a suite of resources for working artists, such as educational classes and strategic partnerships that connect artists with essential services to enhance their careers.
"The mission of Monarca Art Space is to offer dedicated resources and space to working artists, enabling them to focus on building and catalyzing their art businesses in a lower-risk environment," she said. "Additionally, MAS aims to provide a platform for artists to reach and engage with new audiences through MAS KC, a public-facing retail space and gallery."
To support MAS in pursuing those missions, the grand opening also served as a fundraising event. The Hispanic Chamber of Commerce of Greater Kansas City and the Kansas City, Kansas, Chamber of Commerce sponsored a ribbon-cutting ceremony, designed to raise $4,000 to fund the construction of art studios within the space.
Soto welcomes donations through Venmo to help make this vision a reality. Soto's Venmo account is https://venmo.com/u/Vania-Soto.
As a Latina artist, it's important to Soto to curate a space that embraces and reflects her culture. Thus, MAS plans to celebrate Hispanic Heritage Month (Sept. 15-Oct. 15) with a special art show. Soto and her team are actively seeking artists interested in joining the group exhibition. Additionally, MAS will host a Dia de los Muertos community altar and art show.
In other news, MAS is seeking vendors to sell their products in the boutique side of the gallery.
"Artists and creators of all kinds of creative crafts are welcome to apply," Soto said.
For more information about MAS, contact or follow it on social media at https://www.facebook.com/profile.php?id=100086234571792&mibextid=LQQJ4d,email monarcaartspace@gmail.com or visit www.monarcaartspace.com.
---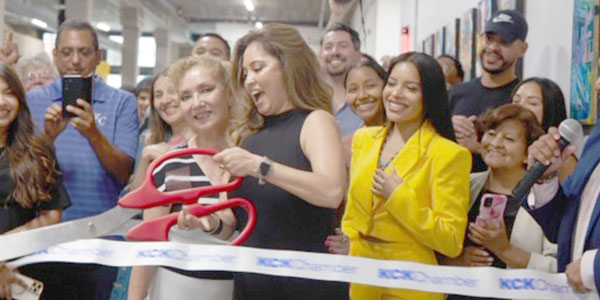 MAS celebra gran ceremonia de inauguración
Una ex miembro del staff de Dos Mundos/Reyes Media Group ha abierto un nuevo espacio de arte.
El 7 de julio, el Espacio de Arte Monarca (MAS, por sus siglas en inglés) celebró su gran inauguración en su nueva ubicación en el área West Bottoms de Kansas City, Missouri. Fundado por la propietaria Vania Soto, MAS apunta a brindar espacios de estudio asequibles para artistas en activo en el área de Kansas City.
"Es un sueño mío tener mi propia (galería), una galería donde no sólo pueda exhibir, sino que pueda darles a otros artistas locales la misma oportunidad que he estado buscando", dijo Soto, quien trabajó para Dos Mundos/Reyes Media Group de 2006 a 2012. "Exponer en un lugar que está adaptado a mi cultura es parte del sueño, pero debido a que… (no hay) muchas oportunidades aquí en el Midwest, he decidido crear mi propio espacio".
De acuerdo con esa misión, MAS presentó obras de la artista colombiana local Vanessa Ayala durante su gran inauguración. Sin embargo, MAS no se limita a exhibir un artista por show. Soto y su equipo están comprometidos a brindar oportunidades para que una amplia gama de artistas exhiba su trabajo, dijo.
Soto y su equipo también están comprometidos a hacer más que presentar exhibiciones y ofrecer espacios de estudio. MAS ofrece un conjunto de recursos para artistas que trabajan, como clases educativas y asociaciones estratégicas que conectan a los artistas con servicios esenciales para mejorar sus carreras.
"La misión de Monarca Art Space es ofrecer recursos y espacio dedicados a los artistas que trabajan, permitiéndoles concentrarse en construir y catalizar sus negocios de arte en un entorno de menor riesgo", dijo. "Además, MAS tiene como objetivo brindar una plataforma para que los artistas lleguen e interactúen con nuevas audiencias a través de MAS KC, un espacio comercial y una galería de cara al público".
Para apoyar al MAS en el cumplimiento de esas misiones, la gran inauguración también sirvió como un evento de recaudación de fondos. La Cámara de Comercio Hispana de Greater Kansas City y la Cámara de Comercio de Kansas City, Kansas, patrocinaron una ceremonia de inauguración, diseñada para recaudar $4,000 para financiar la construcción de estudios de arte dentro del espacio.
Soto recibe donaciones a través de Venmo para ayudar a hacer realidad esta visión. Su cuenta de Venmo es https://venmo.com/u/Vania-Soto.
Como artista latina, es importante para Soto curar un espacio que abarque y refleje su cultura. Por lo tanto, MAS planea celebrar el Mes de la Herencia Hispana (del 15 de septiembre al 15 de octubre) con una exhibición de arte especial. Soto y su equipo están buscando activamente artistas interesados en unirse a la exposición colectiva. Además, MAS organizará un altar comunitario y una exhibición de arte del Día de los Muertos.
En otras noticias, MAS está buscando personas para vender sus productos en el lado boutique de la galería.
"Los artistas y creadores de todo tipo de artesanías creativas pueden postularse", dijo Soto.
Para obtener más información sobre MAS, comuníquese o sígalo en las redes sociales en https://www.facebook.com/profile.php?id=100086234571792&mibextid=LQQJ4d, envíe un correo electrónico a monarcaartspace@gmail.com o visite www.monarcaartspace.com.