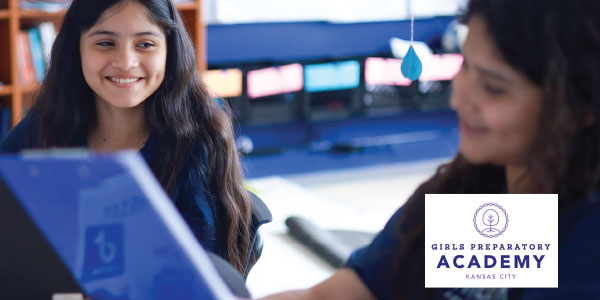 By Chara
An educational institution in Kansas City, Missouri, is dedicated to empowering girls and preparing them for a bright future.
The institution, known as Kansas City Girls Prep Academy (KCGPA), works "to prepare young women to use their voices, succeed in college and lead impactful, meaningful lives," the academy's website states. A tuition-free public charter school for grades 5-8, KCGPA welcomes girls from all walks of life who reside within the parameters set for Kansas City Public Schools, provided seats are available, according to the academy.
KCGPA prides itself on being distinct from other educational institutions in several ways. One way is through its faculty.
"KCGPA stands out because we have a diverse, women-led team of educators; we believe that all scholars must first be safe and loved to be learning; and we offer small class sizes and hands-on learning," said Molly Schemm, family partnership manager. "We set our scholars up for success from the moment they walk into our building."
The academy not only emphasizes academics; it also offers multiple extracurricular activities. As its website states, those activities include multiple after-school clubs, such as Yearbook Club, Dance Club and Ukelele Club.
For parents interested in enrolling their girls at KCGPA, the process is easy, Schemm suggested.
"Guardians can apply online by completing an application at schoolappkc.schoolmint.net," she said. "Once the application is submitted, the enrollment te+am reviews it and extends offers to qualified applicants. Once accepted, the rest of the enrollment packet can be accessed online at kcgpa.schoolmint.net."
KCGPA encourages prospective parents and students to explore the school firsthand through school tours before enrolling. The academy offers tours every day to ensure that families can find a time that works for them.
To learn more about the academy and stay updated with school activities and events, visit kcgpa.org or follow KCGPA on Facebook and Instagram (@kcgirlsprep).
To schedule a school tour, contact Schemm via text at (913) 214-2798 or email at mschemm@kcgpa.org.
---
Academia trabaja para empoderar a las niñas del área
Una institución educativa en Kansas City, Missouri, se dedica a empoderar a las niñas y prepararlas para un futuro brillante.
La institución, conocida como Kansas City Girls Prep Academy (KCGPA), trabaja "para preparar a las mujeres jóvenes para que usen sus voces, tengan éxito en la universidad y lleven vidas significativas e impactantes", afirma el sitio web de la academia. Una escuela autónoma pública gratuita para los grados 5-8, KCGPA da la bienvenida a niñas de todos los ámbitos de la vida que residen dentro de los parámetros establecidos para las Escuelas Públicas de Kansas City, siempre que haya asientos disponibles, según la academia.
La KCGPA se enorgullece de ser distinta de otras instituciones educativas de varias maneras. Una forma es a través de su facultad.
"KCGPA se destaca porque contamos con un equipo diverso de educadores dirigido por mujeres; creemos que todos las estudiantes primero deben estar seguras y amadas para aprender; y ofrecemos clases pequeñas y aprendizaje práctico", dijo Molly Schemm, gerente de asociaciones familiares. "Preparamos a nuestras estudiantes para el éxito desde el momento en que ingresan a nuestro edificio".
La academia no sólo enfatiza lo académico; también ofrece múltiples actividades extracurriculares. Como dice su sitio web, esas actividades incluyen múltiples clubes extracurriculares, como el Club del anuario, el Club de baile y el Club de ukelele.
Para los padres interesados en inscribir a sus hijas en KCGPA, el proceso es fácil, dijo Schemm.
"Los tutores pueden presentar su solicitud en línea completando una solicitud en schoolappkc.schoolmint.net", dijo. "Una vez que se envía la solicitud, el equipo de inscripción la revisa y extiende las ofertas a los solicitantes calificados. Una vez aceptado, se puede acceder al resto del paquete de inscripción en línea en kcgpa.schoolmint.net".
La KCGPA alienta a los futuros padres y estudiantes a explorar la escuela de primera mano a través de recorridos escolares antes de inscribirse. La academia ofrece recorridos todos los días para garantizar que las familias puedan encontrar un momento que les funcione.
Para obtener más información sobre la academia y mantenerse actualizado con las actividades y eventos escolares, visite kcgpa.org o siga a KCGPA en Facebook e Instagram (@kcgirlsprep).
Para programar una visita a la escuela, comuníquese con Schemm por mensaje de texto al (913) 214-2798 o envíe un correo electrónico a mschemm@kcgpa.org.