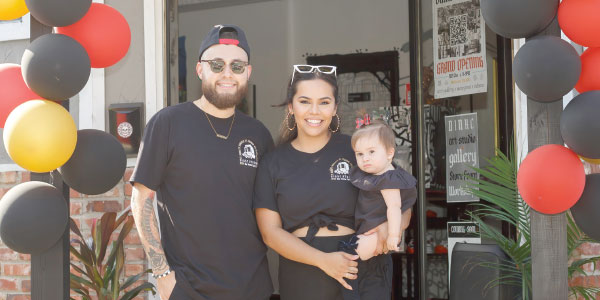 By Tere Siqueira
Laedan Galicia (a.k.a., "DINKC") wants people to visit him.
Specifically, he wants people to visit his new art studio.
The facility, DINKC Studios, opened July 21 as a creative hub. Located at 600 Ohio Ave. in Kansas City, Kansas, its seeds were planted in the artist's fascination with the Day of the Dead, a staple of Mexican culture; and his penchant for skull-themed artwork and decorations. The roots of that fascination come from the Kansas City-born artist's visits to Mexico – the homeland of his parents.
"Since I was a kid, … I always went to Mexico every summer," DINKC said. "I have many memories and recollections of being in Mexico. That was an inspiration – learning about my culture, the roots and my family there. I have painted in Mexico several times, and I always return changed. When I go to Mexico, I arrive very inspired."
The inspiration for DINKC Studios also was rooted in the artist's longstanding desire to have his own workspace and create a platform for showcasing his pieces, along with other artists' works. He also wanted a retail space within the studio.
DINKC's studio has been a dream of his since his younger days in Kansas City, he said. It became a reality after stints in New York City and Denver, where he had immersed himself in various galleries and art studios. After his return to the Kansas City area, an opportunity to rent a space near his home presented itself.
The process was fast-paced, DINKC recalled. He found his location in April. By May, he had the keys and was starting to build DINKC Studios.
Building the studio was challenging, DINKC confessed. Breaking down walls, changing electrical settings, installing new lights and windows, and completing various renovation tasks before applying his artistic touch were considerable tasks, he said. He and his father transformed those challenges into a creative process, he said.
Family support has helped DINKC throughout his artistic journey, he acknowledged. His parents and siblings were constant sources of encouragement and resources, and helped him nurture his creativity, he said. His father taught him problem-solving skills, and his mother instilled a sense of determination and organization in him, he said.
And they helped him build and organize his new studio.
With the studio open, DINKC aims to provide a platform for budding artists. The studio will offer workshops and classes for children and adults to explore various art forms under the guidance of seasoned artists. By doing so, he hopes to give back to his community and inspire the next generation of artists, just as he was inspired as a young artist, he said.
"I would like to invite the Hispanic community and everyone to come and see what I've done with the space – which took a lot of work and is a part of me," DINKC said. "I want them to come and see what's inside – the opportunities I will be offering, the merchandise I sell. If they need work or anything else, I can sit down and work with them. That's what I want to offer the most – my help, my creativity – so that the community keeps coming and growing. If I can support them in any way, come, talk to me."
For more information about DINKC visit https://www.facebook.com/dinkcstudios and https://www.instagram.com/dinkc/.
---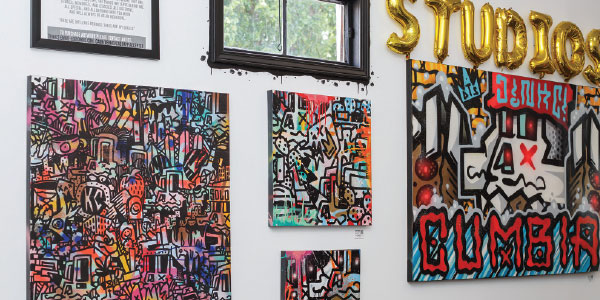 DINKC invita a la comunidad a su nuevo estudio de arte
Laedan Galicia (también conocido como "DINKC") quiere que la gente lo visite.
Específicamente, quiere que la gente visite su nuevo estudio de arte.
La instalación, DINKC Studios, se inauguró el 21 de julio como un centro creativo. Ubicado en 600 Ohio Ave. en Kansas City, Kansas, sus raíces se sustentan en la fascinación del artista por el Día de los Muertos, un pilar de la cultura mexicana; y su afición por las obras de arte y decoraciones con temática de calaveras. Las raíces de esa fascinación provienen de las visitas del artista nacido en Kansas City a México, la tierra natal de sus padres.
"Desde que era niño, … siempre fui a México todos los veranos", dijo DINKC. "Tengo muchos recuerdos y recuerdos de estar en México. Esa fue una inspiración: aprender sobre mi cultura, las raíces y mi familia allí. He pintado en México varias veces y siempre vuelvo cambiado. Cuando voy a México, llego muy inspirado".
La inspiración para DINKC Studios también se basó en el deseo de larga data del artista de tener su propio espacio de trabajo y crear una plataforma para exhibir sus piezas, junto con las obras de otros artistas. También quería un espacio de venta al por menor dentro del estudio.
El estudio de DINKC ha sido un sueño suyo desde su temprana edad en Kansas City, dijo. Se convirtió en realidad después de etapas en la ciudad de Nueva York y Denver, donde se había sumergido en varias galerías y estudios de arte. Después de su regreso al área de Kansas City, se presentó la oportunidad de alquilar un espacio cerca de su hogar.
El proceso fue acelerado, recordó DINKC. Encontró su ubicación en abril. En mayo, ya tenía las llaves y estaba comenzando a construir DINKC Studios.
Construir el estudio fue un desafío, confesó DINKC. Derribar paredes, cambiar configuraciones eléctricas, instalar nuevas luces y ventanas, y completar diversas tareas de renovación antes de aplicar su toque artístico implicaron un arduo trabajo. Sin embargo, él y su padre transformaron esos desafíos en un proceso creativo.
DINKC reconoció que el apoyo familiar lo ha ayudado a lo largo de su trayectoria artística. Sus padres y hermanos fueron fuentes constantes de aliento y recursos, y le ayudaron a cultivar su creatividad. Su padre le enseñó habilidades para resolver problemas, y su madre inculcó un sentido de determinación y organización en él.
Y le ayudaron a construir y organizar su nuevo estudio.
Con el estudio abierto, DINKC tiene como objetivo proporcionar una plataforma para artistas emergentes. El estudio ofrecerá talleres y clases para niños y adultos para explorar diversas formas de arte bajo la guía de artistas experimentados. Al hacerlo, espera devolver a su comunidad e inspirar a la próxima generación de artistas, tal como él se inspiró cuando era un joven artista.
"Me gustaría invitar a la comunidad hispana y a todos a que vengan y vean lo que he hecho con el espacio, que requirió mucho trabajo y es una parte de mí", dijo DINKC. "Quiero que vengan y vean lo que hay adentro: las oportunidades que estaré ofreciendo, la mercancía que vendo. Si necesitan trabajo o cualquier otra cosa, puedo sentarme y trabajar con ustedes. Eso es lo que más quiero ofrecer: mi ayuda, mi creatividad, para que la comunidad siga viniendo y creciendo. Si puedo apoyarlos de alguna manera, vengan, hablen conmigo".
Para obtener más información sobre DINKC, visite https://www.facebook.com/dinkcstudios y https://www.instagram.com/dinkc/.