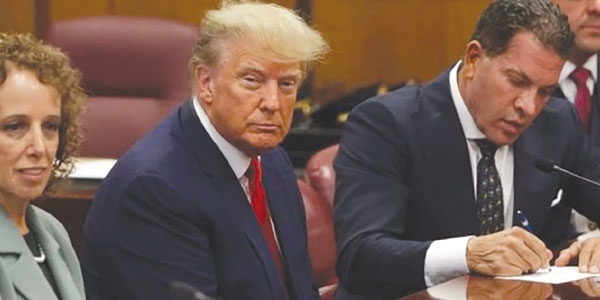 By Roberta Pardo
Former President Trump was indicted Aug. 1 on felony charges for orchestrating a criminal conspiracy to try to derail the transfer of power after the 2020 election, as reported by multiple media outlets.
"The purpose of the conspiracy was to overturn the legitimate results of the 2020 presidential election by using knowingly false claims of election fraud to obstruct the government function by which those results are collected, counted and certified," states the indictment from special counsel Jack Smith's office.
Smith's office spent months investigating, including taking testimony from dozens of White House aides and advisors, ranging in seniority up to former Vice President Mike Pence.
Resulting from that investigation, Trump has been charged with four counts: conspiracy to defraud the United States "by using dishonesty, fraud and deceit to obstruct the nation's process of collecting, counting and certifying the results of the presidential election"; conspiracy to impede the Jan. 6 congressional proceedings; a conspiracy against the right to vote and have votes counted; and obstruction of the certification of the vote by the Electoral College.
"The attack on our nation's Capitol on Jan. 6, 2021, was an unprecedented assault on the seat of American democracy," Smith commented, as quoted by the Associated Press. "It was fueled by lies – lies by the defendant targeted at obstructing a bedrock function of the U.S. government: the nation's process of collecting, counting and certifying the results of the presidential election."
The indictment marks the first time in U.S. history that a former president has faced criminal charges for attempting to overturn an election.
Trump was arraigned on Aug. 3. He pleaded not guilty.
---
Trump acusado, procesado; expresidente se declara inocente
El expresidente Trump fue acusado formalmente el 1 de agosto de delitos graves por orquestar una conspiración criminal para tratar de descarrilar la transferencia de poder después de las elecciones de 2020, según reportaron varios medios de comunicación.
"El propósito de la conspiración era anular los resultados legítimos de las elecciones presidenciales de 2020 mediante el uso de afirmaciones falsas de fraude electoral a sabiendas para obstruir la función del gobierno mediante la cual se recopilan, cuentan y certifican esos resultados", afirma la acusación de la oficina del abogado especial Jack Smith.
La oficina de Smith pasó meses investigando, incluida la toma de testimonios de docenas de ayudantes y asesores de la Casa Blanca, que van en importancia hasta el exvicepresidente Mike Pence.
Como resultado de esa investigación, Trump ha sido acusado de cuatro cargos: conspiración para defraudar a Estados Unidos "mediante el uso de la deshonestidad, el fraude y el engaño para obstruir el proceso nacional de recopilación, conteo y certificación de los resultados de las elecciones presidenciales"; conspiración para impedir los procedimientos del Congreso del 6 de enero; una conspiración contra el derecho al voto y al cómputo de los votos; y obstrucción de la certificación del voto por el Colegio Electoral.
"El ataque al Capitolio de nuestra nación el 6 de enero de 2021 fue un ataque sin precedentes a la sede de la democracia estadounidense", comentó Smith, citado por Associated Press. "Fue alimentado por mentiras, mentiras del acusado dirigidas a obstruir una función fundamental del gobierno de EE.UU.: el proceso de la nación de recopilar, contar y certificar los resultados de las elecciones presidenciales".
La acusación marca la primera vez en la historia de Estados Unidos que un expresidente enfrenta cargos penales por intentar anular una elección.
Trump fue procesado el 3 de agosto. Se declaró inocente.